Everyone's Flipping Out About the New Oculus Rift Headset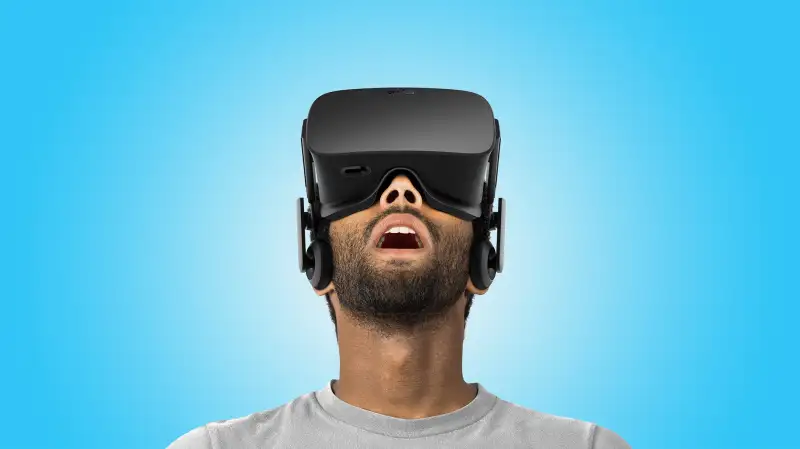 The tweet announcing that Oculus Rift was finally taking preorders for its virtual-reality headset is barely four hours old, but the clamoring — and the complaining — is already deafening.
Soon after the headset went on sale for preorders at 11AM ET Wednesday, some Twitter users complained about the $599 price of the VR headset (which comes with two games, Lucky's Tale and EVE: Valkyrie), or the $1,499-and-up price tag on Rift and PC bundles, especially international buyers upset at the taxes they were charged for the device.
Oculus Rift said initially the first shipments would go out before the end of March, but even with a limit of one per customer, that had already been pushed back to May by early afternoon.
There were multiple reports of frustrated customers encountering hang-ups and crashes when trying to order on the Oculus Rift website. "We are experiencing insanely high load. Credit card processing is trying to stay livr [sic] under load from mass script kiddie fraud attempts," Oculus VR founder Palmer Luckey tweeted less than half an hour after Oculus Rift preorders went live.
Just before 3PM, Luckey tweeted: "Some people may see their ship date move forward as fraudulent orders in queu are weeded out. Hang tight."
And in response to complaints about the list price, Luckey tweeted: "To reiterate, we are not making money on Rift hardware. High end VR is expensive, but Rift is obscenely cheap for what it is."
The 7,000 or so Kickstarter Oculus Rift backers who pledged $275 or more can sit this frenzy out: They'll get the "Kickstarter Edition" headset package sent to them, Wired reported.