These Are the Companies With the Best Parental Leave Policies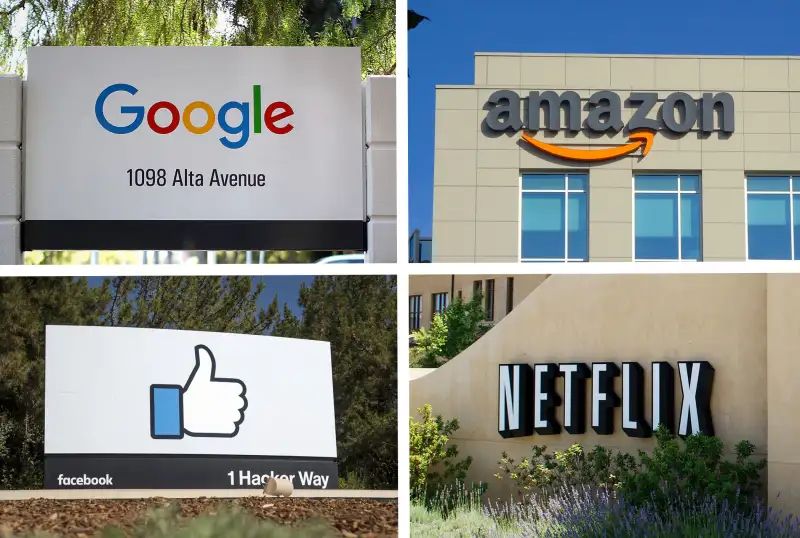 Earlier this week, Amazon announced that it would expand its leave policy for new moms and extend the policy to dads for the first time. It's just the latest tech company to do so, as Silicon Valley realizes the best way to attract top talent is to offer flexible work schedules and ever-flashier perks. According to the Society for Human Resource Management, 75% of the workforce will be made up of millennials in just a decade, and employers are kowtowing to their work-life preferences; a recent survey by Ernst & Young found that "millennials around the world are more likely than other generations to cite paid parental leave as an important benefit."
While tech workers can rejoice, generous paid parental leave is far from routine in the rest of the economy. As you may have heard, the U.S. is one of the only countries in the world, along with Suriname and Papua New Guinea, that does not have mandatory paid parental leave. The Family and Medical Leave Act stipulates that "eligible" workers who have been at a company with 50 or more employees for over a year receive up to 12 weeks of unpaid leave per year.
According to SHRM's 2015 Employer Benefits Survey, 21% of employers offered some type of paid maternity leave in 2015, while 17% offered paid paternity and/or adoption leave—a notable increase from 2014, when just 12% of employers offered paid maternity, paternity, and adoption leave. But in Silicon Valley, paid parental leaves are becoming the norm rather than the exception. These are the most generous policies:
Adobe
Not to be overshadowed by Microsoft or Netflix, Adobe also announced this year that it would expand its paid parental leave to 26 weeks of paid maternity leave and 16 weeks of paid time for primary caregivers (including those who become parents through childbirth, surrogacy, adoption, or foster care).
Amazon
The most recent tech company to jump on the paid parental leave bandwagon, Amazon offers moms four weeks of paid leave before giving birth and 10 weeks after, plus an additional six weeks that any new parent (mom, dad, biological, or otherwise) can take, for a total of up to 20 weeks (during which their stock shares continue to vest). Fathers and adoptive parents get six weeks.
Apple
Expectant mothers can take up to four weeks before giving birth and 14 weeks after. Fathers and other non-birth parents can take six-week paid leaves. Not ready for kids yet? Apple's benefits also include egg-freezing services.
Change.org
The petition website offers 18 weeks paid maternity, paternity, and adoption leave. "Our goal was to create a real parental leave program that supports all evolving families without creating financial hardship for them," change.org President and COO Jennifer Dulski told our sister site Fortune in 2014.
Facebook
Before Netflix changed its policy, Facebook was the reigning paid parental leave king. The social network gives employees four months (16 weeks) of paid maternity, paternity, and adoption leave; in fact, it refers to the time off simply as "parental leave." And according to many, Facebook fosters an environment that encourages everyone to take their leave, rather than stigmatizing it. (Instagram, owned by Facebook, offers the same policy.) Facebook also gives employees $4,000 in "baby cash," has designated breast-feeding rooms in its Menlo Park headquarters, and like Apple provides egg-freezing services.
Google (and YouTube)
Birth moms receive 18 weeks of paid maternity leave (during which their stock shares continue to vest). Moms who experience complications during childbirth receive an additional four weeks. The primary caregiver (gender neutral, includes adoptive parents and surrogates) is given up to 12 weeks paid "baby-bonding leave." The non-primary caregiver receives up to seven weeks of paid leave.
Families also receive $500 in "baby bonding bucks," Google provides on-campus child care and "mother's rooms," and if the employee dies, his or her children will receive $1,000 per month until age 19, or 23 if they're a full-time student, regardless of how long the employee worked at Google.
Microsoft
The company announced earlier this year that all new mothers and fathers (through birth, adoption, or surrogacy) will receive 12 weeks of paid leave, while birth mothers receive an additional eight weeks of maternity disability paid in full, for a total of 20 weeks.
Netflix
The streaming company made headlines just a few months ago when it announced new moms and dads would receive unlimited paid parental leave for the first year following the birth or adoption of a child. While Netflix received lots of (well-deserved) praise for the program, it is for "salaried streaming employees" only, meaning hourly workers (who work in the DVD division) are out of luck. (And of course, it's only a good policy as long as people actually take advantage of it.)
Pinterest
New mothers receive 12 weeks paid leave, dads get four weeks. According to Mother Jones, the social media site also encourages families to take advantage of Dependent Care Flexible Spending Accounts, which let employees set aside some of their paycheck tax free to help pay for childcare costs.
Reddit
Reddit gets less fanfare than other tech companies (perhaps because it's not exactly recognized as the most progressive place to work), but it boasts a 17-week paid parental leave policy, according to a spokesperson, regardless of gender or birthing means.
Twitter
Twitter offers one of the most generous paid maternity leaves, at 20 weeks. For dads and other non-birth parents, it offers 10 weeks.
Yahoo
Marissa Mayer instituted a new paid leave policy at Yahoo in 2013, which stipulates 16 weeks of paid maternity leave and eight weeks for fathers and non-birth parents. Families also receive $500 to help with baby costs.
Non-tech companies that offer generous paid parental leave include:
For more information on maternity leave policies, check out Fairygodboss. For the best paternity leave policies, see Fatherly's roundup.