5 Changes That Could Make City Parking Less of a Living Hell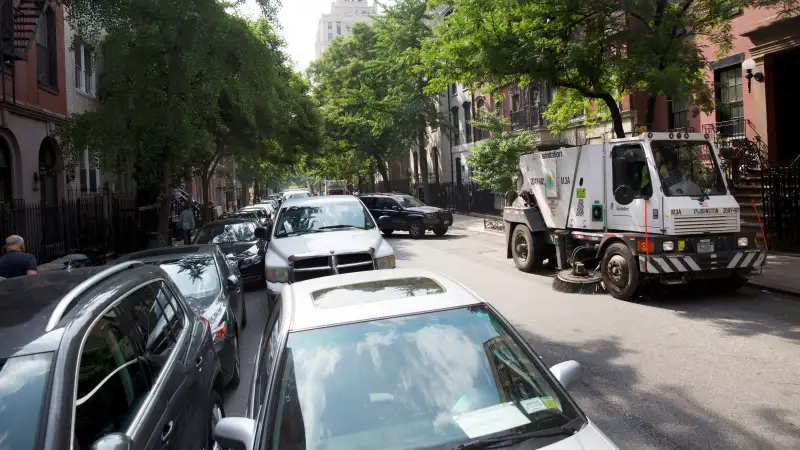 Andrew Renneisen—The New York Times via Redux
In New York City last week, discussion was under way concerning a suggested change to the maddening alternate-side parking rules, which regularly cause drivers to move their vehicles to allow for street sweeping. Because parking is banned on one side of the street for 90 minutes, drivers are forced to wait in their cars, typically double-parked, even after the street sweepers have come and gone. Leaving a vehicle unattended even a few minutes before the official parking ban is over can mean getting hit with a hefty ticket.
Members of New York's city council have proposed a reform that would give drivers the OK to park as soon as street sweepers have passed, thereby saving some time and hassle for harried New Yorkers who can't afford exorbitant private parking facilities. But given objections from the mayor and the Sanitation Department, which have voiced concerns that the changes would make it more difficult to clean streets, the reform is hardly a done deal.
Here are a few other ideas that could make life easier—or at least less mind-numbingly aggravating—for drivers driven nuts by parking policies in cities around the country:
Simplify the Signage
As one driver recently found out in Washington, D.C., parking signs on the same street can be contradictory, and you can still be fined even when you follow the rules posted on the sign nearest your vehicle. Is it too much to ask of cities to make sure that signs on the same street are on the same page?
For that matter, the verbiage, color coding, and symbols on parking signs can often be overwhelming and confusing. New York City took some steps to simplify the message, with signs introduced in 2013 that use no more than 140 characters to explain parking rules, down from as many as 250 characters and three different colors in the past. Even so, some say that shorter signs aren't necessary clearer signs. "Just because the signs are prettier and easier to read doesn't mean they're clearer," Glen Bolofsky, president of the New Jersey-based ticket fighting service parkingticket.com told reporters when New York tweaked its signage. "The new signs leave out too much information."
A less confusing parking sign created by New York designer Nikki Sylianteng has been making the rounds online for months, but so far no city has adopted the system, which uses simple colors (red=no parking, green=OK to park) to clue drivers in. The progress of Sylianteng's suggested "urban intervention project," as it's called, can be followed at toparkornottopark.com.
Crack Down on Fake Disabled Parking Placards
The fact that a site with the url handicappedfraud.org exists tells you that there's a national epidemic of horrible people. The site was created, as you'd probably guess, because the truly "disabled have run out of places to park, as their designated handicapped parking spaces are being taken by fraudulent individuals." Drivers are encouraged to shame abusers, who obviously hurt the disabled by taking their rightful parking spots, but who also affect local city revenues (because they're not paying to park like they should) and make life more difficult for pretty much anyone trying to find a parking space.
Countless cases of fake disabled parking placards have been chronicled over the years, with some calling for disabled parking privileges to be eliminated entirely. New Jersey, for one, made it more difficult for drivers to get hold of disabled placards, with a requirement to verify one's status as disabled every three years. In Washington state, where more than 700,000 drivers have disabled parking placards, discussions are in the works to get rid of the main perk they allow: free parking at metered spots. Rescinding the privilege would certainly reduce fraud, but it wouldn't do much to help disabled drivers who rely on the help.
Let Drivers Pay Meters by Smartphone App
While fishing around in a car to find quarters to pay the meter, many a driver has been struck by the idea What year is this, 1995? We live in an era when a "smart thermostat" will automatically turn the heat on and off with almost no effort on the behalf of the homeowner, yet drivers still must physically feed parking meter with coins—and then go back in person to feed them again when the time's about the expire.
So it's good to see that a wide range of cities, including Arlington, Va., Chicago, and and even Great Falls, Mont., are embracing parking payments by smartphone app.
Boston drivers should also be able to stop scrounging for quarters this fall, when the technology is expected to be introduced. Not that it really needs to be spelled out, but interim Transportation Commissioner James Gillooly explained to the Boston Globe why it makes so much sense to allow drivers to pay for parking without having to resort to quarters: "Two things people have in their pockets: They have a credit card. And they have a cellphone."
On the other hand, they don't necessarily have quarters—or the patience to find them.
Embrace and Promote "Robin Hooding"
Wouldn't it be great if somebody went around feeding about-to-expire parking meters with quarters, so cars wouldn't be ticketed? Well, that's exactly what a group of "Robin Hooders" in Keene, NH, have been doing for years. " If your meter is expired, Robin Hood and the Merry Men and Women will place a coin into the meter to extend your time, presuming we reach the meter before the King's enforcers," the group's site explains.
The group found itself in hot water—and the subject of national attention—when the city of Keene sued, saying that the merry band of Robin Hooders "taunted, interfered with, harassed and intimated the Parking Enforcement Officers." One of the officers said he had "begun to suffer physical effects due to the stress…and having dreams related to this activity."
The case was dismissed by a judge last December, and it looks like the Robin Hooders are in the clear. Similar cases, in Eugene, Oregon, for instance, has also led to acquittals for individuals paying for the parking meters of strangers.
That's great for the Robin Hooders, and for the people whose cars aren't being ticketed thanks to their efforts. Then again, it's probably not so good for drivers who are frustrated in their search for parking spots because no one is worried enough about the risk of being ticketed to leave them.