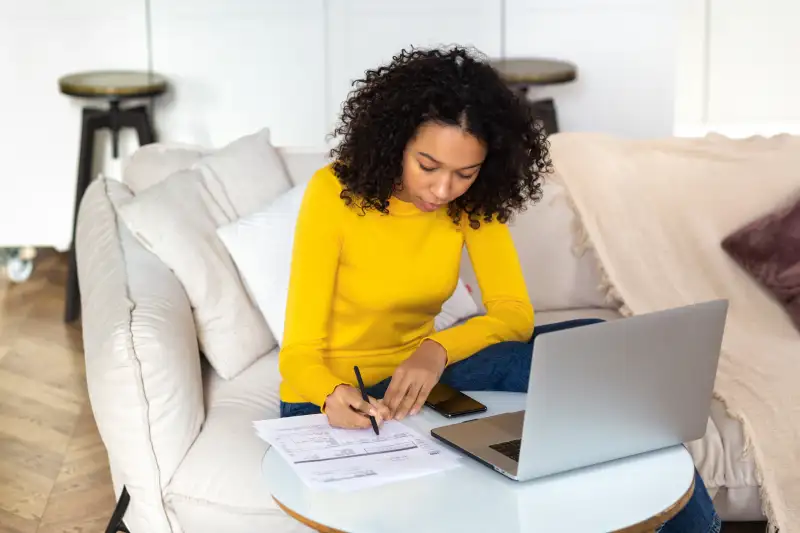 Sometimes the money in your bank account just isn't enough to pay for your credit card debt, home improvements or auto repairs, let alone fulfill a bigger dream. In that case, you might seek out a personal loan.
If you're looking for a personal loan from a credit union, PenFed may be a good fit for you. PenFed is one of the most well-established and trusted credit unions, giving people access to great personal loans and other financial products since 1935. With plenty of types of loans, no origination fee, typically lower rates and quick turnaround, it's a clear frontrunner for borrowers to consider.
Best for Credit Union Loans
PenFed is a leading credit union lender (that's why it made our list of the best personal loans), but you should always have a solid plan before you commit to anything. Think of how much money you need, exactly how you're going to spend it and how you're going to repay the loan so you can get the most out of your money without falling into debt. Take your time when making a decision and be wary of lenders who pressure you into taking out the loan.
PenFed Personal Loans pros and cons
Pros
Many types of loans available
Option to prequalify to minimize credit score impact
No origination fee
Cons
Membership required
No cosigners
Pros explained
This credit union offers plenty of benefits, making it competitive with other top lenders.
Many types of loans available
PenFed offers a wide range of personal loans to help you finance your goals and manage your expenses. Whether you're looking to consolidate debt, make home improvements, buy a new car, cover medical or dental expenses or fund major life events, PenFed has a loan that can fit your needs.
All PenFed's loans have the same low rates with no origination fee, and you can borrow up to $50,000 and pay for up to 60 months.
Option to prequalify to minimize credit score impact
Lenders typically checks your credit score via a hard credit pull when you apply for a loan. PenFed, on the other hand, uses what's known as a soft credit pull. Soft pulls give enough information about your credit history for some lenders to prequalify you for a loan without affecting your credit score. With this in hand, PenFed can give you an estimate of the types of loans and rates for which you may qualify.
When you apply for a loan with PenFed, you can request to view your pre-approved rate without affecting your score and without any commitment on your part. You can then decide if the loan is right for you, and PenFed only makes a hard credit pull if you decide to go ahead with the application.
No origination fee
Many loan providers charge a one-time origination fee that covers the administrative and processing costs of your loan application. This fee is typically a percentage of the loan amount and can be significant, especially for larger loans. Fortunately, PenFed doesn't charge an origination fee, nor does it have hidden fees.
Cons explained
There are a few things that might affect your decision to go with them, especially if you don't want to become a member of the credit union or have a bad financial history.
Membership required
You don't need a membership to apply for a personal loan at PenFed and view your pre-approved offers. However, to get approved, you must be a member. While becoming a member is relatively easy, it does require extra effort on your part.
To become a member, you need to open a savings account with a minimum deposit of $5. You can do this during the process of applying for a personal loan.
No cosigners
A cosigner is a person who jointly assumes responsibility with you for paying back your loan. If you can't or don't make your payments, your cosigner is obligated to step in and cover the late payments. The reasoning behind using a co-signer is to try and leverage their good credit for a better interest rate if your own score isn't that great.
Unfortunately, this isn't an option with PenFed, so be aware that you will likely get higher interest rates if you have a less-than-fantastic credit history. If you're still building your credit score, consider our list of personal loans for bad credit.
PenFed personal loans offerings
You can use PenFed personal loans for debt consolidation, home improvements, transportation, health matters and other life events. No matter what your personal goals are, PenFed likely has a loan for you.
Debt consolidation
If you have multiple high-interest debts, such as credit card balances or medical bills, a debt consolidation loan from PenFed can help you. With a debt consolidation loan from PenFed, you can combine all of your debts into a single monthly payment with a fixed interest rate (likely much lower than credit card rates) and a term of up to 60 months. This can make managing debt easier with faster payoff rates.
Home improvement
If you're planning a major home renovation or repair project, a PenFed home improvement loan can quickly give you the necessary funds to complete the work. These loans have competitive interest rates applicable to almost any project, from upgrading your kitchen or bathroom to adding a new room to your home.
Transportation
A car breaking down is one of the most inconvenient things that can happen to an auto owner. Repairs don't come cheap, either. If this happens to you and you don't have the money for urgent repairs, PenFed can help cover the cost.
Car repairs are time-sensitive. In almost all cases, drivers need their cars back on the road quickly. The loan process has a quick turnaround time, meaning the money will be in your hands so your car can get into the shop right away.
Medical and dental
If you have an unexpected medical or dental expense, such as surgery or a procedure your insurance doesn't cover, this personal loan from PenFed can be just what you need.
Whether or not this medical necessity is urgent, you can rely on PenFed to quickly approve a loan for your needs at a low rate, so long as you have a good credit history.
Life events
From vacations to tax season, many life events might be complicated to finance at a particular moment. PenFed allows you to afford and pay these significant expenses at your own pace.
As with all PenFed personal loans, you can borrow up to $50,000 for your wedding, hobbies, pets, education and more.
PenFed personal loans pricing
PenFed offers competitive personal loan interest rates. Additionally, PenFed doesn't charge an origination fee or any hidden fees, which can save you money.
PenFed personal loans also give you the flexibility to repay over the term you want. You can choose a loan term that works best for your financial situation, with options ranging from one to five years.
Finally, PenFed doesn't charge a penalty for early repayment of your personal loan. This allows you the freedom to pay off your loan ahead of schedule without any extra fees or charges.
PenFed personal loans financial stability
PenFed is an established financial organization that has been serving customers since 1935 and publishes annual stability reports. In the most recent annual report, published in 2022, PenFed shows a strong balance sheet. This demonstrates that the organization has sturdy financial legs to stand on.
It's also federally insured by the National Credit Union Administration, providing you with extra security. Your personal loan shouldn't be affected, even in the unlikely event PenFed goes bankrupt.
PenFed personal loans accessibility
PenFed offers reasonably good customer service to its members, according to our review of online feedback across several platforms. They're available all days of the week, and it's easy to reach out through various channels.
Availability
PenFed's customer service for members is available seven days a week at the following times:
Monday - Friday: 7:00 a.m. to 11:00 p.m. (EST)
Saturday: 8:00 a.m. to 11:00 p.m. (EST)
Sunday: 9:00 a.m. to 5:30 p.m. (EST)
This schedule applies only to phone support on general matters. You can apply for a personal loan or send an inquiry anytime through the company's online forms. PenFed also has an online help center where you can look for answers to your questions whenever needed.
Contact Information
You can reach their support team by calling 724-473-6333, submitting your inquiry directly on the company's website at any time or sending postal mail or fax.
User experience
One of the main benefits of PenFed personal loans is the easy application process. This is one of the aspects most mentioned in positive reviews.
To apply for a loan, all you have to do is go to the website. First, check your rate. PenFed will do a soft credit check that won't affect your score. If you like your rate, you can proceed with the application by selecting one of the pre-approved offers, becoming a member and providing all the necessary documentation.
Once you're verified, you'll receive your funds in one to two business days.
PenFed personal loans customer satisfaction
While some reviewers have expressed negative feedback, the majority of customer reviews on trusted review websites such as the Better Business Bureau (BBB) are positive. Many reviews praise PenFed's competitive APRs and the ease and speed of the application and approval process, while negative comments sometimes mention unresponsive customer service.
PenFed personal loans FAQ
Is PenFed good for personal loans?
Yes, PenFed is a reliable provider of personal loans and more. Thanks to its low rates and flexible terms, it's among the best credit union lenders. The application process is easy, and you can borrow up to $50,000.
What are PenFed personal loan credit score requirements?
PenFed doesn't disclose its minimum required credit score.
Does PenFed do a hard credit pull?
Only after you select a pre-approved offer. If you request to see the rate you'll get, PenFed does a soft credit pull that won't affect your credit.
Who does PenFed pull for personal loans?
PenFed pulls your credit history from Experian, one of the three main credit bureaus. Having good credit specifically with this bureau is essential.
How we evaluated PenFed personal loans insurance
To accurately evaluate PenFed, we looked at its benefits, disadvantages, offerings and user experience, as well as customer reviews posted on the Better Business Bureau and other review sites.
Summary of Money's PenFed personal loans review
PenFed personal loans are exemplary when it comes to credit unions. The low rates and fast application process are the main reasons it has earned this spot.
If you need to get a personal loan in a hurry, PenFed is worth checking out. You can see your rate instantly on their website without affecting your credit.