How to Buy a House With No Money Down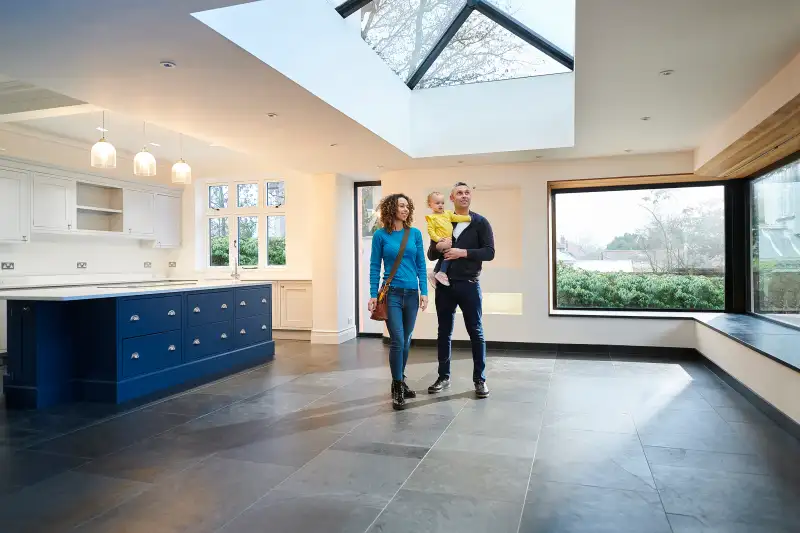 For a typical mortgage, you are given a loan to buy a house and make monthly payments to the mortgage banker or lender rather than paying rent. Eventually, the goal is to pay off the home outright or gain enough equity to sell at a profit before the mortgage is finished.
There is no single best time to buy a house — this will depend on many external factors and considerations of your particular situation. To know if it's the right moment for you, you need to determine if you can manage the monthly mortgage payments, closing costs, fees and down payment.
When it comes to the down payment, the more you pay upfront, the less you owe and have to pay later. But sometimes, it's possible to purchase a home without spending much, or maybe even anything, upfront. Read on to find out how to buy a house with no money down.
What is a Mortgage Down Payment?
Your monthly payments, loan terms and conditions, and private mortgage insurance (PMI) can all be determined — and usually reduced — by a down payment.
The down payment is a percentage of the total loan you pay upfront. This reduces your payments because there's less principal to pay off. It changes your loan terms and conditions for the same reason, and a large enough deposit can even alleviate the need for PMI altogether. In addition, a ​​larger down payment can get you better rates by reducing the loan-to-value (LTV) ratio.
Typically, a mortgage down payment is 3% to 30% of the total cost of the loan.
Why purchase a house with little or no money down?
But what happens if you don't have 3% of your loan amount to start, much less 30%?
In a no-down-payment mortgage, also known as a zero-down mortgage, you can get a loan on your house with little or no money down while making up for your lack of a down payment in other ways. This is a good option if you don't have the cash but are in a hurry to secure your new home, whether because you've found the home of your dreams or just don't want to miss out on a good deal.
It's important to note, however, that you'll still have to pay closing costs, no matter the mortgage you choose — those are generally another 3% to 6% of the loan total. You're also likely to have to pay a higher interest rate since your LTV won't be decreased with the down payment — which will increase your costs in the long run.
Is it possible to buy a house with no down payment?
You could qualify for a zero-down mortgage depending on the purchase price, income requirements and other factors. The easiest way to get a zero-down mortgage is by applying for a federally-backed loan, which we discuss in more detail below.
Note that applying for a zero-down loan can be complicated because of the qualification rules and process.
Applying for a No-Money-Down Loan
There are two government programs run through the U.S. Department of Veterans Affairs (VA) and the U.S. Department of Agriculture (USDA) that may enable you to obtain a no-money-down loan. We discuss these in detail below.
VA loans
VA loan mortgage rates are typically lower than the average conventional mortgage and are available to current and former service members who either:
Have served 90 days of active wartime service
Have served 180 days of active peacetime service
Have served six years in the National Guard or Reserves, or
Are the spouse of a service member who died in the line of duty or following a service-related disability
To qualify for a no-down loan, you'll need a Certificate of Eligibility from the VA. The home must be your primary residence and meet minimum safety standards.
VA loan borrowers are exempt from certain closing costs, including underwriting and attorney fees, but you will need to pay a funding fee which averages 2.3% of the loan. This can be financed into your loan or paid at closing. This funding fee is important because you pay it directly to the Department of Veterans Affairs, which allows it to offer these types of financial products.
USDA Loans
A no-down-payment loan is also available in certain areas and at certain income levels, as defined by the United States Department of Agriculture. Options include:
Single-family direct homeownership loan: for low- and very-low-income rural borrowers
Single-family guaranteed homeownership loan: for those with incomes below 115% of the local median income
To qualify for a USDA loan, borrowers must:
Have a credit score of at least 580, which is comparatively low
Be a permanent, legal U.S. resident
Maintain dependable income
Be at or below 115% of their area's median income
Be a primary residence within defined rural regions
The upfront fee for a USDA mortgage is called a "guarantee fee" rather than a funding fee and comprises 1% of the loan amount. You'll also pay a fee of 0.35% of the loan amount annually.
Even with a USDA mortgage, the buyer is still expected to pay closing costs and lender fees and get PMI (private mortgage insurance) if necessary.
Applying for a Little Money Down Loan
If you can't get a zero-down mortgage, the next best thing is a minimal, or at least lower, down payment. Here are some strategies you can try. Down payment assistance can come in the form of a non-repayable grant, a forgivable loan, a savings match or a low-interest, deferred payment loan.
Conventional Loans
Conventional mortgages may require lower down payments than you think — in some cases, this can be as low as 3%. In these cases, you can get PMI, which allows you to pay less than 20% for your down payment. Instead, you pay a small additional fee in your monthly payments. PMI protects the lenders in case you can't pay the mortgage and allows you to have lower down payments.
With a minimum credit score of 620 and a two-year employment history, you are likely to secure a 3% to 10% minimum down payment.
Fannie Mae and Freddie Mac loans
Both government-sponsored mortgage companies, Fannie Mae and Freddie Mac, offer a few conventional loan options with low money down. Mortgage pre-approval is available for all three.
The Conventional 97 loan from Fannie Mae asks for as little as 3% down. It cannot be used to buy a manufactured home, requires at least one borrower to be a first-time homebuyer and the mortgage must carry a fixed interest rate.
The HomeReady mortgage from Fannie Mae requires a 620 credit score and a 3% down payment. You must have mortgage insurance, which can be canceled once you reach 20% equity.
Freddie Mac's Home Possible mortgage requires a credit score of 580 or higher. If your score is lower than 680, you could get pricing adjustments of up to 1.5% of the loan amount. If it's higher, then you won't have to worry about this. The borrower's income can't exceed 80% of the area's median income (AMI). Home Possible loans may require mortgage insurance that can be canceled after reaching 20% equity, just as with HomeReady loans.
FHA Loans
If you don't have a 620 credit score or above, you may want to consider a loan with the Federal Housing Administration (FHA). FHA loans:
Are available for those with low credit (minimum of 580)
Start at just 3.5% down
Allow borrowers with credit scores as low as 500 to get a loan if they pay 10% upfront
Lenders are limited in the fees they can charge on loans backed by the FHA, and the county limits how much you can borrow.
Will your credit impact your eligibility?
Credit scores greatly impact your rates, mortgage prequalification and fees. Conventional loans typically require at least a 620 credit score to arrange a lower down payment and generally require PMI on any loan with a down payment of less than 20%.
Additional ideas for buying a house with no money down
If you're serious about owning your own home and need a no-money-down mortgage, but the above loans won't work for you, you may have a few other options.
Ask friends and family
One alternative is to get immediate cash support from friends and family. You may receive a gift toward the down payment on your loan, but there are particular rules on how much can be used, how much can be given and what purposes the money is for. For example, for a regular or conventional loan:
If you're getting an FHA loan, the rules are a bit different:
100% of the down payment can come from gifts
FHA down payment gifts must come from a party with "clearly defined and documented interest" in the borrower, shown in the form of a legal gift letter. Gifters can include family, friends, employers, unions and charitable organizations, as well as grants and other assistance programs
For VA loans:
For USDA loans:
A down payment gift letter is required that states the details of the gift and property, the relationship between the grantor and receiver, the total amounts and source of the gift funds and a clear statement that the money is not a loan. You'll also be expected to prove you received the down payment gift money by offering:
A copy of the gift check, if written to the title agent
A settlement statement from the bank where it was deposited
A copy of a canceled check from the giver and its corresponding deposit slip from your account
Proof of a wire transfer moving the money from the giver to the borrower
Note that the gift tax will apply to this amount. Anything under $15,000 per giver is taxed. There is also a lifetime limit on gifting recipients, but it's in the millions of dollars, so it's unlikely to cause you any significant barriers.
Apply for Government Assistance
Down payment assistance (DPA) is familiar enough that there are directories to help you figure out what you qualify for. The government provides down payment assistance programs at the state and local levels. You can visit the various down payment assistance directories available online to find all the information you need related to your location. Some popular websites with assistance directories include DownPaymentResource.com, HUD.gov, NeighborWorks America and local housing agencies' sites. These directories show information about all program's eligibility requirements, application procedures and funding availability.
Browse each website based on your location or conditions and find the programs that apply to you. Each program has different requirements for eligibility, and your chances of being approved depend on various factors.
Likewise, the amount of financial assistance you can get from the government depends on the program and your unique situation. For example, the Down Payment Toward Equity Act could grant you up to $25,000.
Find your ideal home on your budget
When looking for answers on how to buy a house with no money down, it's essential to know the facts and be realistic. Income requirements, credit score limits and private mortgage insurance don't just exist to protect the lender — they're there to keep you from ending up underwater or in other dire financial straits.
While there are circumstances where it makes solid fiscal sense to buy with no money down, there are few. In general, if you can't afford a down payment, you may or may not be likely to afford your mortgage for the full term of the loan, which would be a very painful situation. Be clear with yourself and your lender about why you feel now is the time to buy if you don't have the right amount of cash.
Ready for more information on mortgages, how they work and how to make them work for you? Follow these links to find the best reverse mortgage and the best mortgage refinance companies.