Pet Disaster Preparedness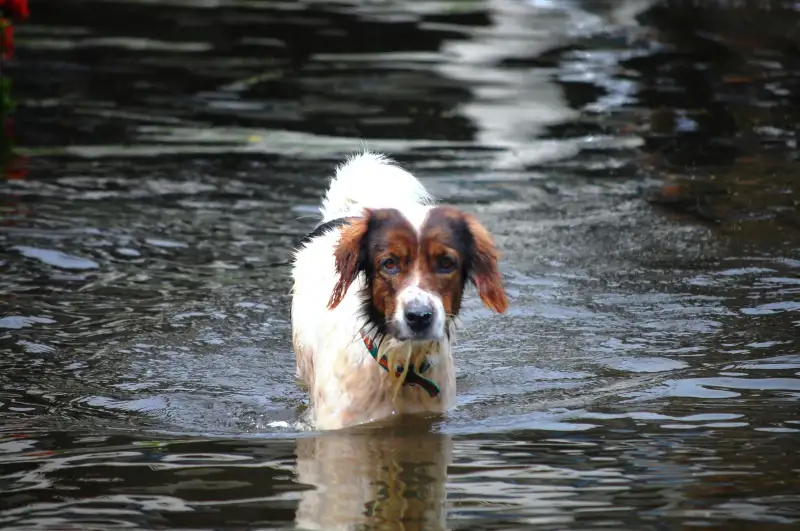 A pet disaster preparedness plan gives you the necessary tools to keep your pet safe when extreme weather or a natural disaster strikes. Follow our tips to create an effective emergency plan to keep your furry friend safe from harm.
The importance of having a disaster plan in place for your pets
Much like insurance, a disaster plan is something we prepare with the hope that we never need to use it. Emergencies are always a possibility and your future self will thank you for being proactive. Having your pet's care sorted during an emergency minimizes stress and makes it easier to focus on the situation at hand.
How to care for your pets when disaster strikes
Put together a disaster supply kit
The disaster supply kit should include everything you will need for your pet in an emergency. We recommend storing it in a safe place that's accessible if you need to leave in a hurry. These are the items that you'll need to include in the kit:
Pet food, water, and bowls
Include 1-2 weeks' worth of your pet's dry or canned food and bottled water and two bowls to serve them in. Collapsible silicone bowls are ideal, as these are easier to transport and take up way less space in your kit.
Store these items in a dark, cool place and keep an eye on the expiration dates. A helpful way to remember is to mark your calendar or set a phone reminder to change out food and water ahead of time. You wouldn't want to grab your pet's kit during an emergency only to find out the food expired months ago.
First-aid and medications
A pet disaster preparedness kit should include at least two weeks' worth of medications your pet needs. Again, check the expiration date and switch out the supply as needed.
Buying extra pet medication might not work for everyone's budget, but know there are ways to save money on your pet's medication. If your vet is willing to give you a prescription, you can purchase the medication from online pharmacies or wholesale stores such as Costco.
In addition to medications, your emergency kit should have basic first-aid items and a first-aid booklet. These are the items you should include:
Gauze
Nonstick bandages, strips of clean clothes or towels
Adhesive tape for bandages
Milk of magnesia (to relieve possible constipation)
Hydrogen peroxide (to clean wounds)
Eye dropper or large syringe with no needle
Digital thermometer
Leash
Muzzle
Up-to-date contact information for nearby emergency vet clinics
Microchip number
Consult your vet for additional suggestions on what your specific pet may need in case of an emergency.
Identification and vaccination records
Keep copies of your pet's medical records, vaccination records and recent photos (in case you need to make lost pet posters or prove your pet is yours). Many animal shelters and other pet boarding locations require up-to-date vaccinations to admit a pet overnight. These records are also crucial if your pet needs medical attention so a physician is aware of any and all conditions.
We also recommend you keep a list of instructions for your pet's care that you can easily give to a shelter or caretaker in case you and your pet need to be separated. Print these documents and store them in a folder or keep them on a USB drive in your pet emergency kit.
Sanitary products and tools
If your pet uses a litter box, you will need extra litter and a disposable litter tray. Aluminum baking trays or cardboard boxes with liners can do the trick. For dogs, keep a supply of doggie bags and puppy pads. Old newspapers also work in a pinch. You should include extra grooming supplies — nail clippers, brushes and the like — if your pet has more extensive grooming needs.
Disinfectant and other cleaning supplies in your pet disaster kit keep everything sanitary. Plus, cleaning up after accidents will be easier, removing one more stressor from a rough situation.
Keep these items out of your pet's reach, of course — the last thing you want during an emergency is your pet getting sick from ingesting chemicals.
Pet carriers and leashes
A pet carrier and a strong leash are essentials, as these will allow you to transport your pet safely. More importantly, shelters may refuse to host your pet if you don't have a carrier. Shelter regulations vary per shelter, but generally, a carrier should be leakproof and large enough to allow the animal to stand up, turn around and lie down.
Make sure to include an extra collar with an ID tag in your kit. The tag should have your current phone number and your pet's name clearly printed.
Add a blanket and a toy if you want your pet to be as comfortable as possible. Many toys can also double up as food and treat dispensers — just make sure they are made from durable materials and safe to chew.
Pet emergency kit storage
Your pet's emergency kit should be kept in a container that's easy to move and sturdy, such as a duffel bag, suitcase or bin. An ideal place to store the disaster supply kit is a closet or storage compartment near your home's exit. It'll be easier to grab the bag as you're heading out the door if you need to move fast in an emergency.
Avoid storing the kit in the basement or attic. A basement is the area of the house most prone to flooding, and both the attic and basement are inconvenient should you need to grab the kit and get out in a hurry. Some apartment buildings provide tenants with storage lockers, but we don't recommend storing the kit there either.
Get your pets microchipped
Microchips — tiny chips programmed with your contact information — are a great second option for identification. Vets and shelters automatically scan for microchips when strays are brought in. When they find the microchip, they'll contact you immediately and assist in the reunification. Of course, regular people who might find your pet can't scan a microchip, so make sure your pet also has a collar with the correct contact information.
Identify safe places for your pet
Take some time to think about the best place for your pet if you're sheltering in place or evacuating. Another tip is to contact a friend or family member your pet is familiar with and give them a key to your home. This trusted person can step in and help if you and your pet need to be separated for any reason.
If you're staying home
Keep your pet indoors, in the safest areas of your home. Typically, this means avoiding windows, outside walls, doors, hanging objects and your fireplace during tornadoes, earthquakes and other major weather events. Instead, opt for small rooms on the ground floor or in the basement of your home (if there isn't any flooding, of course).
If you're evacuating
Find trustworthy local animal shelters, vets and boarding facilities in advance. These local facilities can take care of your beloved animal if no one in your inner circle can take your pet in.
Look into hotels and motels that accept pets, as well. These might be your only option during an emergency if staying in your home overnight is impossible.
The Pet Evacuation and Transportation Standards (PETS) Act
Established in 2006, the PETS Act authorizes the Federal Emergency Management Agency (FEMA) to provide rescue, care and shelter and meet the essential needs of pets and their owners following a major emergency.
Simply put, the PETS Act protects your right to seek shelter with your pet in times of emergency. This act is carried out by federal and state governments, as well as non-profit groups and private organizations, which receive reimbursement for emergency services.
What pet owners should know about the PETS Act:
The federal government must declare an official disaster for the act to apply
People and animals are generally kept in physically separate shelters to reduce the risk of animal bites, scratches, allergies or health risks for the immunocompromised.
The act only protects service animals and domesticated household pets such as dogs, cats, rabbits, rodents, birds and turtles. However, not all shelters are equipped to accept all animal types. If you have a unique kind of pet, contact your local authorities to determine where it would be accepted.
Some shelters require you to pre-register your pet so they can plan for the number of people and pets they can expect to take care of during a declared disaster. If you choose not to pre-register your pet, be prepared for your pet to be kept in isolation or for them to only provide you shelter during extreme emergency conditions.
Take proper precautions when the emergency is over
When the emergency is over, evaluate your pet's behavior and inspect its body for any signs of harm. Depending on the crisis, getting a vet evaluation may be a good idea and you might qualify for reimbursement after an emergency if you have pet insurance. Look into our best pet insurance companies to see if insurance would be a good fit for your pet.
Tips to keep your pet safe in adverse weather
Adverse weather can pose a considerable hazard to pets. Follow these guidelines to keep your pets safe in extreme hot or cold temperatures.
In extreme cold
Do the following if the weather becomes too cold for your pet:
Keep your pet indoors: Keep your home as warm as possible and make sure your pet stays inside. If your pet needs to go outside, make it brief and supervise until it's time for the pet to come back in.
Protect your pet's paws: Booties keep your pet's paws safe from frostbite and the harsh winter weather. If you don't have any pet boots, make sure to clean any snow, ice and salt from your pet's paws when you return indoors. Ice can cause pain and damage, while salt used on sidewalks in the winter contains chemicals that animals should not ingest.
Avoid bathing your pets too much: Too many baths in the cold can cause your pet's skin to dry up. Make sure you keep your home humid and bathe your pet once or twice a month at most.
Keep your pet's coat long: If you give your pet regular haircuts, hold off during winter. Your pet's fur can provide much-needed warmth. Some pets may benefit from bundling up in outerwear explicitly made for animals, especially those without naturally thick coats.
In extreme heat
High temperatures can also be dangerous and uncomfortable for your pet. In case of a severe heat wave, use these tips to keep your pet safe:
Never leave your pet in a hot car: Like children, your pets are vulnerable to high heat. Leaving them in a car, even with open windows, can have devastating consequences.
Protect your pet's paws: Your pet's paws are at risk of burns, tissue damage and more when exposed to hot surfaces like asphalt. Try the "seven-second test" — if the back of your hand can't stand staying on a surface for seven seconds, it's also too hot for your pet. If you must let your pet outdoors in high temperatures, make sure its paws are protected by only walking on the grass and staying in the shade.
Hydration: Keeping your pet hydrated at all times is vital. Make sure your pet has access to a bowl of clean water, indoors and outdoors.
Know the signs of heat stroke: Animals are at risk of heat stroke just as much as people. Excessive panting, brick-red gums, a fast pulse and the inability to stand up can all be symptoms of heat stroke. Call your vet if your pet exhibits any of these symptoms after prolonged heat exposure.
Planning ahead makes a world of difference
Emergencies and disasters can be devastating, but planning ahead can make a world of difference.
When making your pet disaster preparedness plan, ask your vet for guidance and make sure to check on the kit every few months to rotate food and medications. Your future self will thank you for it should an emergency happen.
Finally, know your rights and advocate for yourself and your pet. If required to evacuate, bring your pet with you as the PETS Act protects your right to seek shelter with your pet in times of emergency.