Best Places for Couples to Travel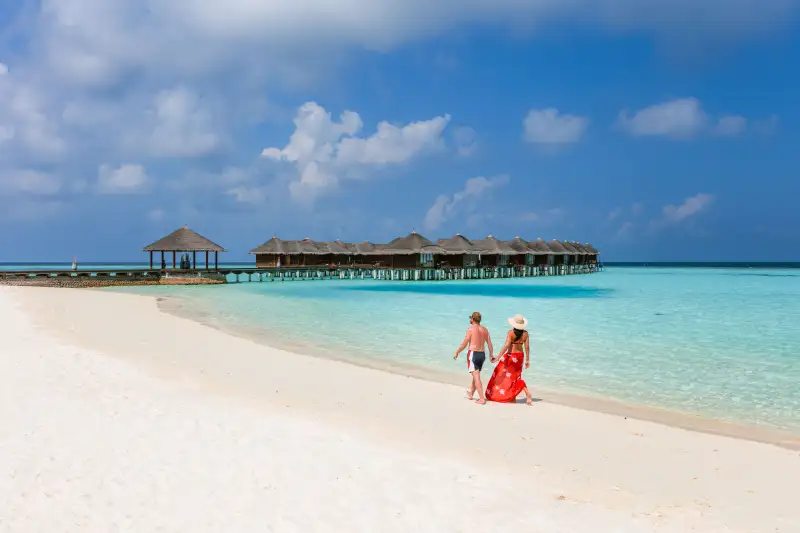 A trip with your partner can be a great way to unwind, especially after a few years of COVID-related travel restrictions and hard work. However, choosing the right destination for you and your loved one can be difficult. Using criteria such as affordability, scenery, attractions and more, we've created the ultimate list of the best places for couples to travel.
Our Top Picks for Best Places for Couples To Travel
Best Places for Couples To Travel Reviews
Best for Honeymoon Packages: Punta Cana, Dominican Republic
Pros
Many resorts with honeymoon packages to choose from
Beautiful natural scenery
Plenty of activities
Cons
On the beaten path
Not as much opportunity to experience local culture
Why we chose it: Punta Cana is a tourist town full of great resorts that offer lots of different honeymoon packages to choose from. This is a well-loved, high-quality location for a romantic getaway.
Punta Cana is a popular resort town n the easternmost tip of the Dominican Republic. Known for its beaches and outdoor activities, Punta Cana is a great destination for snorkeling, boat tours, scuba diving, windsurfing, deep-sea fishing and the ever-popular swimming with dolphins. If you're more interested in land-based activities, many resorts offer safari tours and horseback riding. This destination really has it all, whether you're hoping for a fun excursion or just a nice day at the beach.
Because Punta Cana is a tourist town, the options for resorts and honeymoon packages are plentiful. Punta Cana is home to many of the major resort lines, such as Royalton and Sandals, and is easily accessible from the Punta Cana Airport. Finding honeymoon packages is easy by checking resort websites or calling. Several offer special perks for honeymooners and have honeymoon suites.
Something to note is that because Punta Cana is heavily geared towards tourism, so there's less opportunities to experience local culture. This could be a con if you were hoping to get a feel for what the Dominican Republic is really like. However, if the resort experience is what you're looking for, you're all set. Another con frequently mentioned by travelers about Punta Cana is that the food isn't as great as in some other locations. Each resort may be different, so read some reviews of the resort where you intend to stay if food is a concern.
Punta Cana can be a very affordable location. With many special deals offered through resorts and tourist airlines like Sunwing, it's straightforward to bundle all the vacation costs into one all-inclusive lump sum. Just remember to bring some cash to tip — ideally, American currency in $5 or $10 bills. This is very meaningful to the locals who work in the resorts.
Because of the ample choice of activities, easy all-inclusive deals and great tourist experience, we've named it our best place for couples to travel for honeymoon packages.
Best for Luxury Resorts: The Maldives
Pros
Many options to choose from at different price points
Beautiful beaches and views
Amazing wildlife and coral reefs
Cons
Luxury resorts cut travelers off from local culture
Only one airport, so you need to take a smaller flight to every other island
Why we chose it: What could be more luxurious than a private island getaway? With over 160 resort options, the Maldives offers luxury at a variety of price points.
The Maldives is an archipelagic nation consisting of 1,192 different islands. Of these, 186 are inhabited, and over 160 luxurious resorts are in the country. The Maldives is a sought-after travel destination that strikes a balance between relaxation and adventure. It is home to beautiful coral reefs, wildlife and stunning beaches.
Depending on the exact experience you're looking for, the luxury resorts in the Maldives offer plenty of options. Ranging in price from less than a hundred to a few thousand dollars for a single night's stay, doing your research will allow you to select the exact experience you want at the price you want.
Although drinking alcohol is illegal in the Maldives, it is legal in resorts. Many accomodations feature private villas on the water or include other features that increase the luxury in your living quarters, such as private pools and spa services. Individual resorts may have unique experiences, too, like the underwater restaurant at Hurawalhi or the personal waterslides from your overwater villa into the lagoons at Soneva Jani.
For environmentally-conscious travelers, the Maldives also has plenty of eco-tourism options. Ecotourism has grown significantly in the Maldives in an effort to preserve the beauty and functionality of the archipelago. Resorts like Kudadoo Maldives Private Island have several sustainability initiatives, including swapping out single-use plastics for renewable resources and using solar power.
If you want to try something new, you can experience the beauty of the Maldives by snorkeling, sailing or participating in sports on the beach. The Maldives is home to some incredible wildlife, including turtles, sharks and rays, and many resorts offer the opportunity to tour the island and see these natural phenomena.
One downside of staying in a luxury resort in the Maldives is that you likely won't come across many locals. The resort areas are separate from the local islands, where most Maldivians live and work. However, if your goal is to take a lavish vacation in a gorgeous beach destination, Maldives is for you.
You should also be conscious that there is only one airport in the Maldives, located in the capital city of Malé, so you must travel to your chosen island by airplane. This can be a long trip, depending on the island.
The Maldives is full of incredible luxury resorts with different features and price points. Because of the plentiful options and the natural beauty of Maldives' beaches and coral reefs, the Maldives takes the crown as the best place for couples to visit for luxury resorts.
Best for Adventurous Couples: Banff, Canada
Pros
Proximity to nature
Mountain views
Amazing local culture and businesses
Cons
Can be difficult to explore beyond Banff without renting a car
Winters get very cold
Why we chose it: Banff provides the chance to be one with nature for the thrill-seeking couple. With several national and provincial parks right outside your door and plenty of outdoor activities, Banff is a fantastic place for adventurers to visit any time of year.
If you and your partner are avid explorers looking for an exhilarating trip to the wilderness, look no further than Banff, Canada. Nestled in the Canadian Rockies in the province of Alberta, Banff is a picturesque mountain town surrounded by gorgeous scenery and wildlife. The area offers plenty of stimulating activities for travelers who can't sit still.
One of the standout aspects of Banff is that there isn't a true peak season. In the winter, tourists and locals enjoy winter walks, snowshoeing and cross-country skiing in the park. There are several popular places to go skiing, snowboarding and tubing nearby, including Mount Norquay, Banff Sunshine and Lake Louise. And, of course, you can strap on a pair of skates and play hockey outdoors like a true Canadian. It can be extra cold in the winter so prepare to bundle up.
In the summertime, some choice activities include hiking the mountains and biking the Legacy Trail between Banff and the nearby town of Canmore, also a popular destination. Many enjoy swimming and boating this time of year, and if you want to ditch a hotel entirely, there are plenty of great places to go camping. At any time of year, you can experience the gorgeous views from above on the Banff Gondola and relax in the Banff Hot Springs.
When you need a little break from your daily endorphin rush, Banff is full of great restaurants, local craft beer, art galleries, local businesses and handmade goods to explore. Don't shy away from exploring the surrounding area — Canmore, Lake Louise, Yoho National Park, Glacier National Park, Kootenay National Park, several provincial parks and even the large city of Calgary are a mere drive away.
If you plan to explore these areas, a car is recommended. This makes it easy to visit the incredible locations surrounding Banff. If you plan to visit in July, consider driving an hour into the city of Calgary to see the Calgary Stampede, Calgary's famous 10-day rodeo, exhibition and festival event. The stunning scenery, outdoorsy activities and promising surrounding area make Banff one of the best places for couples to travel for an adventure.
Best for a Secluded Beach Vacation: Chania, Greece
Pros
Many beautiful beaches to choose from
Great cultural experience
Delicious food
Cons
Far from some of the most popular Greek attractions
Will need to take the ferry to Chania
Why we chose it: For a quiet and secluded beach experience that still encapsulates all of the beauty and history Greece has to offer, Chania offers a relaxing and private alternative.
Greece is one of the most popular places to travel for a reason. This destination perfectly blends beautiful scenery, deep and intriguing history and lively culture. However, the popularity of locations like Athens, Mykonos, and Santorini can leave those areas crowded and more expensive, especially during peak season. That's why we've chosen Chania, a city on the Greek island of Crete, as our optimal choice for a secluded beach experience.
Chania is home to 41 beaches, some with fine sand and some with colorful pebbles. It's quieter than other islands so that you can enjoy a truly secluded experience — but be prepared for a long ferry ride. And, it's possible to go island-hopping and see some of Greece's most famous attractions while staying here. However, the downside is that some of the more famous locales in Greece can be quite far and may require a plane or ferry ride.
Chania is a great place to stay and bask in the sun on the quieter beaches and experience Greek and Cretan culture while still having the option to see more of the country. We recommend a hotel like the Chania Flair Deluxe Boutique Hotel, a small boutique hotel with lots of privacy within walking distance of the beach.
For the best experience in Greece, learn a bit of Greek to communicate with the locals, and be sure to try all the local food and drink, which are staples of a Greek vacation. The fantastic beaches, quieter area and Greek and Cretan culture make Chania, Greece, one of the best places for couples to travel for secluded beaches.
Best for Visiting National Parks: Moab, Utah
Pros
Incredible scenery and views
Lots of adventurous activities to participate in
Fascinating history
Cons
National parks can get crowded during peak season
Some parts of the national parks are only for experienced hikers
Timed entry reservation is required in advance
Why we chose it: For couples hoping to explore national parks, Moab, Utah, is an obvious choice. Between Arches National Park and Canyonlands National Park, Moab is full of natural wonders in the famous red rocks.
Arches is famous for its over 2,000 natural stone arches and emblematic red rock formations. There's plenty to do at Arches, including hiking, biking, rock climbing, horseback riding and more. Rent a car for the day and take a trip to the famous Delicate Arch Viewpoint, the park's most famous arch. You can also invest in a commercial tour to see everything Arches has to offer. Arches has a timed entry system, so make sure you get a ticket in advance and show up on your time slot.
Canyonlands is a huge national park spanning over 171,000 football fields and is home to distinct red canyons, mesas, buttes, fins, arches, and spires in the heart of the Utah desert. Canyonlands is split into four districts: Island in the Sky, The Needles, The Maze and the Rivers, with Island in the Sky being the most accessible. The other districts are farther out, and some are only for experienced hikers and travelers. Rent a four-wheeler, travel on horseback or try a hike.
The peak time of year for both parks is April to October, so we recommend coming early or late in the year and entering the park bright and early in the morning. This may help you avoid large crowds. Also, note that parking can be difficult to access.
When you need a break from your invigorating national park exploration, check out the Moab Giants Dinosaur Park or the historic rock art to immerse yourself in a bit of history. At night's end, camping in the national parks is a once-in-a-lifetime experience. Make sure you gaze up at the stars to see Moab's beautiful night sky, famous for being one of the darkest in the United States, with over 2,500 stars visible.
Camping is the ideal way to experience summer in Moab. We also recommend looking into one of the many local accommodations for a more rural experience. Whether mountain biking rugged terrain, hiking the iconic red rocks or going for a refreshing horseback ride, Moab is full of exciting outdoor activities for anyone seeking the best national parks.
Other places for couples to travel we considered
Although these other options also make great vacation spots for couples traveling together, they didn't quite make our list.
Jumby Bay Island, Antigua
Pros
Quiet private island
Beautiful scenery
Luxurious and exclusive
Cons
Very high price point
Few direct flights
Although this private island is absolutely beautiful, it comes in at a significantly higher price point than many other comparable private island experiences and may not be worth the expense for most travelers. It can also be hard to access as few airports have direct flights to Antigua. This private island is beautiful, quiet and exclusive, but since affordability was one of the criteria in choosing the best places for couples to travel, we've provided comparable tropical options at more affordable prices.
Las Vegas, Nevada
Pros
Exciting casinos and nightlife
Great entertainment
Lots of shopping
Cons
Expensive
Not much to do other than participate in nightlife
If you love casinos, fancy cocktails, shopping and entertainment, Las Vegas may be for you. However, if you're looking for a wide variety of experiences and activities, we don't recommend Las Vegas. Outside of gambling and drinking, there isn't much to do throughout the day. The city is crowded, and prices have skyrocketed in recent years.
Waikiki, Hawaii
Pros
Plenty of exciting activities available
Very walkable
Great entertainment
Cons
Crowded tourist trap
Expensive
Waikiki, Hawaii, is an iconic tourist destination many people have on their bucket lists. Yes, Waikiki is a good place to visit the beach, take a surfing lesson, experience live Hawaiian entertainment or go for a nice walk. However, the area can be very crowded, and Hawaii itself has seen a huge influx of post-pandemic tourism, which has caused prices to rise.
Places for Couples to Travel Guide
Going on a trip with your loved one can involve a lot of planning. Here are some tips and tricks to help things go smoothly.
Tips for traveling as a couple
Know how much PDA is okay where you're headed
Standards for personal displays of affection can vary depending on your geographical location. While the setting may be romantic, it is important to research how much PDA is okay where you're going. You'll want to respect the local culture and customs when visiting a new place. When in doubt, save the PDA for your hotel room.
Have patience
While traveling can be an amazing experience, it is common for inconveniences and misunderstandings to come up. Travel delays, waiting in lines, mix-ups with accommodations and baggage, and disagreements with your travel partner are all common. However, these inconveniences tend to be temporary. Try to be patient and enjoy the ride.
Consider what your partner wants to do
Choosing a mix of activities you and your partner are interested in trying can ensure that you both get what you desire from the trip. Be sure to plan the things you're most looking forward to, but don't be afraid to compromise to make sure you both have a great time. You may end up genuinely enjoying your partner's choice of activities.
Quickly move on from arguments
Sometimes, couples traveling together may find themselves having disagreements and arguments along the way. Stressors that may increase tension between you and your partner may include inconveniences throughout the trip, abundant time spent in close proximity with little privacy, disagreements over what activities to pursue on the trip and more. Try not to shy away from conflict; aim to resolve things compassionately and efficiently. Moving past disagreements can help you focus on enjoying the trip with your partner.
Prepare for the trip together
When preparing for the trip, make sure both of you are involved and get a say in packing for the trip, planning activities, choosing dining and accommodations and whatever else is important to you as a couple. The trip is much more likely to be a great experience if everything is agreed on by you both.
That said, this isn't a one-size-fits-all solution. Find an equitable collaboration that works for you and allows both of you to feel included but not overburdened with responsibilities. And in case of unforeseen circumstances or emergencies, make sure you research the best travel insurance companies so that you're covered.
Take lots of pictures
Pulling out your camera to snap a picture when you're busy enjoying the moment may seem like a hassle, but your future self will thank you! Taking pictures can be a great way to document memories together and can be the most precious souvenir you bring home. You can choose to keep these photos completely private or share them with the world. This may be a once-in-a-lifetime opportunity that's well worth documenting.
How to make a romantic getaway more affordable
Use travel rewards points and miles
When planning for your trip, check on any rewards programs or best travel rewards credit cards you may have that help you gain points and miles. You may find you have enough points stored away to give you a discount on flights and other travel costs. If you don't quite have enough points or miles to claim yet, then consider using the cost of the trip to gain more points and miles by paying with the best travel credit cards or using another rewards program.
Start a travel savings
If travel is something you value, consider opening a high-yield savings account to use as a short-term rainy-day fund. If you put a small amount aside every now and then, you may be able to save for trips much more quickly than you expect. Better yet, if you have a specific travel goal, budget the trip in advance and calculate how much it will cost to make a savings goal. This can help you set aside the appropriate monthly amount to meet your goal.
Choose an affordable destination
There are many incredible destinations to choose from that won't break the bank. When researching a travel destination, look into the cost of living in the area, consider what modes of transportation you will use, avoid tourist traps and search for affordable accommodations like hostels and house-sitting arrangements.
Look for discounts and specials
Shop around on different websites and with travel agencies to find yourself the best deal possible. Sign up for newsletters from these sources so that when there's a discount running, you'll be the first to know. Join rewards programs with airlines, travel booking sites and more to start collecting and cashing in rewards. Using the best airline credit cards to collect miles can also get you huge savings.
Be flexible with your travel dates
Traveling at peak times of the year or on busy days of the week can seriously increase costs. The cheapest days of the week to fly are Tuesday, Wednesday and Saturday, so be flexible when booking your time off. Look into the high seasons for your chosen destinations, since these can vary considerably from the U.S. Most importantly, plan your trip well in advance to cut costs, guarantee time off work and know everything is already taken care of.
Places for Couples to Travel FAQ
What makes a great vacation spot for couples?
This depends on you and your partner and what your travel goals are. Beautiful scenery can make for a romantic vacation, as can fun activities for you and your partner to partake in. If you're looking for a more relaxing experience, resorts and beaches can provide some much-needed TLC, while national parks, mountains and historic cities and areas can provide a more adventurous experience.
It's also important to consider pricing. It is very possible to travel on a budget, but if you have the means and wish to put a little more money into a deluxe experience, that can be great too. Lastly, don't forget to check any COVID-19 travel restrictions before traveling, and discuss your comfort level with COVID-19 safety measures with your partner before choosing a destination.
What are the benefits of traveling as a couple?
In addition to being able to take advantage of honeymoon packages and couples' discounts, traveling can also greatly benefit your relationship. You learn problem-solving and how to work together as a team. A shared memory or experience unites people in unique ways, so don't miss out on the opportunity to spend quality time and experience something new together.
How do I choose the most romantic destination?
The most romantic destination depends on you and your partner. When selecting a destination, determine what you value, what destinations have personal significance, your budget and what environment and climate you crave. Then, find romantic things to do in your vacation destination. The most romantic vacation of all is one you will go on together.
How We Chose the Best Places for Couples To Travel
Ultimately, the best place for you and your partner to travel is the place you agree on together. That said, to help you pick, here are our criteria for choosing the best places for couples to travel:
Affordability: We considered affordability in each area to help you choose a great vacation spot without breaking the bank.
Range of couple-specific activities: We considered what activities and benefits each location offered specifically to couples so that you and your loved one could choose a place that offers lots of things to do together.
Entry criteria strictness: Given the way COVID-19 has changed the way we travel, we considered what COVID-19 restrictions were in place and how flexible they were, depending on your values and needs.
Scenery: We considered the local scenery and whether it created a romantic atmosphere.
Attractions: Finally, we considered whether there were local attractions worth seeing in these locations.
Summary of Money's Best Places for Couples To Travel