Everything You Need to Know About Ditching Plastic Straws and Switching to Reusable Ones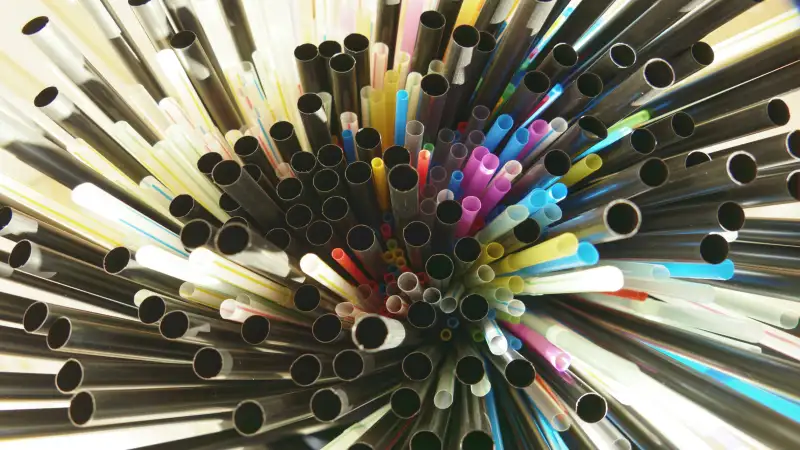 Christopher Haas / EyeEm—Getty Images/EyeEm
Consider it this generation's foam fast-food container: Plastic straws, once ubiquitous, are vanishing from from restaurants, hotels and coffee shops. Starbucks, Disney theme parks, Hyatt hotels, and many other businesses have announced plastic straw bans in recent weeks, and many everyday consumers are deciding to ditch disposable plastic straws on their own.
Getting rid of disposable plastic straws is a boon for the environment, but it can make things hard if you're trying to drink an iced coffee or smoothie while commuting. Fortunately, a growing number of manufacturers now make reusable straws. There are a whole slew of variables to consider, and it does warrant a little bit of research. After all, there's no sense getting a reusable straw, if you'll wind up disappointed and then throw it out. That's a bummer for the earth and for your wallet.
So here is everything you need to know about where and how to buy reusable straws. You have a few main factors to consider when browsing for plastic straw alternatives.
Reusable Straw Sizes
What are you going to be drinking with your straw? The answer will determine what size reusable straw (or straws) you should buy.
What most of us probably consider "regular" straws are 7.5 or eight inches long; cocktail-sized straws that would do best in a small glass or coffee mug are generally five to six inches, and jumbo-sized straws for big insulated tumblers like the 30-oz. Yeti Rambler can be 10 inches long or more.
Straw diameters tend to range from about 7mm to 15mm (about half an inch). If you plan to use your straws to drink thick smoothies or beverages like bubble tea that have semi-solid ingredients, head towards the higher end of that range, like with these Alink stainless steel drinking straws that are nine inches long and 12 mm in diameter. A set of four with a cleaning brush costs $11.99 at Amazon.
Best Straw Shape
Bent or straight? Both configurations are available, and if you can't decide (or want both on hand), there are multi-packs that include both.
Straight does get the edge in terms of easier portability and cleaning, but that's no reason to dismiss bent straws entirely, especially if you're stopping at the drive-thru and giving that drink to a less-than-dextrous kid in the backseat. This Senhai variety pack of eight straws ($11.99) has you pretty much covered in terms of both size and shape, and it has a near-perfect 4.8-star ranking on Amazon. We're partial to the colors bonded to these stainless-steel straws (rose gold and a fun iridescent purple), too.
Resuable Straw Materials
Stainless steel seems to be the most common among reusable straw material. It's certainly the most widely available, and it gets points for durability and its odor-resisting properties (although some people think the metal can give beverages a funny taste). The drawback is that metal conducts heat, so keep that factor in mind if you plan to use them for hot drinks or have sensitive teeth.
Silicone is another option; these straws are obviously softer than steel and come in a rainbow of colors, which might be a plus for kids (especially if you need to sort out whose drink is whose at a glance). Reusable straws made of silicone are also easier to fold or squish into a small space or cut to size if you need a short straw. But you'll have to be vigilant about keeping them clean and drying before putting them away, as some users report funny odors or even mold (yikes!). Or, split the difference with a hybrid like these Klean Kanteen straws that are mostly metal but come with soft silicone tips.
You can also find reusable straws made of materials like hard plastic, glass, and even bamboo. They all have their selling points as well as drawbacks.
High-quality plastic doesn't present as much risk of shattering as glass and can be tossed into the dishwasher. This 12-pack of extra-long (10 inches) hard plastic straws from the brand Cupture ($9.99) has a 4.7-star ranking on Amazon. (In fact, they're so popular that the solid multicolor pack is on backorder!) Users say these straws are more durable, flexible and all-around better made than many of their competitors.
Beware, though: The key words here are "high-quality;" read the reviews before ordering super cheap plastic straws, because they can crack, shatter or have their color wear off.
Both pro reviewers and Amazon customers like these glass straws from Hummingbird. This four-pack of nine-inch, shatter-resistant straws isn't the cheapest option out there (they're around $24, or $6 a straw, while steel and plastic are generally closer to a buck or two), but with nearly 2,100 Amazon reviews and a 4.9-star rating, you know you'll get your money's worth.
Bamboo straws get the eco-friendly boost of being made without dyes or chemicals, but being made out of natural materials means putting up with a few quirks like variations in diameter, and some customers complain of a lack of durability. A set of eight bamboo straws from Buluh was listed for about $15 at Amazon.

Reusable Straw Accessories
First off, if your reusable straws don't come with a cleaning brush, you should pick up one (or a set like this one). While most reusable straws can be run through the dishwasher, it's not advisable for all materials — plus, you'll want a way to get out any gunk if you inadvertently suck up lemon pulp or your toddler pushes a Cheerio down the opening.
Most straw sets come with a carrying pack, but it doesn't have to be a deal-breaker if they don't. Think of it as an excuse to get a cute pencil case for your straws.
Folding straws are another option: Kickstarter-based FinalStraw, which raised $1.8 million on the crowdfunding platform, says its $30 foldable straw ($20 for preorders), which will come with a keychain carrying case, won't be available until November. If you don't want to wait that long, there are (of course) already knockoffs out there. Tread carefully, as some using similar-sounding names and customer reviews on Amazon seem to be mixed, at best.
You could instead opt for one of the many insulated tumblers that come with straws, like this one from Klean Kanteen ($27.95).
Or you can consider buying a straw and straw lid as an add-on accessory specifically fitted to your tumbler. But that might be less handy if you anticipate using reusable straws for backyard barbecues or hitting the drive-thru.
We've included affiliate links into this article. Click here to learn what those are.