10 Unimaginable Things Happening Because of 'Pokémon Go'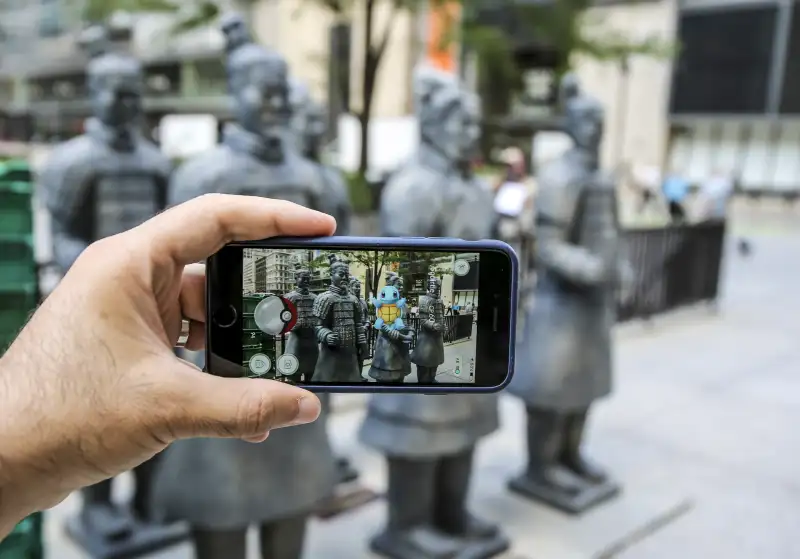 Bilgin S. Sasmaz—Anadolu Agency/Getty Images
It's been estimated that somewhere between 5 million and 25 million people have been playing Pokémon Go in the U.S. since its debut earlier this month. The Nintendo smartphone game has only been around for a couple weeks, yet it already has more daily users than Twitter, and players spend more time with it than they do on Facebook.
Depending on your point of view—and, likely, whether you embraced the original card-based Pokémon game or observed it with extreme puzzlement—you may be disturbed or amazed by the current craze. Generally speaking, smartphone games and traditional video games don't do much beyond getting players to buy and use their products. But here are some of the things Pokémon Go is getting credit for making happen, good and bad:
Getting Gamers to Exercise. Unlike almost every other screen-based game on the planet, Pokémon Go requires players to leave the comfort of their homes and couches. To collect virtual Pokemon characters, you must go out into the physical world and find them. The result, as a Gizmodo headline put it, is a pandemic of sore legs, "As Pokémon Go Players Accidentally Get Exercise."
Selling Drinks. Pokémon Go pub crawls have been attracting thousands in cities such as San Francisco, Pittsburgh, and Cincinnati, and upcoming Pokemon-gathering bar crawls are planned in places like Milwaukee, Denver, and Brooklyn. Meanwhile, bars in Chicago, Washington, D.C., and elsewhere are creating "Pokemangoritas" and other game-inspired cocktails, as well as food and drink deals for Pokémon players.
Read Next: 10 Things Millennials Won't Spend Money On
Boosting Museum & Theme Park Admission. Institutions like the Museum of Contemporary Art in Los Angeles and the Central Florida Zoo & Botanical Gardens in the Orlando area are offering discounted admission for Pokémon Go players. SeaWorld locations in San Diego and Orlando and Busch Gardens in Tampa have been attracting visitors by hosting special events loaded with Pokémon characters to find.
Registering Voters. Pokéstops have been turned into voter registration centers by Hillary Clinton campaign organizers. The idea is that as players collect Pokémon players, they'll pause to consider registering to vote—and, ideally, give special consideration to the candidacy that's helping them register.
Hooking Up Single People. Similar to the way that players are accidentally getting exercise, many are also accidentally meeting fellow enthusiasts and winding up on dates. Hence the headlines declaring that Pokémon Go is replacing Tinder. Using Pokémon Go as a dating app might even make sense. "It's perfect as a dating game," Karen North, professor of digital social media at the USC Annenberg School, explained to Wired. "You meet someone with a common interest, engage in that activity together, and get a new challenge for tomorrow and the next day."
Ending Relationships. The flip side is that some players are so obsessed with the game it's resulting in "Pokémon widows," with significant others left behind. There have even been some breakups. One man said he was busted cheating on his girlfriend after the game showed her he had caught a Pokémon at his ex's house.
Bumping Up Small Business Revenues. Government initiatives and chamber of commerce campaigns have struggled mightily to make positive impact on mom-and-pop businesses on Main Street U.S.A. But apparently, Pokémon Go started making a difference right away. Coffee shops, pizzerias, hotel bars, and more have reported business has been brisk thanks to Pokémon characters hanging out waiting to be collected nearby.
Earning Money for Gig Entrepreneurs. There's opportunity in any craze, and Pokémon Go is no exception. Independent drivers have been charging $25 or more per hour to chauffeur players around, Uber-style, so they can gather characters. Expert Pokémon Go players have also been selling their accounts, sometimes for hundreds of dollars, to people who are just getting started in the game and want to catch up in a hurry.
Read Next: 10 Things Americans Have Suddenly Stopped Buying
Offending Victims of War & Terror. The 9/11 Memorial and the Holocaust Memorial Museum had to ask people to stop playing the game in their vicinities because, apparently, it wasn't obvious to players that doing so was entirely inappropriate.
Getting People Hurt. While in the throes of the Pokémon Go hunt, players have crashed cars while driving, gotten hit by cars while crossing the street, and been robbed because they weren't paying attention to their surroundings. Players have even fallen off cliffs without noticing until it was too late.
"I think people just need to realize this is a game," Sgt. Rich Eaton of the San Diego County Sheriff's Department told the Los Angeles Times, after two men hopped over a fence and fell off a cliff trying to collect characters. "It's not worth your life. No game is worth your life."
Nor is any silly game worth your dignity.