This Painting Was Found in an Arizona Garage. It Could Be a Jackson Pollock Worth $15 Million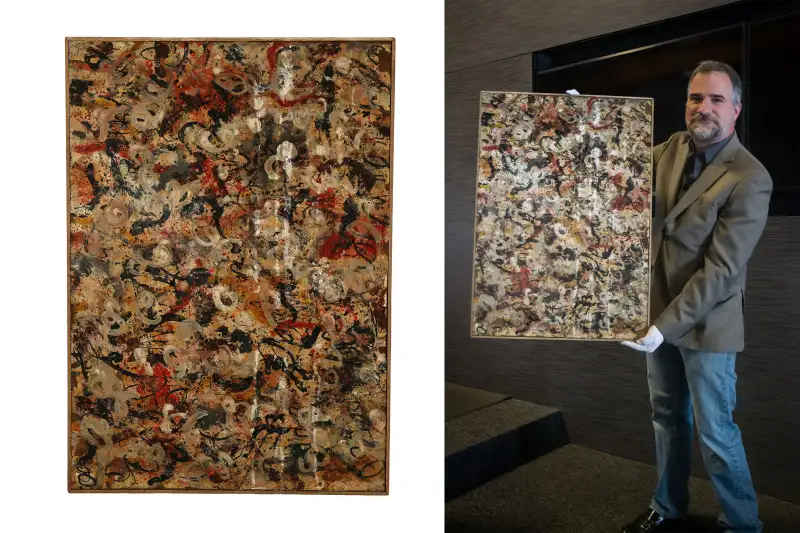 Sami Gill—J. Levine Auction & Appraisal
An abstract painting believed to be a Jackson Pollock is set to go to auction on June 20 and may sell for up to $10-15 million.
After the painting was found in an Arizona garage, J. Levine Auction & Appraisal spent 18 months and $50,000 spent on research, forensics reports and private investigators to authenticate the painting, according to The Arizona Republic. Ahead of the painting's auction in two weeks, the company is confident that it is an original by Pollock.
"It's one of those things that it's unbelievable how it all came together," Josh Levine, founder and CEO of J. Levine Auction & Appraisal, told Money. "I didn't even believe it myself. I'm just kind of shocked more than anything. And I keep getting more solid information as each day goes by."
Levine said the painting was found when the auction house was called to evaluate a Kobe Bryant signature on a Lakers poster found in a garage. The garage was owned by the brother of a woman who was connected to many high-profile New York artists, Jennifer Gordon. After Gordon passed away in 1992, Levine said, the painting ended up in the garage, where it has been sitting ever since.
One of Gordon's friends, Barbara McKay, told the Arizona Republic that Gordon was known to own a Pollock painting, which made her as confident as she could be that "this is the original painting." Gordon was also a known friend of Clement Greenberg, the influential modern art critic of the mid-20th century who was an early promoter of Pollock, according to Levine.
"I would go to my grave that this is a Jackson Pollock," Levine said. "There's no doubt in my mind."
Other paintings in the estate include ones by Kenneth Noland, Hazel Guggenheim McKinley, Jules Olitski and Cora Kelley Ward. Levine said Gordon, who regularly threw parties for prominent artists, was a friend of the American art collector and socialite Peggy Guggenheim.
Levine said the paint is all original and the painting has not been restored. "The dating of the painting to the mid twentieth century is well established as no pigments or binding media introduced in the late 1950s and 1960s have been detected," forensics expert Peter Paul Biro said in a report.