Target Makes a Killing on Alcohol Sales and Is Expanding Its Booze Selection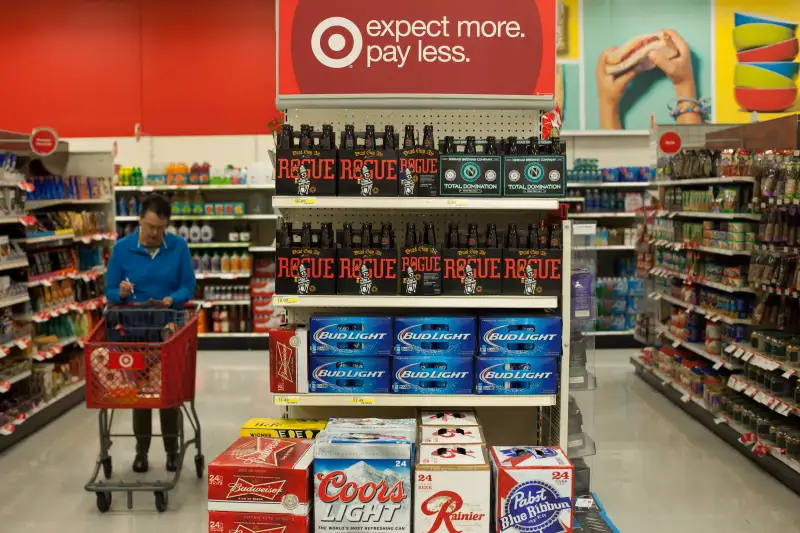 Bloomberg—Bloomberg via Getty Images
In response to its increasing alcohol sales and sliding grocery sales in 2016, Target is planning to expand its booze and craft beer selections in more than 300 stores.
The retail giant, which has recently been hit with sales declines and the loss of executives, first began selling alcohol in 1996. Already, 1,400 of Target's 1,800 stores worldwide carry alcoholic beverages. But on a quarter one earnings call, Chief Merchandising Officer and EVP Mark J. Tritton said the company plans to expand in more than 100 stores in the second quarter, with more expansions planned for "the third quarter and beyond."
Adult beverage was the single fastest growing division at Target last year, with craft beer performing especially well, Senior Manager of Public Relations Amy Joiner said. Craft beer accounts for more than a quarter of total liquor sales, which is twice as much as at a typical liquor store, according to Target's website.
The company's headquarters hired a regional beer buyer last April to figure out which local brews customers in each area care about most. And in order to expand, Target is working on increased footprints, remodels, and new liquor licenses in 2017, Joiner said.
"We've done a lot of work to ensure that our assortment reflects what guests on a local level want and guests are responding," Joiner added. "Our store leaders are empowered to adjust their assortments based on their guests' preferences."