Attention College Students: Trump Is Coming After Your Work-Study Gigs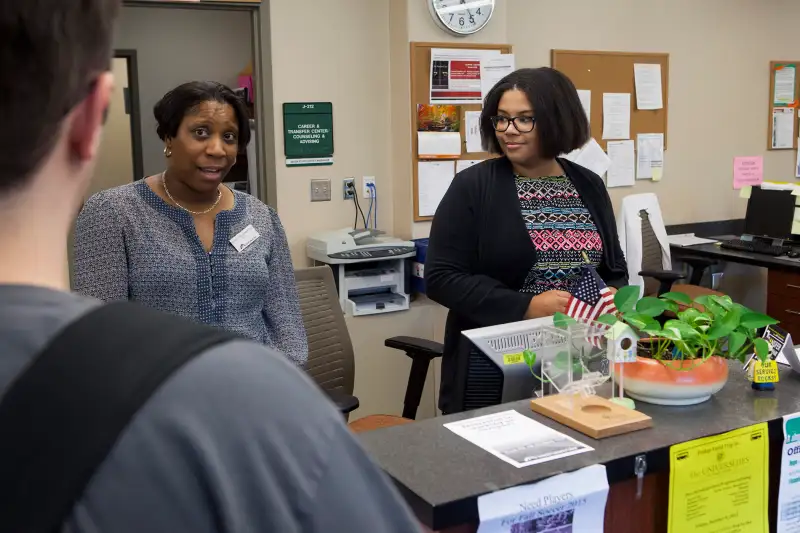 Melanie Stetson Freeman/The Chri—Getty Images
President Donald Trump today proposed slashing one of the most popular and proven financial aid programs that helps lower-, middle- and even upper-middle class students pay for college – the federal work-study program.
Taxpayers funnel about $1.1 billion a year to colleges to fund work-study jobs that employ more than 670,000 college students in part-time jobs. The typical work-study student only earns about $1,600 a year. The advantages of the job are more than monetary, though. Research shows those jobs help students stay in and graduate from college, strengthen their time-management skills and build their resumes.
Although the exact extent of the cuts were not made public, the Administration's "Blueprint" called for "Reduc(ing) Federal Work-Study significantly" and "reform(ing) the poorly-targeted allocation to ensure funds go to undergraduate students who would benefit most."
A spokesman for the U.S. Department of Education did not respond to a request for further details or explanation this morning.
One reason that the work-study program has been a political target over the years is the way the jobs are allocated. About half of the work-study jobs go to middle- and higher- income students who, presumably, don't need the assistance as much as low-income students.
Federal data show that although private colleges enroll only about 12% of all undergraduates, about half of all federal work-study funding goes to students at those schools. That means that about 25% of private university students get work-study jobs. But only 2% of students at public community colleges are awarded the jobs.
As a result of this allocation system, which is based on decades-old practices and student enrollment data, about half of the work-study jobs go to students from families earning more than $65,000 a year. If the new Administration's reforms target the jobs going to the higher-income groups, that could eliminate as many as 330,000 jobs that help middle and upper-middle students pay for college.
According to Preston Cooper, an education researcher for the right-leaning American Enterprise Institute, research indicates many students who receive work-study jobs would have taken off-campus private sector jobs, "so it isn't inducing them to work." He added that the work-study program subsidizes colleges by giving them money they then pass on to students in the form of wages. "It's a handout to colleges," he said.
Many independent educational researchers backed the idea of reforming the allocation of jobs. But they said cutting the number of job opportunities would hurt students and seemed to conflict with some of the goals of the Trump Administration.
Research shows work-study jobs "may actually improve persistence, graduation, and the likelihood of employment after graduation," said Judith Scott-Clayton, a Columbia University economist who has studied the program.
"Cutting it now is inconsistent with the administration's apparent desire to promote more career–oriented college experiences," she added.
Other higher education experts agreed. Iris Palmer, an education policy analyst for the New America think tank who previously worked in the Department of Education under President George W. Bush, said that a concern about the unfair allocation of the jobs is one reason that work-study program has "never gotten any love" from previous presidents. The Obama Administration did not cut the work-study budget, but it kept it flat despite increases in inflation and student enrollment.
But, she said, work-study has been proven to help students, and appears to be popular with the public. She said she hopes the Administration will focus on reforming rather than cutting. "Philosophically, you would think work-study would be something that would appeal to this Administration - supporting students who want to work through college."