All You Need to Know on 3 Programs That Speed You Through Airport Security Lines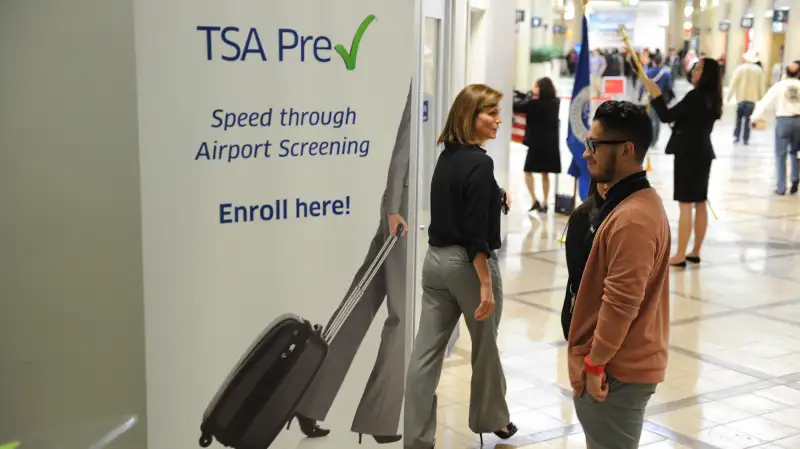 Robyn Beck—AFP/Getty Images
Road warriors swear by traveler programs that essentially give you "express lane" access through airport security. Until recently, however, there hasn't been much reason for the average twice-yearly vacation to put in the time and pay the fees to apply for these programs. Times may have changed, though.
With rising delays at many major airports — and the summer travel season still on the horizon — it might be worth taking a closer look at your options, so you don't have to spend any more of your hard-earned vacation time cooling your heels in TSA lines than absolutely necessary.
Travelers have been complaining lately about lines at many major airports that can take literally hours to get through, causing backups that makes large numbers of people miss flights and need to be rebooked. The situation is so bad that airlines and airport authorities are demanding that the Transportation Security Administration take action. This week, the Port Authority of New York and New Jersey slammed the agency for what it called the "continuing inadequacy" of current screening practices. Delta even offered to pitch in and help with screenings, seeing that the TSA is obviously overwhelmed. (The TSA has largely blamed longer waits on more travelers and budget cuts.)
Just how bad have things gotten? Well, just this week, airline trade group Airlines for America set up a website (IHatetheWait.com) soliciting gripes from travelers stuck on long lines. The site encourages people to Tweet or post photos to Instagram with #IHatetheWait too.
Unfortunately, experts predict things are only going to get worse before they gets better. So less-frequent travelers might think about paying extra to save some time at the airport — especially people who plan to travel with young kids this summer.
"One of the arguments for casual travelers is yes, you don't travel a lot," so it might not be worth it to pay to save time at the airport, said travel technology consultant Max Rayner. "But are you sure you want to spend that extra half hour attempting to manage children?"
The two most well-known programs are TSA Precheck and Global Entry. For both programs, you start the process online and have to complete an in-person interview before getting approved. Another program, Clear, will speed you past the ID-check line, although it won't get you through security or customs any faster.

Which program is right for you? "It depends on an individual's travel profile, domestic versus international, which international markets — and their appetite for waiting around aimlessly," said airline industry consultant Robert Mann. Here are some critical details about each.
TSA Precheck
There are currently about 160 airports in the United States that have Precheck lanes, and the following domestic and Canadian airlines participate in the program: Alaska Airlines, Allegiant Airlines, American Airlines, Delta Air Lines, Hawaiian Airlines, JetBlue Airways, Southwest Airlines, Sun Country Airlines, United Airlines, WestJet Airlines, Virgin America and Air Canada. Precheck members, who pay $85 for a five-year enrollment, also can use the designated lanes when traveling from a U.S. airport to another country.
If you travel as a family, Precheck has one very helpful perk: Kids 12 and under don't need their own separate Precheck. Once they hit their teen years, though, they'll need their own memberships.
The other big perk of Precheck can be thought of as a quality-of-life attribute. "Beyond the time saved not waiting in line is the security screening itself. It takes literally half the time," said travel analyst Henry Harteveldt. Passengers who go through security in a Precheck lane don't have to take laptops or liquids out of their bags, or remove shoes, belts and jackets.
Read Next: Airlines Launch New Website Dedicated to Hating on Long Lines at Airports
"Precheck is useful if you prefer to minimize your airport dwell time on departure," Mann said. Of course, he added, "[This is] assuming the Precheck lane is open when you arrive, and that TSA isn't stuffing it with passengers who are not Precheck members, which slows down throughput dramatically, since they do not understand the protocol."
Clear
One drawback to TSA Precheck is that long security lines make it look appealing to more travelers — and the more people participating, the longer those designated Precheck queues are going to be. TSA agents also can, at their discretion, direct non-Precheck passengers into Precheck lanes when lines are out of control.
This is where Clear comes in. Clear is a program that lets you bypass the ID check you have to go through before you get to security.
"The argument for Clear is that as TSA Precheck has gotten more popular, you're now seeing, particularly at large airports, enormous lines, even for TSA Precheck," Rayner said. "If you're signed up with the Clear service, Clear can take you to the head of the Precheck line."
But this extra bump to the front of the line doesn't come cheap: Clear costs $179 a year, and it's only in 13 U.S. airports right now. You can add your spouse for an extra $50 and kids under 18 can travel under yours for free, but still.
Global Entry
If you plan to go overseas frequently, consider Global Entry: It expedites the waiting at customs when you come back into the country, as well as at land and water borders. To apply, you'll need to list every foreign destination where you've traveled in the past five years, and enrollment costs $100 and lasts five years.
Global Entry comes with TSA Precheck perks, but keep in mind that while TSA Precheck can get your kids through airport security with you, they'll need their own Global Entry pass (which requires having a passport) to zip through customs.
Of course, that's provided your home airport is set up for Global Entry. According to the U.S. Customs and Border Protection website, "The head of the line privilege is only available at U.S. airports that have Global Entry kiosks."
Read Next: 5 Ways Airlines Are Finally Becoming Less Greedy & Mean
Americans with Global Entry also can be eligible for quick customs clearance into the Netherlands, South Korea, Panama, and Mexico, although each of those requires a separate application, since you'd be entering through their version of the program. There are also two other programs somewhat similar to Global Entry called NEXUS and SENTRI, which are useful for travelers who frequently travel to Canada and Mexico, respectively.
The other caveat about applying for Global Entry as opposed to Precheck is that anecdotal reports suggest it can take considerably longer to get the necessary in-person interview slot to complete your application.
All things considered, travel experts call enrolling in one of these programs — even if you only have a few flights in your future — a no-brainer if you want to avoid the worst of the airport congestion.
"I believe that, for any traveler that values their time and sanity, and whose budget allows it, PreCheck is well worth the investment. The $85 for PreCheck, or $100 for Global Entry ...that's $17 or $20 a year, respectively," Harteveldt pointed out. Put in those terms, it seems a pretty small piece of your overall travel budget to save some time and frustration.