How the Property Brothers Turned $250 Into $50,000 on Their First Flip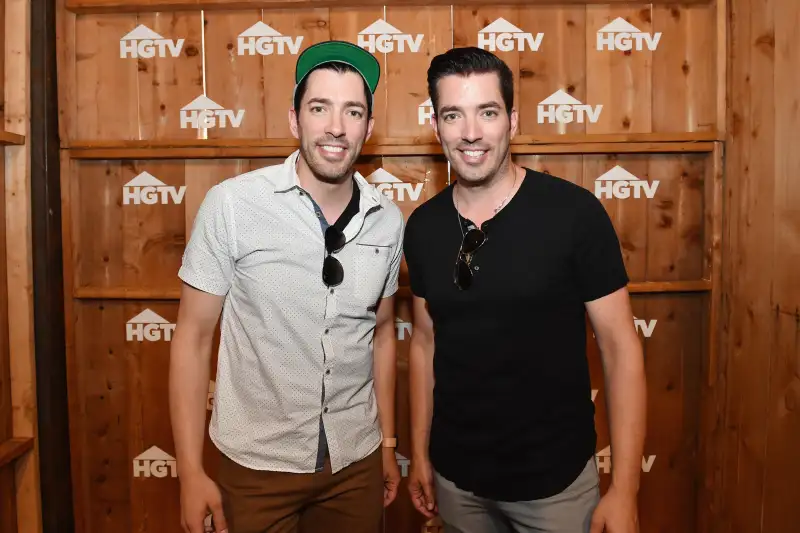 Jason Davis—Getty Images for HGTV
When Drew and Jonathan Scott turned seven, their father told them each to get a job.
Not even old enough to get the usual kinds of jobs for kids, the twins began a series of odd-ball, entrepreneurial ventures that they continued throughout their childhood and adolescence. They sold coat hangers for 25 cents each, performed as clowns for hire, and sold personal alarm devices door-to-door in high school, among other jobs.
But as teenagers growing up in Canada, the duo that would later star in HGTV's Property Brothers didn't consider real estate as an option until they saw an informercial on television touting the chance to make "millions by buying houses with no money down." As they recount in their new memoir It Takes Two: Our Story, they wanted to find a way to fund their dreams — for Drew, being an actor, and for Jonathan, a magician — and real estate seemed like it could be the answer.
"Coming out of high school we didn't want to be struggling artists, so we thought, 'Let's invest in real estate,'" Jonathan Scott told Money. "So we bought every book we could read and read every article on real estate we could."
So Drew and Jonathan bought their first home at age 18 in Alberta, Canada, when they began college at the University of Calgary. "The demand for student housing was always high; if we could just break into the real estate market, there was no way we wouldn't make a profit," Drew Scott wrrites in It Takes Two. They then took over the rent of a home on campus that had been passed down by students over the years, cleaned up the place — and charged $800 a month for rent for their friends.
That money helped them purchase their first home to flip: "a $200,000 eyesore" near the school's campus, they write, "whose previous owner evidently had a stucco fetish and an incontinent cat."
They purchased the house with just a $250 downpayment, and flipped it quickly to make a $50,000 profit. The brothers were lucky, however. They describe the home as one of the easiest flipping projects they could get since most of the needed remodeling was cosmetic.
They removed a green shag carpet in the home's master bedroom, took the stucco off the wall and repainted the blood-red walls (which Drew Scott described as ones that gave him "angry dreams"). They also added two more bedrooms to the place, for a total of seven, and lived in it rent-free for a year before renting out the extra bedrooms. Aside from Jonathan Scott's experience helping his father build their family ranch house in Alberta at age 14, the duo did not have experience with flipping and remodeling before their first project.
"That's when the lightbulb went on. We thought, 'Holy smokes.' We've never had that much money before. There's something here," Jonathan Scott told Money. "We made a business out of it and ran that company for 10 years before we were approached to do a show."
While it's worked for the Scott brothers, house flipping can be risky business, as thousands of Americans learned a decade ago when a housing bubble popped, igniting the 2008 financial crisis. Once seen as a way to get rich quick — especially in hot markets like Florida and Nevada — Americans flipped roughly 32,000 houses a month in 2005 at the height of the housing boom, according to Attom Data Solutions. But that was before housing prices began to tumble, leading to a wave of bankruptcies. (Even professionals weren't immune. Among the victims: David and Melina Montelongo, one-time co-stars of the A&E show Flip This House.)
The popularity of Property Brothers shows Americans are once again looking to make a buck on real estate. While interest has never returned to its pre-crisis high, house flipping has rebounded along with home prices, with flips reaching roughly 14,500 a month during the first part of 2017. (Attom defines flipping as the sale of a home twice in a 12-month period.) It's still easy enough to lose money, of course. Last year, about 12% of flips merely broke even or ended up in the red, according Attom.
The Property Brothers told Money that people interested in flipping homes should be extremely organized and prepared to undergo such a project. "There's no generic, quick solution," Jonathan Scott said.
The Scott brothers have four hit HGTV shows, including the Emmy-nominated Property Brothers and the sibling rivalry-focused Brother vs. Brother, and are the co-founders of Scott Brothers Entertainment and Scott Living. Their new memoir hit stores Sept. 5.
Ian Salisbury contributed reporting.