New Ram ProMaster Puts Chrysler Muscle in a Fiat Eurotruck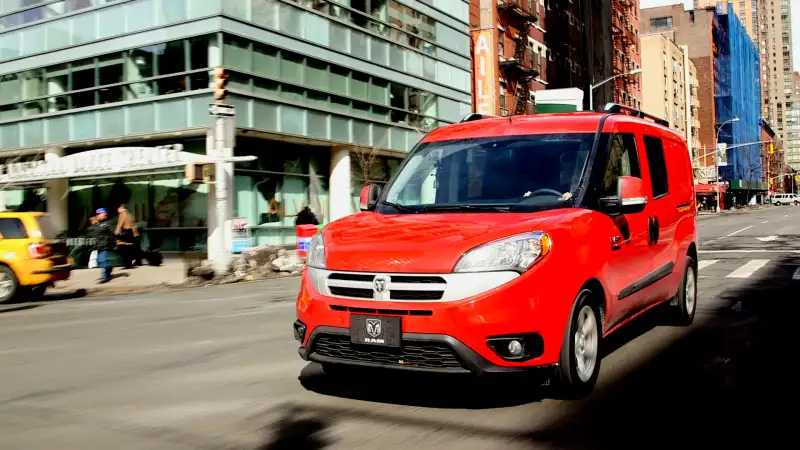 In the narrow, congested city block where I live, traffic gets blocked every day by some boxy truck making a delivery. Horns honk, as do drivers, and general unpleasantness ensues. Life in the big city would be so much calmer if trucks were smaller, like they are in Europe, where the streets are even narrower and more congested.
That's now happening. As car companies globalize their products, vehicles such as Ram's new ProMaster City are making headway, joining the likes of Ford's Transit, Chevy's City Express and Nissan's NV200. The ProMaster City is a Eurotruck through and through, because it's a Fiat Doblò that's made in Turkey and rebadged for the U.S. market. It comes in both a passenger and cargo version, and Chrysler has a customizing operation so you can trick out the cargo version to fit your business needs.
One reason Fiat bought Chrysler is that Fiat boss Sergio Marchionne realized that the two companies had offsetting strengths and weaknesses. Fiat does small really well; Chrysler is Detroit muscle all the way, and its big-ass Ram pickups are gobbling up market share.
In the ProMaster City, both companies' strengths are brought to bear. When you build small cars and trucks as Fiat does, you think inside out — that is, using design not only to maximize interior space, but also to create visual space. Look out the ProMaster City's windshield and you would think you are in a much bigger truck, a feeling that's exaggerated by the short nose and narrow A pillars. At the same time, there are nooks in unexpected places — for instance, a shelf at the roofline so you don't have to jam all kinds of stuff behind the sun visor.
Where's the Chrysler in this thing? That's under the hood. The ProMaster City is powered by one of Chrysler's go-to engines, the 2.4 liter Tigershark, an inline four-cylinder number that puts out 178 h.p., tops in its class. The Tigershark also powers the Chrysler 200, the Jeep Renegade, and the Dodge Dart, and it's attached to a sophisticated nine-speed automatic transmission. But even here there's a touch of Fiat: The Tigershark uses the Italians' MultiAir variable valve timing technology that helps to push the mileage to 21 miles per gallon in the city and 29 mpg on the highway. And there's more than ample power.
Where this corporate combination goes astray is in the dashboard, for some reason. The speedometer and information panels are not easy to see, the fog lamp is in the wrong place and the navigation system is a bit silly. The screen is iPhone-sized but with about a third of the resolution. You half expect to see Pac-Man start playing.
Still, the ride is comfortable, in part because of seating and in part because of the rear independent suspension. It's surprisingly quiet and car-like at speeds below 60 miles per hour. It also claims a very maneuverable 32-ft. turning radius. The fold-and-tumble rear seats maintain the same comfort level, and easily convert into a vertical position in a two-latch process that maximizes the cargo space. You'll get 131.7 cubic feet of space in the cargo version, and you can deliver nearly 1,900 lbs. of payload. The asymmetrical rear doors are designed to be opened to a full 180° for easier access.
The ProMaster City isn't the cheapest of these Eurotrucks. Our City Wagon SLT model had a base price of $25,655, and options such as a rear window wiper, rear view camera, and some of the fancier accessories push it up a couple of thousand. But the combination of Italian styling and American power in a well-thought-out package is attractive. And maybe it will help bring a little peace and quiet to my neighborhood.