Devoting 30% of Your Income to Rent Is Becoming the Norm in the U.S.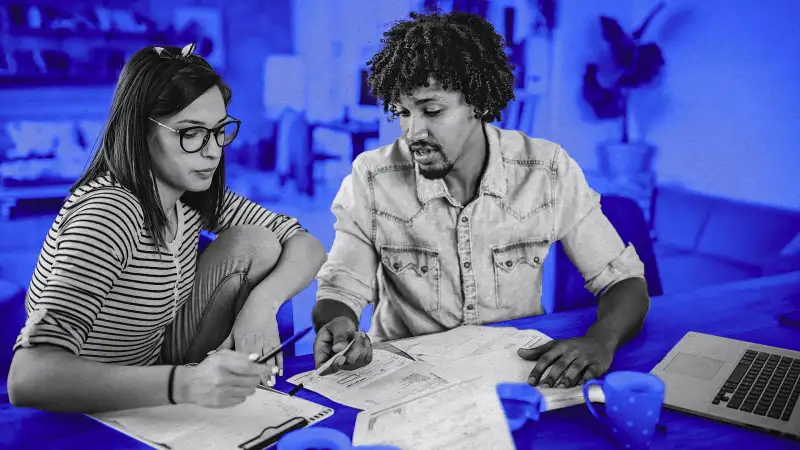 Even as the U.S. rental market's red-hot fever finally breaks, rent-to-income levels are still painfully high, according to new data.
At the end of 2022, financial services firm Moody's reported that for the first time in almost a quarter century of tracking, the average U.S. rent cracked 30% of the median household income — qualifying the typical renter as "rent-burdened." While costs cooled slightly in the first quarter of this year, rents are still eating up nearly a third of median annual household earnings on average.
According to Moody's economists, it's not looking like that will change anytime soon.
What the data says
For years, financial experts have recommended a rule of thumb that says people should spend no more than 30% of their gross income on rent.
But last year, the average cost to rent an apartment in the U.S. crossed a historic threshold, breaching 30% of the median household income. The milestone meant that, for the first time since Moody's started tracking these rental costs in 1999, the U.S. technically became "rent-burdened" nationwide.
Now, American renters are slightly under the rent-burdened threshold at 29.6% as of the first quarter of 2023.
Renters probably won't see any significant improvement in rent-to-income ratios for a while. Moody's forecasts that rent growth will hover around 2% annually, so while costs will stay largely flat, renters are unlikely to see much relief.
"As wage growth trails behind the cost of shelter, Americans are feeling financially distressed," Lu Chen and Mary Le, economists for Moody's, said in a Tuesday news release.
The most rent-burdened cities
Though it may not be surprising to see notoriously expensive cities like New York dominating the list of most rent-burdened metropolitan areas, Moody's says the pandemic's disruption of typical migration patterns has increased rent-to-income ratios in Sunbelt locales like Tampa-St. Petersburg and Orlando.
These are the metros with the highest rent-to-income ratios for median-income households nationwide:
New York, New York (66.9%)
Miami, Florida (42%)
Fort Lauderdale, Florida (36.8%)
Los Angeles, California (34.7%)
Palm Beach, Florida (34.2%)
Northern New Jersey (33%)
Boston, Massachusetts (32.8%)
Tampa-St. Petersburg, Florida (29.9%)
Orlando, Florida (29.9%)
San Francisco, California (29.3%)
The takeaway
It's not news to renters that they're devoting a bigger share of their incomes on housing — but if they're hoping for a new rent reality, they might not want to hold their breath.
When Moody's started its rent burden report about 25 years ago, only New York City qualified as rent-burdened. But now, paying 30% or more of your income for rent is increasingly becoming the norm in the U.S. Moody's says lagging wage growth coupled with COVID-19's impact on the housing market have exacerbated the issue.
Rising mortgage rates, according to Moody's economists, sidelined many would-be homebuyers, increasing apartment demand and driving rent prices to what renters are seeing now.
While rent growth is finally slowing down — even declining — thanks to affordability issues and a slowdown in migration, renters shouldn't expect prices to return to pre-pandemic levels in 2023.
"We are not quite at an inflection point yet," Chen and Le said in the release.
More from Money:
A U.S. Debt Default Could Send the Housing Market Into a 'Deep Freeze'
Inflation Falls for 10th Consecutive Month. Here's What's Getting Cheaper
This Map Shows Where Drivers Are Paying the Highest Gas Taxes