Down Payment Assistance: These States Will Give You Money to Buy a House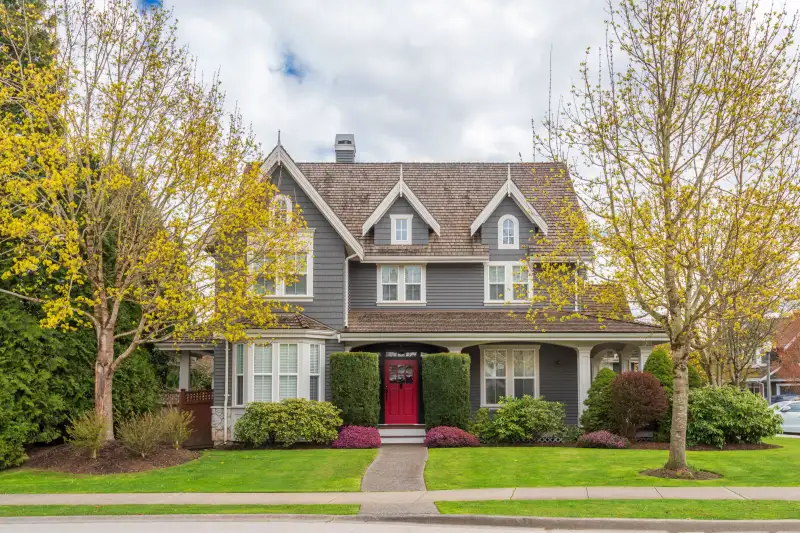 Purchasing a home is a lot more complicated than swapping cash for a set of keys — in addition to home inspection fees and an initial deposit, there's a laundry list of costs homebuyers must pay before moving in.
Among the biggest? The down payment.
Generally, the more you can pay upfront, the lower your monthly mortgage bill will be. Most home loans require a minimum down payment of 3% of the sale price, but 20% is traditionally considered ideal by mortgage lenders.
Nowadays, that may be easier said than done. U.S. home prices have climbed to new heights since 2020's pandemic-induced homebuying frenzy. The median down payment in the second quarter of 2023 was $31,500, according to a report from property data provider ATTOM, up about 19% from the previous quarter. Data from the Federal Reserve Bank of St. Louis put the median home sale price for the same quarter at $418,500.
In a September housing affordability analysis, ATTOM noted that increases in home prices and mortgage rates have continued to push expenses beyond what many Americans earn, sidelining would-be homebuyers nationwide. In more than half of local real estate markets analyzed, homebuyers needed annual wages above $75,000 to afford the major costs associated with an average home.
"The dynamics influencing the U.S. housing market appear to continuously work against everyday Americans," ATTOM CEO Rob Barber said in a news release.
Fortunately, there's no shortage of programs that can help cover down payments.
What is down payment assistance, or DPA?
The data in the map below is current as of Oct. 10, 2023.
Across the U.S., there are more than 2,000 programs that provide down payment assistance — abbreviated DPA — at the state, regional and local levels, according to David Berenbaum, deputy assistant secretary for housing counseling at the Department of Housing and Urban Development.
Many of these programs are offered through entities like HUD, state housing finance authorities and municipalities, but there are also some led by private lenders and community organizations. State and municipal governments often partner with local lenders. Programs are usually tailored to meet the specific needs of homebuyers in each individual marketplace.
"DPA programs play a critical role to help consumers overcome some of the major challenges in the market right now — one being affordability and the high cost of housing, and the other being interest rates," Berenbaum tells Money.
Most of the DPA programs are exclusively for first-time home buyers, according to Berenbaum, while about 40% are geared toward other groups, like veterans.
How does down payment assistance work?
"Assistance" is, of course, a broad term. Berenbaum says about 75% of DPA programs offer a cash grant for a home purchase that can be used for down payments and closing costs. DPA can also come in the form of low- or zero-interest loans, tax credits or forgivable loans.
Loans are provided as a second mortgage and usually large enough to cover the entire down payment. If you receive DPA as a forgivable loan at 0% interest, you don't have to pay it back so long as you live in the home for a certain period of time. With a deferred payment loan at zero interest, you typically can't get forgiveness — but you don't have to repay these loans unless you move, sell your home, refinance your first mortgage or pay it off.
Berenbaum says the amount of DPA funding a person can get depends on the cost of housing where they are looking to make a purchase. Some programs and lenders won't require any money down for qualifying homebuyers, while others will offer a percentage based on the home's sale price or provide grants up to a certain dollar amount, usually around $10,000, according to mortgage company Homebuyer.com.
There aren't many disadvantages to using DPA programs, according to Berenbaum, although applying may slow down the homebuying process by a few weeks. Because many programs have residency requirements, they may not be ideal for anyone who expects to move again within a few years of making a purchase. Moreover, you usually have to finance with approved lenders or products like a Federal Housing Authority mortgage, which is a government-backed loan with relaxed financial requirements.
How to qualify for down payment assistance
Although these programs are mostly available only to first-time homebuyers, they typically define a first-time buyer as anyone who hasn't owned a home in the last three years. (For the most part, you can't qualify if you own rental or investment properties.)
Programs often have strict income limitations that vary based on location and the cost of living for a particular market, according to Berenbaum, and they're usually reserved for low- or moderate-income buyers.
"The parameters for a loan in New York state are going to be very different from Colorado or Arizona because New York is one of the most expensive housing markets in the nation," he says.
Some programs, like the Texas State Affordable Housing Corporation's Homes for Texas Heroes initiative, offer DPA for people in certain professions, usually teachers, nurses and first responders. Others aim to expand homeownership for specific demographics, like Black or Latino homebuyers.
Eileen Tu, vice president of product development for Rocket Mortgage, tells Money that programs usually demand a credit score of at least 620 and positive credit history. Many also require that homebuyers attend training workshops or complete homebuyer education courses to learn about the mortgage process and how to maintain their personal finances after making a purchase.
How to find a DPA program
Despite soaring housing prices in recent years, Berenbaum says, homeownership is still the most cost-effective option for low- to middle-income Americans due to the high cost of rental housing across the country. He advises homebuyers to shop wisely and keep their minds open.
Every program is different, so it's best to start by researching DPA in your state, county and city and reaching out to providers with any questions. HUD and the Federal Housing Administration, an agency within HUD, have online resources and lists to help you search for programs by location. The company Down Payment Resource also has a database of homebuyer programs and tools to help you determine your eligibility.
Given the number of homebuyer programs and their unique requirements, Berenbaum recommends that homebuyers connect with a housing counselor to figure out what programs they can qualify for in their region. Every lender has housing counselors available, he adds, and you can find counseling through HUD.
"Often, we go into a real estate transaction with a lot of preconceptions: 'Where do I want to live? What can I afford? What will be my tax benefit if I do purchase a home?'" he says. "These are all factors that a HUD-approved counselor will help with by developing a budget and setting a range for affordability."
Counseling can also assist with buyers' post-purchase finances. Berenbaum stresses the importance of sustaining a home and building adequate "rainy day" resources to maintain homeownership.
The bottom line, he says, is that most homebuyers stand to benefit from DPA programs — as long as they understand the expectations of the origination and settlement process of any loans, as well as the terms of those loans and their down payment.
More from Money:
Home Sellers Are Cutting Prices as Buyer Competition Drops 'Remarkably Fast'
14 Cities Where Home Sellers Are Slashing Prices
Here's What's Next for the Housing Market After a Massive Realtor Lawsuit