Reports: Trump Economic Advisor Throws Multimillion-Dollar Birthday Bash With Camels and Gwen Stefani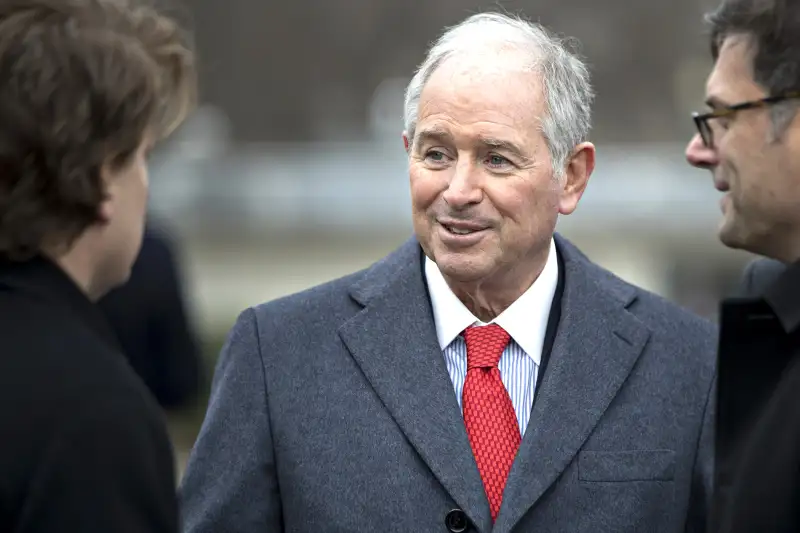 Bloomberg via Getty Images
What do you get for the man who has everything?
Just a little bit more, it seems. Stephen Schwarzman's 70th birthday, held this past weekend, reportedly featured trapeze artists, zoo animals, and a guest appearance by Gwen Stefani.
According to multiple reports, Schwarzman, the CEO of private equity fund Blackrock, hosted about 600 guests at his 15,000-plus square-foot estate in Palm Beach, Fla., not far from Mar-a-Lago, President Trump's private club. In December, Trump appointed Schwarzman head of the President's Strategic and Policy Forum, a panel that advises the White House on economic issues. Among the reported guests were Trump's daughter Ivanka and son-in-law Jared Kushner as well as incoming cabinet members Steve Mnuchin, Wilbur Ross and Elaine Chao. Designer Donatella Versace also attended.
Saturday night's party featured "acrobats, Mongolian soldiers and two camels," David Koch, one of the billionaire brothers who owns Koch Industries, told Bloomberg's Amanda Gordon. There was a gondolier in the pool and a giant birthday cake in the shape of a Chinese temple, Gordon writes. Jersey Boys cast members performed in addition to Stefani, and the night was capped off by a fireworks over the Intracoastal Waterway, she said.
"You walked into what used to be the tennis court, and there was a balcony with trapeze artists," art dealer Larry Gagosian told Gordon. "The level of detail and creativity, it was extraordinary. Steve loves parties."
Some sources referred to by the New York Times' Andrew Ross Sorkin said Schwarzman's party may have cost up to $20 million, although Sorkin quoted other unnamed sources as saying that figure was "ridiculously inflated." Blackrock did not immediately respond to a request for comment.
Ten years ago, Schwarzman threw a million-dollar bash that some said was a sign of Wall Street's excess. That party, held at the New York Armory, included performances by Patti LaBelle and Rod Stewart. But Sorkin writes that this time around, the reaction seems to be more subdued.
"Perhaps Mr. Trump has normalized conspicuous consumption," he says. "On Twitter, Facebook and Instagram, there were a few smuggled snapshots of the Schwarzman party passed around, but not much in the way of great viral outcry."
Schwarzman is worth $11.4 billion according to Forbes.