5 Cheap Things Restaurants Love to Overcharge You For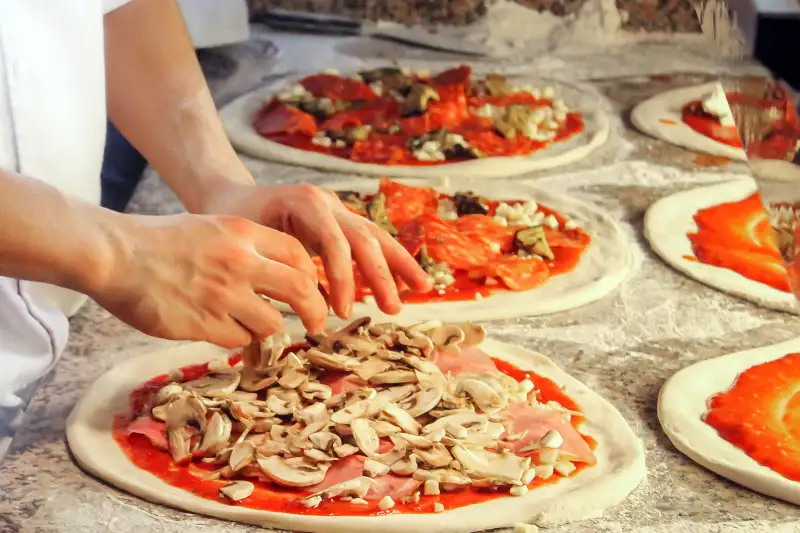 How much are you shelling out for the veggies on your pizza?
Customers can pay up to a 636% premium for any extra add-ons or ingredients in a restaurant meal, a recent study from PlateIQ shows. And restaurants mark up ingredients by 300% on average, according to PlateIQ. The restaurant industry accounting firm analyzed invoices for more than 1,000 eateries, from January through March 2017, measuring the price differences between what the restaurant paid for popular menu items and ingredients and what it charged for them.
The biggest offender in PlateIQ's data was a particular meat-laden pizza (which PlateIQ dubbed the "Cowabunga Dude") at one undisclosed eatery, which carried a whopping ingredient markup of 636%. But other pizza toppings also had hefty markups, and even guacamole carries a 285% premium. (No wonder Americans spend more at restaurants than they do at grocery stores,)
Here are five popular ingredients you're paying significantly more for, according to PlateIQ.
Meat (on pizza):
What they pay: $0.48
What you pay: $3
Markup: 525%
Vegetables (on pizza):
What they pay: $0.32
What you pay: $2
Markup: 525%
Sour cream (on burritos):
What they pay: $0.19
What you pay: $1
Markup: 426%
Cheese (on hamburgers):
What they pay: $0.29
What you pay: $1.50
Markup: 417%
Guacamole (on burritos):
What they pay: $0.52
What you pay: $2.00
Markup: 285%
Before you get too indignant, though, remember that you pay restaurants for a full dining experience—not just for sustenance. Out of restaurant revenues, on average, 30% goes toward labor costs, 30% toward general overhead and 30-33% toward ingredients, according to PlateIQ. "What it takes to make a successful restaurant is a very tough formula—to get it all to work together and make a profit," said Matt Hawkins, a growth advisor for PlateIQ. "When restaurants are pricing out dishes, the majority of the cost there is really made around that experience."
Despite the ingredient markups, restaurants still have relatively low profit margins, ranging from 3% to 5%, Hawkins says.
The study also found one surprising way patrons can get more bang for their buck: eating at upscale restaurants. Although the total cost of the meal will be higher, the restaurant is paying for higher-quality ingredients on average, so the percentage markup is lower. For example, getting a hamburger at an upscale restaurant costs, on average, $14—with a 355% markup from the $3.08 the restaurant paid for the ingredients. A hamburger at a standard restaurant typically costs $9, with a 384% markup from a $1.86 ingredient cost.
"A lot of customers have a preconceived notion that if the check is higher, they're potentially getting ripped off at a white-cloth restaurant [rather] than if they just go to Chipotle," Hawkins said. "But from this it looks like that's actually not the case."