Retirees Are Jumping Into the CBD Boom—and Loving It. Here's What to Know Before You Try, According to Experts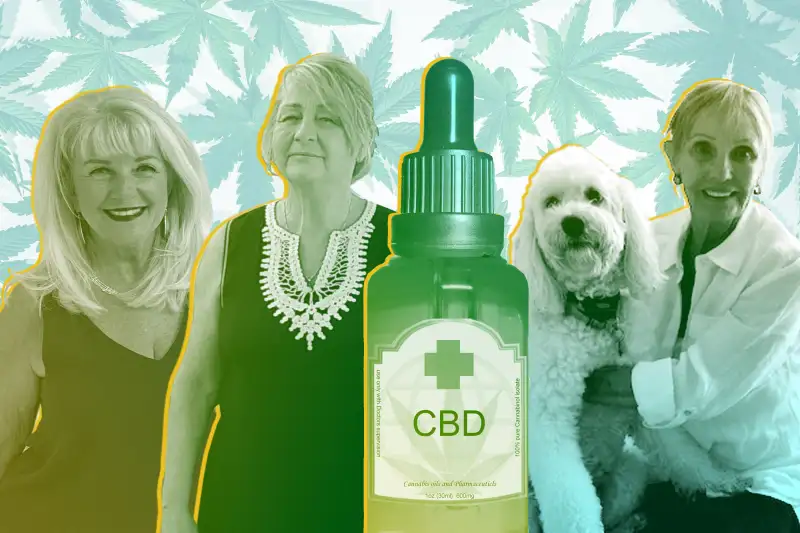 Photo illustration by Money; (leaves) Getty Images; (bottle) Shutterstock; (portraits) courtesy of the subjects
Stephanie Camillo took Vicodin every day at work until she retired early because of the pain.
For years, she stood on her feet all day as a deli manager at the grocery store where she spent the majority of her career. But the long hours and physical labor — constantly moving heavy boxes and re-stocking shelves — took their toll. After a decade of bringing bottles of Vicodin and ibuprofen to her job everyday, then foot surgery and constant steroid shots, she had to stop working. Even then, the pain didn't go away. Then she tried CBD.
"I don't ever go to the doctor anymore," Camillo, 64, says of the positive impact CBD has had on her life. "Now I don't take anything, just my CBD." The mother of two, who has been retired for almost eight years, doesn't even keep a bottle of ibuprofen in her house anymore, and hasn't used Vicodin since retiring. She still has pain, but says she can control it with CBD. Camillo takes CBD in the form of a liquid extract, also referred to as a tincture. She buys 1,000 mg bottles that cost her about $89 each and says one lasts around two months.
"It's not cheap, but who cares? This has solved my problem," she says. "I would encourage other people to give it a chance."
While Camillo says CBD has been life-changing, there is scant scientific evidence to back up anecdotal claims like hers. Much remains up for debate about the safety and effectiveness of the cannabis extract that's suddenly everywhere — in products from bath bombs to tinctures to treats for your pet — and accounted for more than $620 million in sales in 2018.
What is CBD?
CBD oil, or cannabidiol, is a non-psychoactive component of the cannabis plants marijuana and hemp. It's different than THC (tetrahydrocannabinol), which is the psychoactive element in marijuana that gives users a high. While CBD products often contain minuscule traces of THC, CBD itself doesn't produce a high when consumed. Proponents say it's something of a cure-all, with many calling it "life-changing" and "miraculous" because it's supposed to alleviate an array of ailments, including poor sleep, anxiety, depression and arthritic pain. These are health issues relatively common with aging, which may make CBD especially attractive to older Americans and retirees like Camillo who are trying to improve their quality of life.
But CBD usage has gotten way ahead of safety measures designed to protect consumers. On Friday, the U.S. Food & Drug Administration held the agency's first public hearing about CBD, giving retailers, manufacturers, lawyers, doctors, patients and other members of the public the opportunity to comment on CBD and provide evidence as to why more government research may be warranted. More than a hundred people testified. "While the use of cannabis and cannabis-derived products, including hemp and hemp-derived products, has increased dramatically in recent years, questions remain regarding the safety considerations raised by the widespread use of these products," the FDA said in a statement.
CBD works by activating your endocannabinoid system, a network of receptors in the human body related to your central nervous system that help regulate how your body responds to pain and mood. While CBD has been used medicinally for centuries, it is currently enjoying a boom in the U.S.
"I've never seen anything like this," says Bethany Gomez, managing director at the Brightfield Group, a market research firm based in Chicago, of the explosion of the CBD industry. "It's wild."
Last year alone, the CBD industry raked in more than $620 million, and Gomez projects it will be a $22 billion business by 2022. Almost 7% of Americans currently use CBD, and 40% of users are above the age of 40, according to Brightfield's research. But is the supposed miracle product all it's cracked up to be?
Is CBD Legal?
The legality of CBD caught the nation's attention this spring, when a grandmother was arrested at Walt Disney World for having a bottle of CBD in her purse that her doctor recommended she take for arthritic pain; prosecutors later dropped the charges.
The regulatory framework for CBD is complicated, with different agencies overseeing various aspects of cannabis at the federal level and individual states making their own rules. So far, the FDA has only approved CBD for use in a single seizure-reduction drug called Epidiolex — and because it has already received approval as a drug, CBD can't be legally sold or marketed as anything else, such as a dietary supplement or food additive. (Current law holds that substances can be either one or the other, a drug or a supplement/additive.) This distinction means it's technically illegal for retailers to sell CBD or engage in interstate commerce, but the FDA says consumers are not breaking the law if they purchase a product with CBD in it.
"My customers ask me that," says Marie Heiland, 64, who owns an olive oil shop in Naples, Fla., and has become something of a self-taught expert on the cannabis extract. She started selling CBD products in her store last year. "Legally, I cannot give them a definitive answer, but I have not heard of anybody" having a problem. Heiland regularly ships her products across states lines and has not encountered any issues thus far.
Heiland's most popular product is Elixinol, a liquid form of CBD, which starts at 300 mg per bottle and goes as high as 3600 mg per bottle. Her products cost anywhere from $30-$250 depending on potency, brand and product type. Most of Heiland's customers come in for problems related to chronic pain, sleep and inflammation, but others seek out her products hoping to find relief from issues like auto-immune diseases and digestive disorders.
Lois Raynow, 78, buys CBD products from Heiland to help with her arthritis, sleep and anxiety. She can't take aspirin because she's on a blood thinner, and other homeopathic remedies like Arnica cream had failed to produce results. She uses both a liquid extract and a topical cream, and has gotten her family on board. She recommended CBD to her 43-year-old daughter who now uses it for arthritic pain herself and gives it to her own children in much smaller doses as a sleep and calming aid. Raynow even has her dog, Daisy, a nine-year-old Labradoodle, using CBD.
"Daisy has thyroid issues and Cushing disease, and also has allergies and her energy level wasn't really high," Raynow says. "But I noticed since she's been taking it her energy level is much better, and I think it might be helping the allergies too."
While these claims haven't been clinically validated in robust human (or pet) trials, the FDA says it is most concerned with companies making unproven health claims about serious diseases like cancer and neurological disorders. So far, the agency has used its authority to go after what it sees as the "bad actors" making those types of assertions. It hasn't cracked down on ordinary consumers who purchase CBD or businesses that aren't making irresponsible health claims.
Despite the growing number of personal anecdotes praising the benefits of CBD, experts caution there isn't enough scientific data to say for sure whether it has legitimate health benefits for humans.
"If you've heard about CBD and you're thinking about taking it, talk to your doctor because they might have other good, safe, reliable treatments," says Dr. Sterling Ransone, a practicing family physician in Deltaville, Va. and a member of the American Academy of Family Physicians.
While Ransone would like to give his patients recommendations one way or another about CBD, the medical community can't advise patients about things like long-term side effects due to the lack of research, he says. Another unknown issue is the potential for risky interactions between CBD and other drugs.
There's also the problem of quality control: Doctors can't definitively tell patients whether over-the-counter CBD supplements actually contain the ingredients they advertise. A 2017 JAMA study found that out of 84 online products claiming to have CBD as an ingredient, just 30% actually had the same amount of CBD that was listed on the label; 45% contained less CBD than advertised and 26% contained more CBD than advertised.
Friday's FDA hearing highlighted the confusion around safety standards and quality control:
Courtesy of Marie Heiland
Should You Try This at Home?
If you still want to try CBD products on your own, it's important to know the industry standards for product testing. Here are some factors to look for, experts say:
Look for an indication on the label that says the product has been tested by a third party. Many labels will also have a batch number on them, says Gomez.

Seek out trusted brands. Gomez recommends brands such as Charlotte's Web, PlusCBD Oil and Green Roads World because they put their products through rigorous testing.

Look for the words "full-spectrum" on the label or in the product description. Full-spectrum CBD products work best, Heiland says.

Don't buy any CBD product from a website or store you know nothing about.

Use authentic products, says Heiland, which is crucial to seeing results. The products you see in delis like chocolate bars and cupcakes that claim to have CBD in them may not have the amount they advertise; even if they do, the amounts are likely to be so negligible that they don't produce any effect.

Experiment with dosing. Many people try CBD once or twice and give up, thinking that it doesn't work, but that isn't the proper approach, Heiland says.
There is no standard concentration of milligrams that CBD creams and lotions (also referred to as topicals and externals) should contain to be effective, Heiland says. It's important to research what degree of strength may be right for your specific problem, and then experiment until you find a dosing that feels right.
"If you're not going to do it twice a day consistently, then don't buy CBD because it's not going to do anything," she cautions. CBD works cumulatively, building up in the body over time. "CBD compounds, so how you feel today and how you feel in five months will be significantly different."
Camillo concurs. "You have to give it a real chance," she says.
The most popular way to take CBD is orally as a tincture, absorbing a few drops at a time under your tongue. You can also take it capsule form, but the liquid extract enters your bloodstream faster. Creams and lotions that contain CBD are also some of the most popular products Heiland sells. They are for spot-treating pain as needed and wear off after a few hours, but are still extremely effective for aches and pains, she says.
Heiland works with her customers to tailor their CBD regime to their particular needs and the results she has seen in people are "honestly miraculous," she says. "If I were not here seeing this from day to day, I would never believe it."
Correction: a previous version of this story misstated the name of PlusCBD Oil as Plus CBD.