These Workers Landed Cool and Unusual Retirement Jobs—Here's How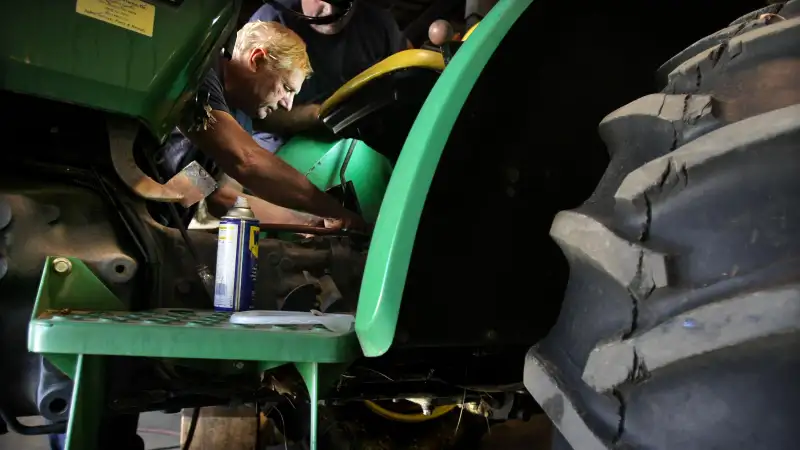 Retirement surveys say that many people plan to work part-time in retirement—for the income, the enjoyment or both. But an Unretirement job doesn't mean you have to be a Walmart greeter (not that there's anything wrong with that).
Instead, think out of the box and create, or find, a part-time position that's fun, too.
Tinkering in Unretirement
Don Carlson, a former engineer in Columbia, S.C. who spent over three decades in the auto industry, loves working with machine tools, making and repairing things. So when he retired from Ford, Carlson launched a part-time business restoring old tractors. He's since evolved it into fixing things mostly for fun—recently, he breathed life into an old manual sewing machine. "Most of what I do is for friends now," says Carlson. "I get energy doing it."
Tractor restoration is in line with lots of other unusual jobs I've learned that people are embracing in their Unretirement. People like Peter Millon, 69, who lives in Park City, Utah and waxes and repairs skis for racers part-time. Or John Kerr, 76; his encore career is a Yellowstone Park ranger.
Retired, But Not Retired
On a public radio broadcast I was on, a Wyoming, Minn. caller named Rick said that after he retired from being a school counselor and decided he wasn't ready "for the rocking chair," he picked up a job as a driver. He loves it, especially the flexibility. "I am retired, but I'm not retired," he said.
How's this for an Unretirement job pitch? "If you consider yourself 'Older & Bolder,' you are retired or planning on retiring, and are looking for a seasonal or temporary job in a great place, the following employers are interested in you. Keep in mind, each has varied accommodations; some have RV spaces, some offer private rooms, and others have rentals nearby. Are you ready for your encore career?" It's from the website Coolworks.com.
Part-Time Work at a National Park
Cool Works posts mostly seasonal jobs, typically paying minimum wage or slightly higher. They can be enticing for people who'd love to spend time in a national park or another exotic locale, though. When I checked out Cool Works' job postings on February 25, the openings included: line cooks, night auditors and gift store manager in the Grand Teton National Park; multiple seasonal management opportunities in Mount Rainer and tutoring kids with the Carson and Barnes Circus.
"You can do all kinds of things," says Kari Quaas, human resources and recruiting specialist at Cool Works.
Reading through the postings reminded me of an interview I did a few years ago with Frank and Sandie, then empty nesters in their 50s. They forged a new life for themselves, living three months of the year alongside Grand Lake in the Colorado mountains (an RV parking space and utilities were free in exchange for campsite maintenance work) and another three with the RV Care-A-Vanners on the road, building Habitat for Humanity homes. The rest of the time they lived and worked in Arizona, Frank at a pharmacy and Sandie as a craft store cashier.
Out-of-the-box Unretirement jobs like theirs can often be nomadic, short-term gigs with beautiful surroundings and so-so pay. Participants often draw on some kind of a pension or have dramatically downsized their possessions and material wants (or, more realistically, have combined savings with frugality). The lure is the adventure and the income helps make the job practical.
Caretaking For Someone's Home
Home-caretaking is another possibility for those intrigued by the vagabond life. Caretakers, sometimes called housesitters, mostly look after residences and other properties of wealthy homeowners usually while they're away. Other opportunities open up when a relative dies, leaving a home to someone living far away and the beneficiary needs someone to temporarily watch over the property.
Free board is always part of the caretaking deal, but there's generally only compensation if you're watching a well-off owner's place, says Gary Dunn, publisher of the Caretaker Gazette. He adds that owners tend to prefer older caretakers and many favor former members of the military, police officers and firefighters.
Jobs for Retired Brains
For some other out-of-the-box ideas, I checked in with Art Koff, 79, founder of the website Retired Brains, which focuses on work. Koff mentioned a number of unusual possibilities, such as traveling-assistance companion, shuttle driver for car dealers and golf cart management.
Koff's own story is a great example of picking up fascinating work after a first career. He spent 40 years in the high-pressure ad business and retired in his late 60s. "I wondered, 'What to do?' says Koff. "I couldn't imagine not having something to do." So he started Retired Brains. "I am working 50 hours a week, but I really enjoy what I'm doing every day," he says. "It's a quasi-public service business. It pays for itself, but I'm not in it for the money."
Mention the catchphrase "working longer" to many boomers and the immediate image that comes to mind is spending more years stuck in a cubicle or working at a big-box retailer. But the Unretirement narrative shows that more and more retirees are shucking the big box for something out-of-the-box.
Chris Farrell is senior economics contributor for American Public Media's Marketplace and author of the forthcoming Unretirement: How Baby Boomers Are Changing the Way We Think About Work, Community, and The Good Life. Send your queries to him at cfarrell@mpr.org. His twitter address is @cfarrellecon.
More from Next Avenue:
Splitting Work and Fund in Retirement
Still Working After 75—and Loving It