Which K-Pop Group Makes the Most Money? From BTS to Red Velvet, an Expert Ranks the Richest Bands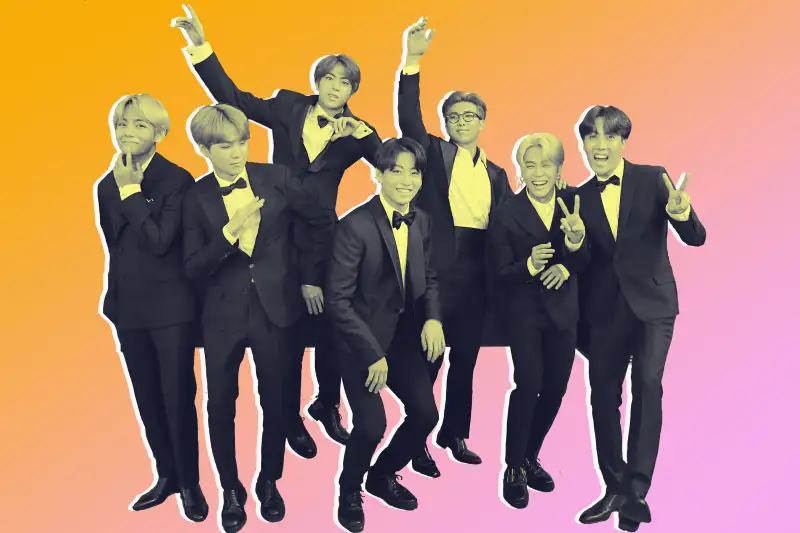 Photo Illustration by Lixia Guo; Steve Granitz, Getty Images
K-pop is suddenly a bigger business than ever. Korean pop music—usually referred to by its shorthand, "K-pop"—has been reliably commercial across East Asia for years, but it's only more recently become a global moneymaker.
"We're at a really exciting turning point. A lot more American record labels and American brands and companies are looking to see how they can tap into these artists," says music journalist and Billboard K-pop columnist Jeff Benjamin. Global brands have already gotten in on the action, with Hyundai and Samsung striking deals with K-pop superstars.
Meanwhile, American listeners are responding in droves: In 2018, leading K-pop acts began edging their way onto American sales charts alongside the likes of Drake, Taylor Swift, and Ed Sheeran, making them crossover stars in a way they've never been before.
Benjamin broke down his ranking of the richest groups in K-pop right now based on various income streams and available figures. Here are the 9 richest K-pop bands who are making major moves.
9. Got7
This boy band is made up of multinational members from South Korea, the U.S., Thailand, and Hong Kong. This might help explain the group's wide appeal across continents.
"They've reached all over Asia and America," Benjamin says. "They played Barclays Center [in Brooklyn] and The Forum [in Los Angeles] last year. They have strong album sales and OK endorsement deals."
Got7 had a winning streak on the Gaon album chart in 2018 (Gaon is more or less the equivalent of Billboard in South Korea). Touring is essential to any working musician's income, and the band's ability to touch down globally has been key to its rise.
8. Red Velvet
Han Myung-Gu, Getty Images
K-pop girl groups, unfortunately, often don't have it as easy as their male counterparts. "There's this kind of unwritten rule in K-pop I'm still trying to understand where male acts earn more from album sales and touring, and female acts tend to make most of their money from endorsement deals," Benjamin says.
Red Velvet has been nailing it on the endorsement front. Lead singer Irene has signed deals as a spokesperson for Maxwell House coffee and contact lens maker Cooper Vision. And Red Velvet has been really good at sustaining overseas interest, Benjamin adds. Its single "Bad Boy" reached No. 18 among K-pop acts on Billboard's 2018 World Digital Songs sales chart.
7. Wanna One
Even though they technically "disbanded" at the beginning of the year, Wanna One made their collective time in the spotlight fruitful with strong endorsement deals and major sales. "They were a temporary group," says Benjamin, but that didn't stop their only studio album 1¹¹=1 (Power of Destiny) from reaching a career high in 2018, selling 438,000 physical copies in just its first week.
That would be an astounding figure in the U.S.—a much bigger country than South Korea—but as Benjamin explains, South Korea still has an amazing culture of buying physical CDs, which are sold "more like books with intricate album packaging and all these photos."
6. Seventeen
Seventeen is another boy band (with, somewhat confusingly, 13 members) that has pushed beyond selling records. They've entered the all-important beauty market, becoming models for the cosmetics brand Saem. And they've made inroads beyond their homeland: The group's Japanese debut in 2018 managed to hit the top of the country's daily album charts. They've also toured extensively.
5. EXO
EXO (pronounced "XO") knows how to sell records. In addition to brand deals, their "really high album sales," as Benjamin says, have buoyed them across the world. They have Korean and Chinese members and sing in Korean as well as Mandarin. The nine-member group's 2018 album Don't Mess Up My Tempo hit No. 5 among K-pop acts on Billboard's World Albums chart. And appetite is high: Their concert tickets have gone for up to $1,400 on the online secondary market, according to the South China Morning Post.
4. TVXQ
TVXQ is more or less The Eagles of K-pop. "They're a veteran act," says Benjamin, and while that doesn't come with the perks of being the hot new thing, "they're legends in Japan. They bring in so much money for a small number of concerts." While "they don't sell as much as they used to," their ability to tap into the massive touring market in Asia has allowed them to continually rake in huge piles of cash. In Japan, the second-largest music market behind the U.S., TVXQ set a record by selling one million tickets for its tour last year.
3. Blackpink
While Blackpink "doesn't have album sales as strong" as some of the competition, Benjamin notes, the girl group tours extensively, and has Western appeal: They're preparing for an American tour in 2019 that will include the all-important stadiums. And their wide-ranging appeal in Japan has only boosted their revenue streams.
2. Twice
Twice are the reigning queens of K-pop. While album sales tend to be softer for girl groups, the act has proved the exception. They've also latched onto prolific endorsement deals, from video games to uniforms to...a chicken franchise. This year looks to be a repeat of their success. "They're about to have the first stadium tour in Japan for a K-pop girl group," Benjamin adds.
1. BTS
Photo Illustration by Lixia Guo; Steve Granitz–Getty Images
If you've heard of one K-pop band, it's almost certainly BTS. The group of supremely handsome men "checks off all the boxes," as Benjamin puts it.
Their album sales across international music markets speak for themselves: BTS earned the No. 8 position on Billboard's 2018 Top Artist chart (which includes American acts like Taylor Swift). In South Korea, they took home not just the best-selling album of the year, but also the runner-up, selling 2.2 million and 1.8 million copies of Love Yourself: Answer and Love Yourself: Tear, respectively.
They've also collaborated with the likes of Desiigner ("MIC Drop," No. 1 among K-pop acts on Billboard's World Digital Songs chart) and Nicki Minaj ("Idol," No. 3). In addition to extreme Japanese fandom, their American devotion is unreal: According to secondary ticket marketplace TicketCity, the most expensive ticket to one of the concerts on their new world tour sold for an astounding $3,849.38—for a show in Chicago—and on average tickets sold for $823, making them a pricier item than Taylor Swift's Reputation tour.
But those are only a few of the components adding up to BTS' undeniable superstardom. Endorsements have been flooding in. Alongside a sold-out Puma collaboration, the group has a partnership with Hyundai. The automaker has pushed BTS far beyond Asia, tapping them as global brand ambassadors for its new Palisade SUV, with a heartwarming ad about family. Hyundai has reportedly been struggling to keep up with demand for the car as a result. This kind of multinational promotion matters because "there's more opportunity not just in terms of initial payment for signing on, but also the amount of income on a larger global scale," Benjamin concludes.
Needless to say, BTS isn't going anywhere.