Super Rich People Aren't as Super Rich as They Once Were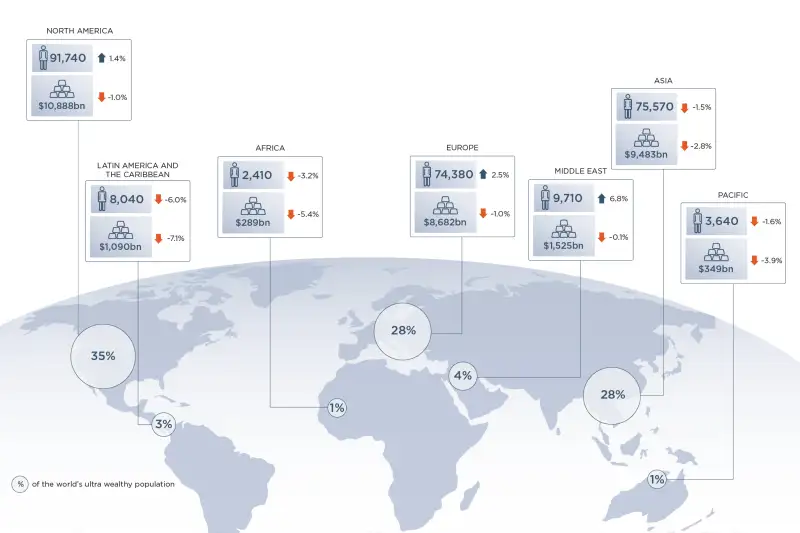 Last year the world's super-rich got a little less so.
The wealth of the worldwide population of so-called ultra-high-net-worth individuals — those with fortunes of at least $30 million — slipped by about 1.7% to a collective $32.3 trillion in 2018, according to an annual survey by data company Wealth-X. It was the first decline in three years.
Meanwhile, the ranks of the ultra-high net worth increased slightly, by about 0.8% to an estimated 265,490 individuals.
So, um, three cheers for equality.
Wealth-X said the decline in overall wealth was largely tied to the plunging stock prices during the final weeks of 2018, especially in Asia. In Hong Kong, which Wealth-X treats as a nation, the number of super rich plunged by more than 11% to an estimated 8,950 last year.
The Chinese economy has been slowing as a result of heavy debt levels and the ongoing trade dispute with the U.S. What's more, Hong Kong has been mired in weeks of anti-mainland political protests that have begun taking a toll on the city's economy. (Since Wealth-X's data is through the end of the 2018, the effects of the protests which began in June, aren't reflected in the report.)
In the U.S., the population of super wealthy rose 2.2% to 81,340 last year, while the estimated amount of their wealth slipped by 0.1% to more than $9.8 trillion.
Don't shed any tears, however. Most of these super rich people have likely regained any lost wealth since the end of 2018. While the stock market finished last year down about 4%, so far this year it's up about 20%.