Roamly RV Insurance Review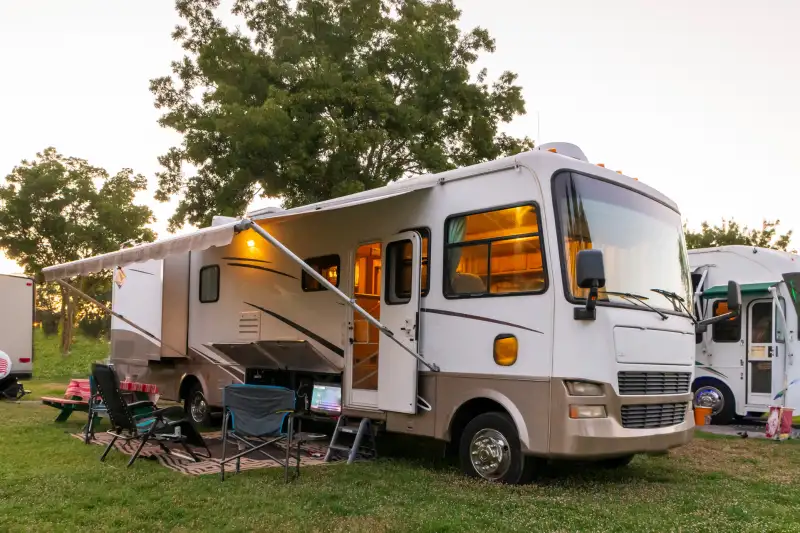 If you're looking at RVs, you've got a heart for adventure. But before you set out on your journey, you'll need to protect yourself and your vehicle with coverage specific to the unique world of RV travel. That's where RV insurance comes in.
Founded in 2019, Roamly offers online quotes, an easy-to-use online interface and policies for RV owners who want to rent out their RVs to others. Besides our review of Roamly's insurance options, we'll provide additional RV rental insurance tips so that you can make an informed decision before you kick off your adventures.
Best for RV Rentals
Roamly takes the top spot as the best RV insurance for rentals. The company offers a simple, streamlined way for RV enthusiasts to protect themselves and their RV.
Roamly RV Insurance Pros and Cons
Pros
Competitive rates
Great customers services
Allows owners to rent out vehicles
Cons
No immediate quotes
No bundling opportunities
Pros explained
Competitive rates, highly rated customer service and unique policy offerings are all advantages of purchasing RV insurance through Roamly.
Competitive rates
Roamly claims to provide RV insurance that can save customers up to 25%, although how much you'll pay will depend on factors like the policy issue state, provider, policy details and coverage amounts. The company markets itself as able to offer more competitive RV insurance rates because it's a smaller organization with a more streamlined approach to insurance. Online reviewers have noted that Roamly's prices are competitive.
Great customer service
Roamly has leaned on technology to provide service to prospects and customers, from its on-demand quote generator to allowing consumers to purchase RV insurance online without contacting an agent.
Online reviewers note that once you purchase your policy, the claims process is relatively straightforward. You can submit claims through the website or by email or phone. From there, a claims representative will contact you within one business day to start the evaluation and payment process.
Insurance can be complex, but Roamly provides easy-to-digest educational information on its website. The company's website has an FAQ section where prospective and current customers can learn a few basic insurance terms and gain an understanding of what insurance is and how Roamly RV insurance works.
Allows owners to rent out vehicles
Insurance that allows RV owners to rent their vehicles is uncommon. But many RV owners like to rent out their vehicles to help offset the expenses of RV ownership.
Many RV insurance policies deny coverage for RV owners if they rent their vehicles. But that's not the case with Roamly. Roamly stands out from its competitors by not excluding RVs that are sometimes rented to others. It's important to note that Roamly's coverage will not apply during a rental period. Roamly doesn't offer renters coverage but points them to Outdoorsy.com, where they can buy this type of coverage.
Cons explained
Roamly is a solid choice for RV insurance shoppers. However, the company's offerings are not without areas of relative weakness compared with its industry counterparts.
No immediate quote
Although customers can request a quote online, Roamly doesn't offer on-the-spot insurance coverage. Instead, customers must complete a questionnaire on Roamly's website to receive an initial quote estimate. From there, they must wait for a Roamly agent to call them to finalize a quote. If you're on the go and need coverage quickly, this waiting period can be a drawback. Some customers don't want to wait for coverage, and some might not want to spend time speaking with an agent.
Only offers RV policies
Roamly only offers insurance for RVs and motorhomes. This allows the company to focus on its customers and understand the specific market, but it also has some limitations, including the following:
Bundling opportunities are unavailable for customers who want to buy multiple policies.
Roamly doesn't underwrite its own policies, instead relying on other insurance companies to issue and fund them. Additional administrative and reseller costs may make Roamly's policies more expensive than what other companies offer.
Most of Roamly's competitors in the insurance market offer other kinds of insurance. Many RV insurance providers also offer auto insurance, and some even offer coverage beyond motor vehicles, including home, life and business insurance. Some of these companies also offer auto insurance for high-risk drivers. This wider suite of insurance offerings means more opportunities for policy bundling and lower overall insurance costs for consumers.
Roamly RV Insurance Plans/Offerings
Roamly provides RV insurance plans and works with larger insurance companies to help customers select and purchase the RV insurance that makes the most sense for their circumstances. Working with multiple insurance carriers may also allow Roamly to offer better rates for some customers. Here's a breakdown of the different types of coverage that Roamly offers today.
Liability Protection
Insurance policies, including those offered by Roamly, provide personal liability protection, which can cover situations where the policyholder is found to be at fault. Personal liability isn't just important for your financial peace of mind. In many states, it's illegal to operate a motor vehicle without current insurance. Roamly offers two types of liability protection:
Property damage liability: If you're at fault in an accident, Roamly's property damage liability insurance protects you from having to foot the bill for any property damage you may have caused. This will help cover the costs of damage to other vehicles or property in an accident, which can include fences, garages, living structures and other vehicles.
Bodily injury liability: Roamly's liability coverage also offers financial help with medical bills if the policyholder is at fault and a pedestrian or another driver is injured.
Comprehensive Coverage
Comprehensive coverage is a common coverage type for RV insurance. It covers you for the cost of repairs and replacements for common non-collision perils, including theft, vandalism and damage from natural events, such as fallen branches or flooding.
Collision Coverage
If your RV is involved in a collision with another vehicle or object, Roamly's insurance policy will cover repairs for your vehicle. Collision coverage protects you regardless of who's at fault for an accident.
Medical Payments Coverage
Roamly offers medical payments coverage to offset medical costs directly related to an accident for the insured and their passengers. This coverage can offset potentially catastrophic emergency costs and may provide coverage in situations not covered by traditional medical insurance.
Uninsured/Underinsured Motorist Coverage
Not everyone has RV insurance, and some people may carry only the minimum coverage required by law. If you're involved in an accident with an uninsured or underinsured motorist who's at fault in the accident, having uninsured/underinsured motorist coverage allows your own policy to cover the damages, including property damage and medical payments.
Underinsured motorist coverage is one of the least expensive types of coverage, and it can pay for itself multiple times over in the case of a serious crash. Experts advise buying more than the minimum amount of uninsured motorist coverage available.
Roadside Assistance
Dead batteries, flat tires, flashing "Needs Maintenance" lights, malfunctioning heating or air conditioning — like any other vehicle, RVs sometimes require on-the-road assistance before they can get moving again. Roamly offers roadside assistance insurance for mechanical and operational issues that need to be fixed immediately. This coverage includes everything from towing and jumpstart services to fuel delivery if your gas tank is empty.
Roof Repair
Many people call their RVs home. And just as you wouldn't want to live in a traditional home with a damaged roof, you wouldn't want to live in an RV with a leaky or broken roof. Roamly covers roof repair as part of its comprehensive RV policy. If your RV's roof is damaged by a natural event, such as severe weather, or as a result of an accident, Roamly's insurance will help offset the repair costs.
Rodents Protection
Those new to RV insurance might be surprised to see coverage specifically for rodent damage. But experienced RV users know all too well that rodents can become an issue when they use their RVs for camping or housing. From mouse droppings to chewed wires, rodents can create an immediate need for expensive, inconvenient repairs. Roamly offers rodent protection as part of its comprehensive coverage, protecting policyholders from critter-led havoc.
Full-Time Motorhome Insurance
Do you live in your RV for more than six months out of a year? Roamly's full-time RV insurance coverage includes not only collision and comprehensive insurance but also coverage for perils that might be traditionally found in a homeowner's policy, including:
Adjacent structure coverage for stand-alone structures that may be used in conjunction with the RV, including porches and decks
Loss assessment for homeowners' association fees
Emergency expense coverage for housing and living expenses should your RV become unsuitable as a domicile
Debris removal, if it's required after an incident covered by the insurance policy
RV Owner Renting
One advantage of Roamly's RV insurance is that it offers coverage for RV owners who sometimes rent out their RVs. Many insurers exclude coverage for vehicles that are rented to others. But that's not the same thing as covering renters themselves. Renters must be covered under a separate policy not offered by Roamly. However, Roamly partners with Outdoorsy.com to help renters purchase coverage.
If you're renting out three or more RVs, Roamly advises you to take out a commercial policy. The company states that its costs for commercial policies may be 25% lower than commercial policies offered by its competitors.
Roamly RV Insurance Pricing
Roamly's RV insurance pricing is competitive. It isn't the cheapest option, but the flexibility of the company's plans and the specialized coverage types the company offers make it an attractive choice for many RV owners and enthusiasts.
Roamly RV Insurance Financial Stability
Roamly does not have an A.M. Best rating, but the companies that underwrite Roamly have received favorable A.M. Best ratings. Roamly is underwritten by several companies, including Allstate, which has an A+ A.M. Best Rating, and Spinnaker Insurance, which has an A- A.M. Best rating.
Roamly RV Insurance Accessibility
Roamly's RV insurance is accessible anytime from the web and mobile devices. The online customer portal allows you to access your policy details and file claims whenever you need to.
One of Roamly's key selling points is that policies can be purchased online at any time from any device with an internet connection. Reviewers note that as long as you have all of your RV's details handy — including the make, model, mileage and condition — you can define, build and purchase coverage in about 10 minutes. This is a competitive advantage over other RV insurance sellers, some of which require you to meet in person with an agent before you can purchase coverage.
Availability
Currently, Roamly is available in 18 states: Alabama, Arizona, California, Colorado, Georgia, Idaho, Illinois, Indiana, Kentucky, Minnesota, Missouri, Ohio, Oklahoma, Oregon, Tennessee, Texas, Utah and Wisconsin.
Contact Information
You can contact Roamly through its website. Current customers have access to a secure portal, and prospective customers can reach out on the website or by calling 877-725-1245.
User experience
Roamly's website is easy to use on laptops and mobile devices. You can easily complete routine customer activity, like claims submissions, using these devices.
Roamly RV Insurance Customer Satisfaction
Roamly has an A+ rating from the Better Business Bureau (BBB). Although there are no customer reviews for the company on the BBB website, Roamly has a very high score on other trusted online review sites. Reviewers have specifically praised Roamly's fast and painless claims process as well as its responsive and informative customer service. The company is relatively young, so customer response data is somewhat limited, but the reviews are overwhelmingly positive.
Roamly RV Insurance FAQ
Who owns Roamly Insurance?
Roamly is owned by Roamly Insurance, LLC, a small, privately owned company that reports an employee count of fewer than 10 as of January 2023.
Who underwrites Roamly Insurance?
Roamly insurance is underwritten by larger and more established insurance companies, including Safeco Insurance, Foremost Insurance, Voyager Indemnity Insurance Company and Allstate, among others.
Should I get insurance on a rental RV?
Yes. Like driving a rental car, you may be liable for damages and accidents that occur while you're in possession of and responsible for the RV that you rent. Also, RV renters may not be as experienced in operating and caring for a larger vehicle, so RV insurance is recommended for them. If you're hitting the road in a rented RV, you might also want to research policies offered by the 
best travel insurance
companies.
How We Evaluated Roamly RV Insurance
We looked at every aspect of Roamly's business model and reputation, including:
Roamly's product and policy offerings
Roamly's customer service, online information and response to claims
The speed and ease with which consumers can get a Roamly policy quote
Ratings and customer reviews
Summary of Money's Roamly RV Insurance Review
Roamly is a promising insurance option for RV owners and RV business owners. The company offers competitive rates, responsive customer service and a fair amount of flexibility. Because it's a young company, it offers only limited coverage compared with its competitors, and customers have reported higher prices. But as an up-and-coming option on the market, Roamly is a solid option for RV insurance, especially if you plan on renting your RV to others.