Auto-Owners RV Insurance Review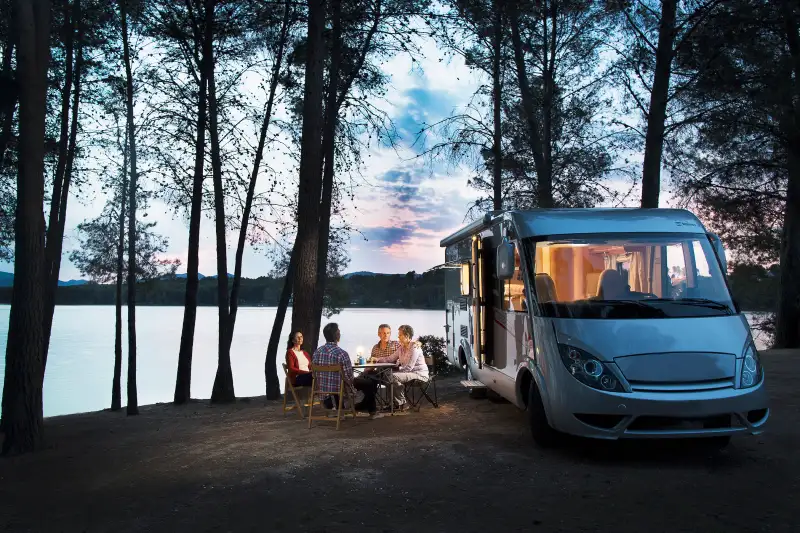 For many people, a trip with a recreational vehicle — or RV — is an ideal getaway from everyday life. Travelers enjoy the convenience of a home on wheels and the flexibility to choose their routes without relying on hotels.
As with any motor vehicle, RV owners must purchase and maintain specific insurance coverage to protect themselves and others on the road from financial burdens after an accident. Many insurance companies offer RV insurance, including Auto-Owners Insurance.
In this review, we look carefully at Auto-Owners RV insurance to understand the company's policy options, customer service, financial strength and more.
Table of contents
Best for customer service
Auto-Owners RV insurance is our choice as one of the best RV insurance companies for customer service. The company works with a network of independent agents that can help customers purchase a policy. Customers can access policy information and track claims via an online portal and mobile app.
Pros
Wide range of coverage options
Multiple discount opportunities
Great financial strength rating
Fewer customer complaints than other companies
Cons
Not widely available
Average J.D. Power score
Doesn't offer online quotes
Pros explained
Wide range of coverage options
RV insurance should help motorists prepare for more than just collisions. Aside from the typical RV insurance coverage options, Auto-Owners offers the following coverages types that you can add to your RV or motorhome policy:
Roadside assistance for both mechanical issues and those resulting from human error, including lost keys, empty gas tanks, minor vehicle malfunctions and flat tires
Contents coverage to protect your possessions inside the RV
Additional expenses coverage to help pay for extra costs you may incur while your RV is being repaired, including a rental RV, food and lodging, and more
Multiple discount opportunities
Auto-Owners Insurance offers a variety of discount opportunities to lower the cost of a policy. The company offers traditional insurance discounts, including a break in price for mature drivers and those who pay their policies in full upfront and on time. It also offers a discount for paperless billing.
Auto-Owners Insurance offers policy bundling, which grants customers a discounted rate if they sign up for more than one policy at a time. For example, if you buy auto and home insurance from Auto-Owners, you may get a lower rate.
Highly rated by A.M. Best
For many, financial strength is an important factor when selecting an insurance provider. Policyholders need to know that their claims will be paid in full and on time and that the company has strong financial backing.
Insurance credit rating agencies like A.M. Best, S&P and Moody's carefully monitor the financial health of insurance companies so consumers can understand their risk when purchasing an insurance policy.
Auto-Owners Insurance holds an A++ rating from A.M. Best. This is classified as a Superior rating, which is awarded to companies with outstanding operational results, strong balance sheets and promising forecasts for future business performance.
Fewer customer complaints than other companies
Compared with its industry peers, Auto-Owners has fewer complaints lodged with the National Association of Insurance Commissioners, with a complaint index of .58. The baseline median complaint index is 1.0.
Cons explained
Not widely available
Auto-Owners is only available in 26 states in the U.S. The company operates in Alabama, Arkansas, Arizona, Colorado, Florida, Georgia, Iowa, Idaho, Illinois, Indiana, Kansas, Kentucky, Michigan, Minnesota, Missouri, North Carolina, North Dakota, Nebraska, Ohio, Pennsylvania, South Carolina, South Dakota, Tennessee, Utah, Virginia and Wisconsin.
Average J.D. Power score
J.D. Power is a business evaluation organization that uses an expansive set of criteria, including extensive quantitative consumer insights, to determine a company's customer reputation and subjective health.
Auto-Owners has an average J.D. Power rating for claims satisfaction and an above-average rating for customer satisfaction. Although these ratings are not overwhelmingly negative, they lag behind some competitors' ratings. Auto-Owners Insurance's J.D. Power rankings fall squarely in the middle of the pack for RV insurance companies.
Doesn't offer online quotes
Buyers increasingly expect to make many purchasing decisions from the comfort of their home on a computer, tablet or mobile phone. Auto-Owners doesn't offer online quotes, pricing or purchasing tools, whereas some of its competitors do. Instead, you have to purchase a policy through an agent.
Auto-Owners RV insurance policy plans and offerings
Auto-Owners RV insurance includes expansive policy and coverage options. It offers the following coverages that you can include in your policy:
Collision coverage
Collision coverage covers damages to your RV in the event of a vehicular accident.
Comprehensive coverage
Comprehensive coverage applies to non-collision accidents and events, such as severe weather, vandalism, theft, fire and other incidents not related to an on-the-road collision.
Bodily injury and property damage liability coverage
If you cause an accident that results in physical injuries or vehicular damages for others, this coverage may cover some legal fees for court cases related to the collision or damages.
Uninsured/underinsured motorist coverage
Sometimes, a person involved in an accident is not insured or doesn't have enough coverage to pay for the full extent of the damages. These accidents can be costly. Uninsured/underinsured motorist coverage protects you if the other parties involved in the incident are not properly insured.
Medical payments and personal injury protection
This coverage applies to medical bills for you as the insured party and any passengers in your vehicle if your injuries resulted from an accident.
Contents coverage
This coverage applies to items inside your vehicle during an accident or incident. For example, if you have a laptop in your car and it's destroyed in an accident, this coverage may help with replacement costs.
Auto-Owners RV insurance coverage pricing
Since Auto-Owners doesn't offer online quotes, we weren't able to get sample RV insurance estimates to help give you an idea of the cost. To get a quote, you will have to go through an independent agent that works with Auto-Owners.
As with car insurance pricing, Auto-Owners RV insurance policy pricing depends on several factors, including the following:
The type of RV you have
The RV's age and condition
How you plan to use the RV
The age(s) of the insured driver(s)
The driving record(s) of the insured driver(s)
Where the policy is issued
Policy features and coverage you want, including add-ons and riders
Discounts and special offers available to you
Auto-Owners RV insurance financial stability
Auto-Owners is a financially stable company, as evidenced by its A++ (Superior) A.M. Best rating and consistent ranking on the Fortune 500 list. In the most recent annual report that the company released, Auto-Owners reports being profitable for the last 10 consecutive years.
Auto-Owners RV insurance accessibility
Availability
With coverage in only 26 states, the availability of Auto-Owners coverage is lacking. However, if you live in a state where Auto-Owners can issue policies, you can get a quote by finding and working with an authorized Auto-Owners agent.
Contact information
To learn more about Auto-Owners RV insurance or to find a registered Auto-Owners Insurance agent in your area, visit Auto-Owners Insurance's website. You can also contact the company directly by phone at (800) 346-0346 from 8 a.m. to 4:30 p.m. EST, Monday through Friday. Otherwise, you can use the contact form on the company's website.
User experience
The Auto-Owners online portal is available both on a mobile app and a web interface. It enables customers to quickly access their account details, file a claim and pay their bills.
Auto-Owners RV insurance customer satisfaction
Auto-Owners customer satisfaction falls in the middle of the pack compared to competitors, according to the J.D. Power 2022 U.S. Auto Claims Satisfaction Study. Unverified customer reviews say they appreciate the responsiveness of the company's agents, the relatively short claims payout window and the company's financial reputation. However, they would like to see online estimates and more pricing transparency during the insurance evaluation stage.
Auto-Owners RV insurance FAQs
Is Auto-Owners good at paying claims?
According to its J.D. Power ranking profile, Auto-Owners ranks towards the middle of the pack for claims payout compared to other insurance companies. Your claim payout may depend on the circumstances of the damage and the makeup of your RV insurance coverage.
Who owns Auto-Owners Insurance?
Auto-Owners Insurance Company is a mutual insurance company, meaning it is owned by its policyholders.
What kind of insurance do I need for my RV?
Because RVs are motor vehicles, RV owners need collision and general liability coverage as well as coverage for uninsured motorists on the road. Comprehensive coverage for damages beyond accidents, such as fires, vandalism and weather damage, should also be included in your RV insurance policy. RV insurance coverage requirements can vary from state to state. Check your state's requirements before purchasing insurance to make sure you remain compliant.
How we evaluated Auto-Owners RV insurance
We considered several factors in our evaluation of Auto-Owners RV insurance, including:
Availability throughout the U.S.
Rankings for financial health and customer service from leading credit agencies like A.M. Best and evaluation organizations like J.D. Power
Policy features, including add-ons, bundling and discounts
Customer feedback and reviews from the BBB, NAIC and J.D. Power
Available tools compared with others on the market
Summary of Money's Auto-Owners RV insurance review
Auto-Owners RV insurance offers several insurance options for RV owners, including the traditional comprehensive and collision coverages, and extra features like roadside assistance. The company also offers bundling and discount opportunities to lower your cost. There are several ways to contact customer service and the company has positive ratings from financial and customer service bureaus. On the other hand, Auto-Owners insurance has a lower J.D. Power claim satisfaction standing than some competitors, limited national availability and fewer online tools than its competitors.