Robert Mugabe Accumulated Riches as Zimbabwe Crumbled. Here's What We Know About His Money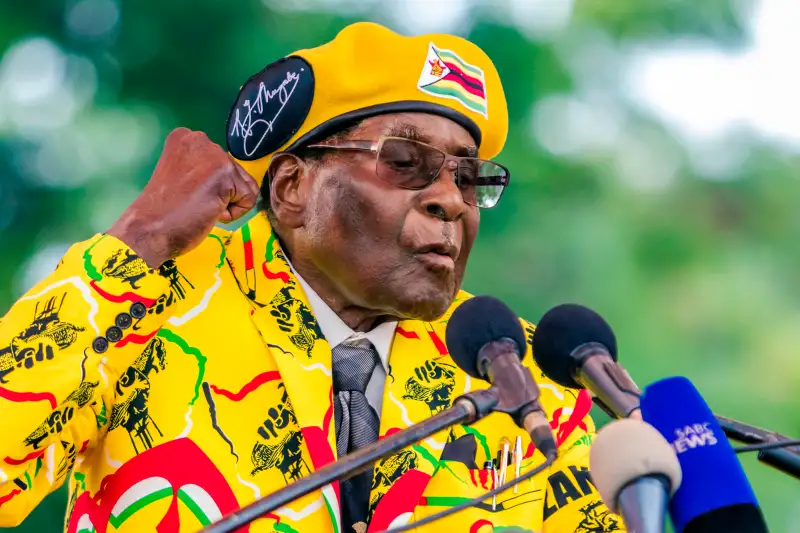 Jekesai Njikizana—AFP/Getty Images
This story has been updated to include news about Robert Mugabe's resignation.
Robert Mugabe, who led Zimbabwe for 37 years even as his country suffered enormous economic hardships, resigned Tuesday.
The longtime president stands accused of widespread human rights abuses and squashing meaningful political dissent. All the while, he appears to have enriched himself and his family at the expense of both his fellow citizens and others in the region.
"It's long been suspected that Robert Mugabe, his family, and close associates have been dipping their hands into state coffers, or otherwise plundering Zimbabwe's immense natural resource wealth for their own benefit," Jeffrey Smith, executive director of democracy group Vanguard Africa, told Money in an email.
It was not clear immediately what the terms of his departure were. CNN reported earlier this week that the military had agreed to give the 93-year-old longtime president "full immunity for himself and his wife, Grace Mugabe, and for him to keep several of his properties."
Here's what we know about Mugabe's holdings.
Robert Mugabe's Wealth and Properties
In 2011, Wikileaks published a cable written a decade earlier by the U.S. embassy in Harare that stated, "The full extent of Mugabe's assets are unknown, but are rumored to exceed $1 billion in value, the majority of which are likely invested outside Zimbabwe."
The overseas assets are "rumored to include everything from secret accounts in Switzerland, the Channel Islands, and the Bahamas to castles in Scotland."
The Mugabe family indisputably own a property in Hong Kong valued at more than $5 million and have gone to court to claim it.
"Media reports suggested the house was bought months before Bona Mugabe, the daughter of Zimbabwe President Robert Mugabe began studies at the University of Hong Kong," the South China Morning Post said in 2015.
Mike Clarke—AFP/Getty Images
Mike Clarke—AFP/Getty Images
The Guardian has also reported real estate purchases in the Mugabe name in "Malaysia, Singapore and possibly Dubai."
In Zimbabwe, the Wikileaks cable said, the Mugabes are said to have six residences, "including a multi-story mansion" then under construction, and a number of farms around the country.
That mansion may refer to the property known as The Blue Roof, which Zimbabwe news group The Citizen says is worth more than $9 million and features "25 bedrooms, a large outdoor pool, two lakes, a massive dining room that can seat more than 30 guests, a large master bedroom with super king-size bed and a multimillion-dollar radar system."
Expensive Toys and Tastes
The Citizen also catalogs what it says are other Mugabe family toys and trinkets:
A custom-made Mercedes "able to withstand AK-47 bullets, landmines and grenades. It also features a CD and DVD player, internet access and anti-bugging devices."
A Rolls Royce Phantom edition that is so exclusive, "only 18 were ever manufactured."
A 100-carat anniversary ring ordered by Grace Mugabe worth $1.35 million.
Grace Mugabe, whom the Guardian says is known locally as "the First Shopper" or "Gucci Grace," may have once gone on a $75,000 shopping spree in Paris, the paper says.
Jekesai Njikizana—AFP/Getty Images
Mugabe's 91st birthday menu, according to Zimbabwe's Chronicle newspaper, was said to have included elephant, buffalo, sable antelope, impala, and a lion.
Where the Mugabes Get Their Money
The origins of the alleged Mugabe fortune remain obscure. According to the Economist, in the early 2000s, Robert Mugabe's regime "seized most of Zimbabwe's white-owned commercial farms. The president promised to give the land to the landless, but instead gave much of it to his wealthy cronies."
After Congo's brutal five-year civil war, he maintained close relationships with high-profile figures who had ties to Congolese commercial interests, according to the Economist.
These individuals, in turn "are presumed to have channeled some of that wealth to Mugabe," according to the diplomatic cable released by Wikileaks.
Then there is Zimbabwe Consolidated Diamond Co., a company formed just in the last few years by Mugabe that watchdog group Global Witness has accused of being linked to "to a decade of disappearing diamond wealth."
"While an estimated two billion dollars worth of potential diamond revenue went missing, [ruling party] bigwigs, like Mugabe, have been building mansions and importing fleets of luxury cars," Vanguard's Smith told Money.
Mugabe has publicly responded to the allegations stating, "We have not received much from the diamond industry at all," and that he would not trust a private firm to handle the mining.
And more broadly, the Mugabes have denied reports about their wealth.
"He is the poorest president the world over," Grace Mugabe said in 2014 according to The Guardian, though she added in the same breath, "I have never seen him asking for money from anyone."
They have also been keen to avoid any photos taken of their holdings.
"The couple's home in Harare is said to be extraordinarily opulent, so much so that when their daughter Bona was married there, photographers were said to have been ordered not to take any pictures that showed the property in the background," The Guardian reported.
The Mugabe children have been less discreet. One has been seen on Snapchat pouring champagne over an expensive watch, eliciting outcry on social media.
Earlier this year, according to Australian site news.com.au, the couple's youngest son, Bellarmine Chatunga Mugabe, posted on Instagram a photograph of his watch captioned: "$60,000 on the wrist when your daddy run the whole country ya know!!!"
That post has been deleted, but you can still get a sense of the kind of life he lives from the posts he has left up:
Outside of Instagram, the Mugabes have successfully avoided many high-profile images of their wealth.
But for observers, there is no doubt that it exists, or at what price it has come.
"The scale of the looting is truly staggering and criminal, and we'll likely only know the collective extent of it long after Mugabe is gone," Vanguard's Smith said.