Now You Can Watch Video of Ronda Rousey's $5 Million Knockout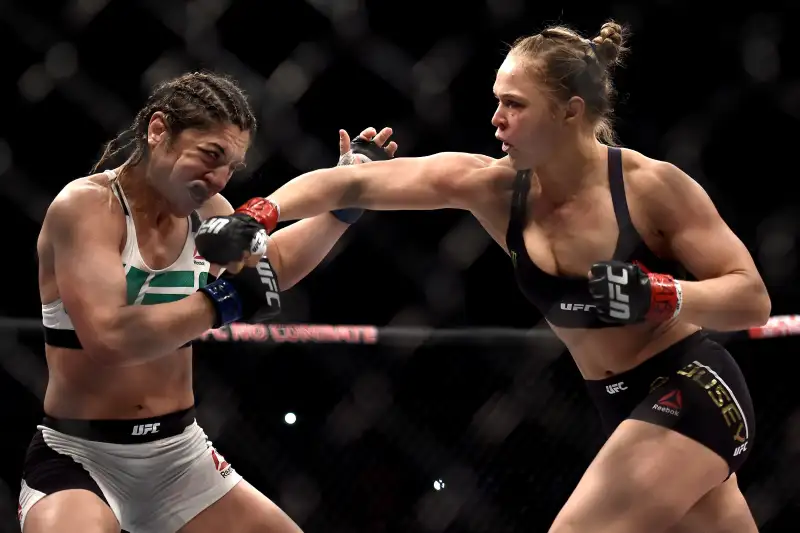 Buda Mendes/Zuffa LLC—Zuffa LLC via Getty Images
Ronda Rousey fans are currently gearing up to watch the reigning bantamweight mixed martial arts champion fight former world champ Holly Holm on November 14.
But back in August, Rousey made headlines with a 34-second fight against Brazilian Bethe Correia—a match that reportedly netted Rousey somewhere in the neighborhood of $5 million.
On Wednesday the UFC posted video of the fight to YouTube. Here is the clip, below.
While Rousey's earnings put her in the same league as male fighters like George St. Pierre, that's mostly because her fights are so popular among viewers (fighters get a cut of pay-per-view fees). She also makes more overall than many of her male peers, thanks to lucrative endorsements and appearances, such as in the movies Entourage and Furious Seven. But her straight earnings from the UFC are still much lower.
For example, when Rousey beat Alexis Davis in July, she earned $120,000 in direct UFC compensation. Compare that to the $450,000 male UFC fighter Chris Weidman earned for beating Lyoto Machida that same night. Machida even took home $200,000 for his loss.