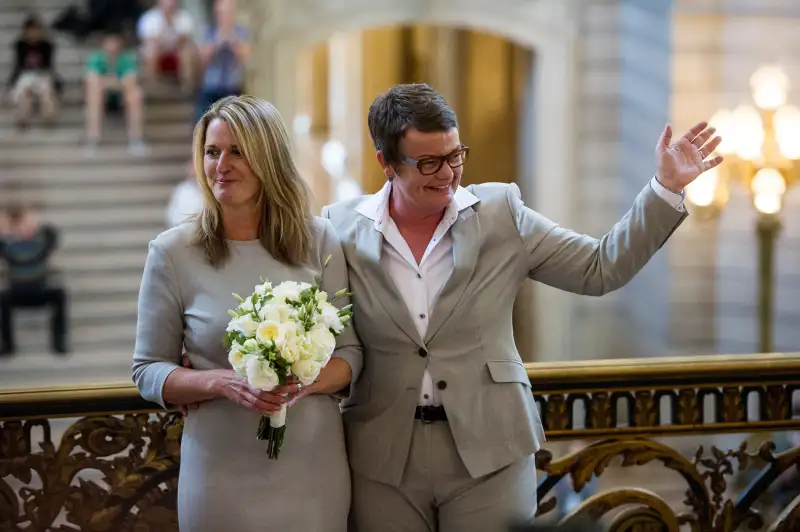 David Paul Morris—Bloomberg via Getty Images
Allowing same-sex couples to legally marry and enjoy all the Social Security benefits granted to heterosexual spouses will provide many couples hundreds of thousands of dollars more than they can get as single filers, according to a recent analysis by Financial Engines, an investment advisory firm.
Same-sex marriage already is legal in 75% of the states and today's Supreme Court ruling now guarantees the right for same-sex couples to marry nationwide.
Financial Engines recently issued a case study showing exactly how much a same-sex couple stands to gain by taking advantage of spousal and survivor benefits that would not be available to them if they had to file for Social Security as single persons. The study does not include other benefits that also could be available to such couples, including child, disability, and divorce benefits.
"Social Security is complex but for same-sex couples, there are a lot more opportunities to earn greater lifetime benefits when they have the right to marry," says Christopher Jones, chief financial officer.
The company estimates that the right to marry can yield an additional $20,000 to $250,000 in lifetime benefits. The value of spousal and survivor benefits is even larger for heterosexual couples, he notes, because there tends to be a greater age range among spouses in opposite-sex marriages. These age differences increase the potential values of marriage benefits, especially survivor benefits, Jones says. Women outlive men, and spend more than 11 years on average as widows, he says, so survivor benefits are enormously important to them.
The claiming scenario in the Financial Engines white paper involves a fictional couple, Henry and Logan, who are approaching their 64th and 62nd birthdays. Henry earns $80,000 a year and will be entitled to a full Social Security benefit at age 66 (full retirement age) of $2,500 a month. Logan has earned much less, and his age-66 benefit will be only $1,100 a month. What neither man can know, but Financial Engines' storytellers do, is that Henry will die at age 84 and Logan at age 90.
At present, both men plan to begin claiming Social Security at their upcoming birthdays—Henry at 64 and Logan at 62. By claiming before their full retirement ages, both men will be hit with early claiming reductions. As single filers, over the course of their lives, they will receive a total of $797,280 in 2015-value benefits—$520,080 for Henry and $277,200 for Logan.
If they were legally married, however, this total would grow by $140,832, or 18%, to $938,112. As the higher earner, Henry's lifetime benefits would still be $520,080. But by taking advantage of spousal and survivor's benefits, Logan would receive a 50% jump in his benefits, to $418,032.
To further optimize benefits, Financial Engines next considered what would happen if both men deferred their claiming dates. Such deferrals, the firm notes, are available to all married couples, and could help many people add substantial amounts to their lifetime Social Security benefit totals.
In this example, Henry waits until 68 and then "files and suspends" his benefits so that when Logan, his spouse, turns 66, he can file for spousal benefits based on Henry's much larger retirement benefit.
By filing a restricted application, Logan will not trigger filing for his own retirement benefits, which will increase 8% a year from age 66 until age 70, when they will be larger than his spousal benefit and worth claiming. Henry will also wait until 70 to claim his own retirement benefit. It will have risen to $3,300 a month by then, and this larger amount will also become Logan's survivor benefit for eight years after Henry passes away.
Under this set of claiming decision's Henry's lifetime benefits, stated in current 2015 dollars, will rise modestly, from $520,080 to $554,400. Logan's benefits, however, will soar to $585,888, due to four years of spousal benefits ($60,000), 12 years of his own retirement benefit ($209,088) and eight years of survivor benefits ($316,800). As a couple, their lifetime benefits would be $1,140,288—nearly 22% larger than their initial claiming scenario as a couple, and 43% larger than their initial filing plans as individuals.
Read next: What the Same-Sex Marriage Ruling Means for Couples' Finances
Philip Moeller is an expert on retirement, aging, and health. He is co-author of The New York Times bestseller, "Get What's Yours: The Secrets to Maxing Out Your Social Security," and is working on a companion book about Medicare. Reach him at moeller.philip@gmail.com or @PhilMoeller on Twitter.