When Trading Stocks Is a Work of Art
Money is not a client of any investment adviser featured on this page. The information provided on this page is for educational purposes only and is not intended as investment advice. Money does not offer advisory services.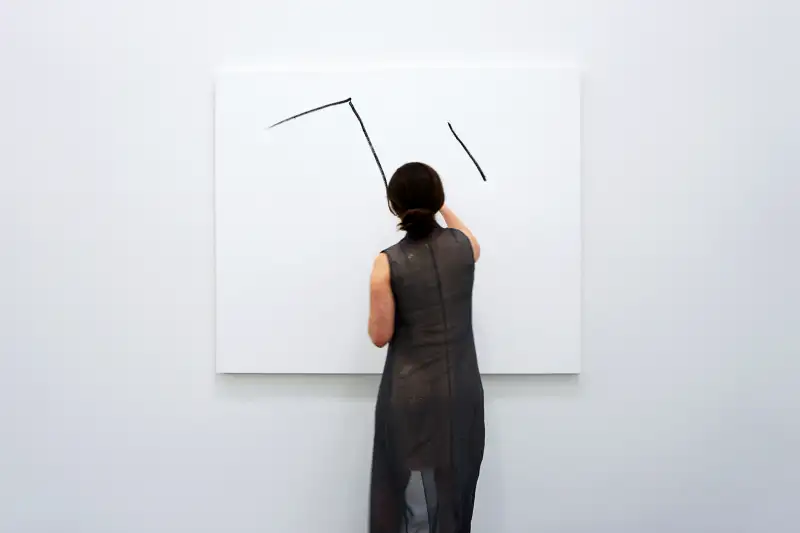 courtesy 303 Gallery, New York
We think we know what stock performance means. Then Sarah Meyohas comes along.
Meyohas, a Wharton graduate who also holds an MFA from Yale, took that term as the title of her first solo art show, at the 303 gallery in New York City. For two weeks in January, Meyohas traded stocks on the New York Stock Exchange. Then, in real time, she drew the changes in each stock's valuation with oil stick on blank canvases mounted throughout the space.
According to Meyohas, it's a commentary on the relationship between art and the economy. Each drawing represents an individual trade; "the line, value over time, is an index of her movement, physically in the gallery and virtually in her ownership," reads a statement on the artist's website.
And the 24-year-old isn't wasting time with penny stocks. She chose only companies where her investments—the amount of which she didn't disclose—would have a discernable impact on the stock price. "I'm taking stocks that would otherwise stay horizontal, and I'm trading them and then painting them," she said. The artist picked a dozen stocks at random, among them Pope Resources, Neuromama Ltd., and Nasb Financial, with market capitalizations of $265 million, $8.8 billion, and $229.8 million, respectively. Besides market cap, Meyohas also took the name of the companies into consideration when selecting her targets: "I want some entertainment value there."
Sarah Meyohas—courtesy 303 Gallery, New York
It was particularly interesting timing for her performance, given that Wall Street is off to its worst January in history. "It's coincidence, but I read intentionality, as if the market were complicit in my art project, which isn't really possible," she said, then laughed conspiratorially.
For Meyohas, the performance art is a statement on the intersection of truth and value. The stock market is one of the few places, she said, where people come together and agree on a set price for something, at least for a time. And anyone can see that value. The value of a painting, on the other hand "is pretty evasive. It's hard to pin down what a painting is worth," she said. "Here, paintings just represent a line that is literally value, but that line is just created for a visual purpose."
(And given the number of art collectors who also happen to work in finance, the value of these paintings will probably be pretty high.)
"A price is true, it happened, it was there in time, there's a record of it. And that's how I view the paintings."
Meyohas previously made waves in the financial world for her take on digital currency, named BitchCoin. "Stock Performances" will be on display through Jan. 30.