The 5 Funniest 'Saturday Night Live' Skits About Money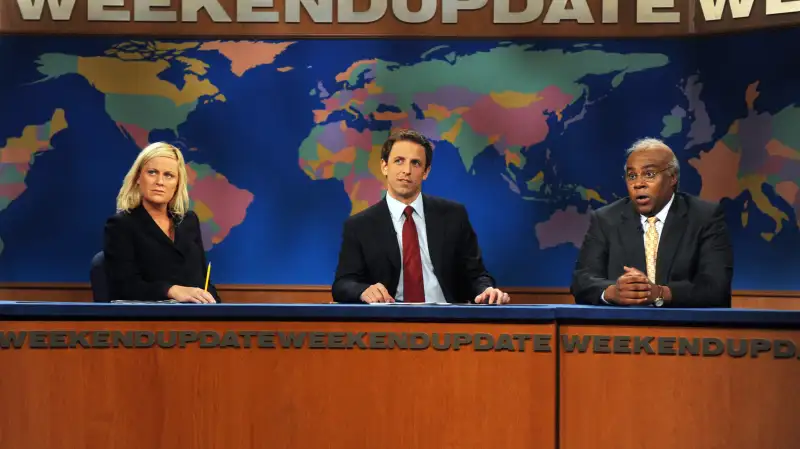 Dana Edelson—©NBC/Courtesy Everett Collectio
Over the course of a four-decade run, Saturday Night Live has taken aim at most of the trappings of American financial life—even the things you wouldn't think were funny, like stock market crashes and consumer debt. In honor of the show's star-studded anniversary celebration this Sunday, here are Money's favorite SNL sketches about money, spanning nearly all of its 40 years.
1. Fix It! (Parts One and Two)
In these two Weekend Update segments, Kenan Thompson plays Oscar Rogers, a "financial expert" who describes a path out of the 2008 financial crisis.
Best line: "Fix it! It's a simple three-step process. Step one: Fix! Step two: It! Step three: Fix it! Then repeat steps one through three until it's all been fixed!"
In that one phrase, Thompson gives voice to the powerlessness and frustration felt by laid-off workers and pummeled investors worldwide. (We wonder what John Belushi's samurai stockbroker would have to say about that.)
2. First CitiWide Change Bank
This 1988 commercial parody—featuring Jan Hooks, Kevin Nealon, and Jim Downey—highlights just how unimpressive financial services can be, in an ad for a bank that brags about offering change to customers. And they don't mean it in the Obama way.
Best line: "We are not going to give you change that you don't want. If you come to us with a hundred-dollar bill, we're not going to give you two thousand nickels—unless that meets your particular change needs."
Joking about how weak bank services are would be funnier if it weren't so true.
3. "Don't Buy Stuff You Cannot Afford"
Steve Martin and Amy Poehler play a couple in need of a budgeting intervention in this 2006 skit, featuring Chris Parnell as the author of a, shall we say, intuitively titled book about how to control spending.
Best lines:
Parnell: "The advice is priceless and the book is free."
Poehler: "Well, I like the sound of that."
Martin: "Yeah, we can put it on our credit card!"
If only getting out of debt were as simple as the skit suggests; in reality, paying off loans and gaining financial stability can be hard no matter how smart or hardworking you are. But we'd still pony up for a copy of Stop Buying Stuff magazine.
4. Consumer Probe: Irwin Mainway
This 1976 classic features Candice Bergen as a reporter and Dan Aykroyd as the sunglass-sporting Irwin Mainway, purveyor of such children's toys as Johnny Switchblade, Mr. Skin Grafter, Doggie Dentist, and Bag o' Glass.
Best lines:
Bergen: "I just don't understand why you can't make harmless toys like these wooden alphabet blocks."
Aykroyd: "You call this harmless? I got a sliver!"
5. Metrocard
Roseanne Barr plays a 24-hour hotline representative for the fictional "Metrocard" credit card in this 1991 sketch, which sends up confessional-style TV ads highlighting service. Phil Hartman plays a seemingly satisfied customer.
Best lines:
Barr: "And then he gets really mad and tells me I'm supposed to help him! You know, like I'm his mom or something. So I say, 'Why don't you call home and have somebody wire you the money? Or call your company and tell them the problem? Or, better yet, why don't you take a personal check out of your checkbook, roll it up real tight, and then cram it!'"
Hartman: "She gave me several options."