Here's How Much You Can Save By Slimming Down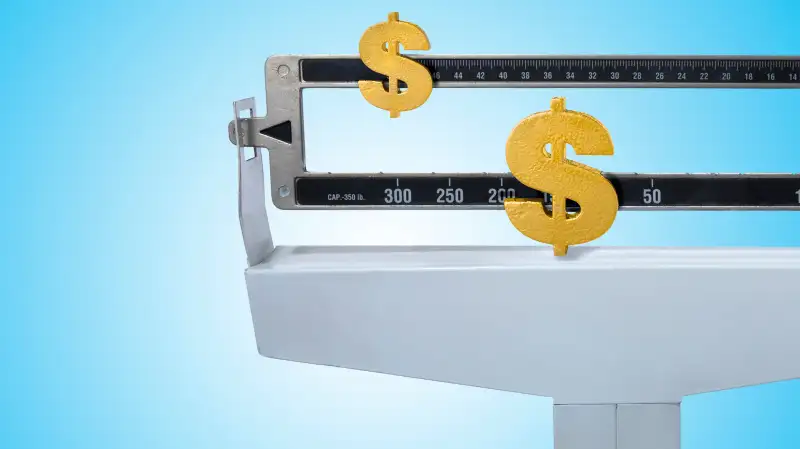 John Kuczala—Getty Images
This story is part of a series on how getting fit and healthy can boost your bottom line.
In a 2013 Duke study, researchers tracked health care spending by body mass index levels. The average annual cost for a person with a low BMI of 19 was $2,541. With a BMI of 25—considered overweight—it was $2,893. At a BMI of 33, what's deemed obese, the costs topped $3,439. "The risk of illness starts increasing already from the lower end of "normal weight," " says lead researcher Truls Ostbye.
The add-ons don't end at the doctor's office. A 2010 McKinsey study estimated that obese Americans spend an aggregate of $30 billion extra on clothes. A 40-year-old obese man will pay twice as much for life insurance, says Byron Udell, CEO of insurance comparison site AccuQuote.com.
You also may not earn what you deserve. A 2012 study published in the International Journal of Obesity asked participants to evaluate résumés with photos, and overweight candidates received lower starting salaries and were said to have less leadership potential. Bias adds up: On average, obese workers earn 2.5% less than those with normal weights.
The best free help
Maintaining a food diary has consistently been shown to work. A 2012 study in the Journal of the Academy of Nutrition and Dietetics found that participants who kept a food journal lost six pounds more than those who didn't. It's all about being mindful, says lead researcher Anne McTiernan. "It is difficult to make changes to your diet when you are not paying close attention." (Our story on the best free health apps offers some suggestions on which to use to track your diet.)
Your office wellness program may include tools like coaching from a nutritionist. Your insurer might also help. United Healthcare members, for example, can use a free online weight management coaching system. Blue Cross Blue Shield offers wellness deals too.
Help worth paying for
Some people fare well with meal-replacement programs because they take the guesswork out of how much to eat, says Ted Kyle, an adviser to the Obesity Society and the founder of ConscienHealth. (Costs: $70 to $200 a week.)
The key to shedding the pounds, adds Kyle, is to find the system that works best for you—and, most importantly, helps you keep the weight off in the long term.
A 2014 study in the journal Obesity examined the cost-effectiveness of weight-loss and meal-replacement programs and medications. The verdict: Weight Watchers and prescription drug Qsymia offered the most bang per buck in pounds lost. Weight Watchers costs $4 to $11 a week. A course of Qsymia, which is typically prescribed for those with a BMI of 30 or more—and isn't always covered by insurance—ran $1,366.
Read Next: The Habit That's Costing You More Than $1 Million
Finally, bariatric sugary is an effective method of losing and keeping weight off for those who qualify (typically with a BMI of 40 or higher) for the procedure, which can cost about $20,000 to $25,000. Insurance coverage varies widely, and it typically requires pre-approval, which can be an arduous process. For more information, find an accredited bariatric surgery program in your area through the American Society for Bariatric and Metabolic Surgery website. Most offer free informational seminars on the procedure and its costs, says Kyle.