11 Ways to Save Money at the Movies This Summer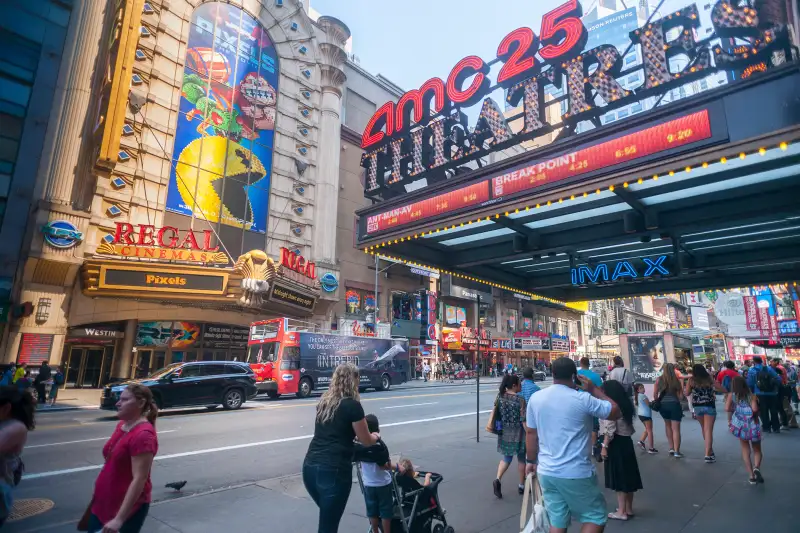 Taking your family out to the movies this summer could very well be seen as a luxury outing. With the average ticket price nationally at $8.43, according to the National Association of Theatre Owners, a family of four could pay more than $30 for two hours of entertainment—and as much as $50 if you add in concession snacks like popcorn and soda.
If you're a cinephile family, you could easily top $200 a month to enjoy all the summer blockbusters (and if you happen to live in a major city like New York City, an $8 ticket is a bargain compared to the $15 you normally shell out).
To keep you from going broke going to the movies, Money has compiled 11 ways you can save big in theaters this summer.
Go during off times. Opt for less popular times, such as early bird and matinee showings, when theaters often mark down the price of tickets. Attending the first showing of the day instead of in the evening could save you as much as $10 a ticket. Small and independently owned theaters in your area may also charge less at designated times, such as on a less popular weekday night.

Explore your affiliations. If you're a student, senior, or military member, you are probably already shaving a couple dollars off your ticket price. But there are ways to score discounts even if you don't fit any of those camps. Look at organizations and clubs you belong to, as well as your car insurance carrier. You may be entitled to cheaper prices through AAA, for example, whose members can get up to 35% off at Regal Cinemas and up to 25% off at Cinemark Theatres.
Join a loyalty program. If you have a favorite local theater, get rewards for your repeat patronage. Many major chains offer loyalty programs for frequent customers. For a $12 annual fee, AMC's Stubs program offers $10 rewards for every $100 spent and free upgrades on concessions; rewards expire within 90 days. Regal's Crown Club awards 100 points for every $1 spent and allows points to be redeemed for free movie tickets and concessions. Points remain in good standing as long as you don't go more than a year without making a purchase.
Buy a monthly pass. Die-hard movie buffs might come out ahead by buying into a theatrical subscription service. MoviePass, for example, allows members to see a movie every 24 hours for a flat fee between $30 and $49 a month, depending on your location. Don't worry your theater won't accept it—more than 93% of theaters nationwide honor the pass. If you're unsure whether you'll go often enough to make the cost worth it, you can try a two-week free trail run.

Use wholesale clubs. If you belong to a member store like Sam's Club or Costco, you can save on movie tickets by purchasing in the store. Ask at the customer service desk about buying movie tickets. They typically offer tickets for major theater chains like Cinemark, AMC, and Regal for a few bucks less.
Buy at the box office. Skipping the lines and buying online may be more convenient, but you're paying for that perk. Purchasing tickets through a booking sites adds an extra $1-$2 service fee to your ticket. So head to the box office early if you want to snag a ticket to that summer blockbuster without paying additional fees.
Check your credit card. Some credit cards offer member perks like reduced ticket prices or cash back on your movie purchases. The US Bank Cash Plus card, for example, allows users to pick movie theaters as one of their 5% cash back categories. Last year, Visa Signature cards offered users a two-for-one ticket promotion on Fandango. Check with your card carrier to see if they have any similar deals or programs in place.

Stick to 2D. Imax and 3D screenings may help bring a film to life, but such showings come at a premium. Choosing a standard screening will save you as much as $5 per ticket.
Find discounted gift cards. Unwanted cinema gift cards can be an easy way to save a couple bucks. Unhappy gift card recipients often sell their cards on resale websites like CardCash.com or GiftCardGranny.com. Typically, the cards sell for less than their face value, think 15% off, to entice shoppers. Buying cards to theaters you know you'll visit means you get more bang for your buck.

Eat beforehand. We all know the biggest markups are on those tubs of popcorn, boxes of candy, and giant sodas. But it's hard to say no, so eat ahead of time to ward off temptation. Or sneak in a couple of your own snacks and beverages.
Visit daily deal sites. Websites like Groupon and LivingSocial have offered deals on movie prices through ticketing websites, such as Fandango. Oftentimes, these offers will be for a certain percentage off or for a flat rate price for two tickets. It's worth checking before heading out to the theater to see if any good deals are currently available.
And now...on with the show!