11 Wedding Hacks That Will Save You Big Money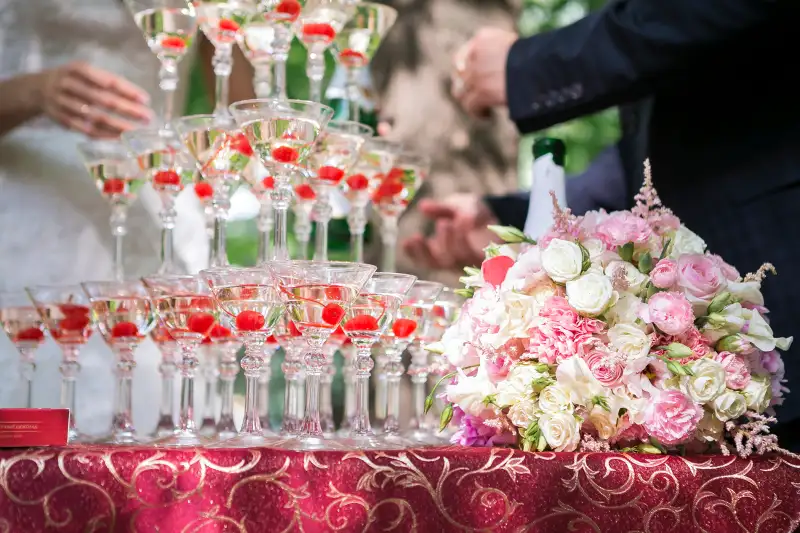 Stas Uvarov—Getty Images/iStockphoto
June is the unofficial kickoff month to wedding season, which means a lot of couples will be spending some quality time making seating charts and spreadsheets. And worrying about how much their special day is going to cost them.
With the average wedding spend in the neighborhood of a midsize car, it's no surprise that tying the knot can take a toll on bank accounts. But if you've got ballroom tastes and a backyard budget, all is not lost. There are ways to reconcile the two—starting with these money-saving secrets of savvy wedding planners. (That is, if running away to Las Vegas and getting married by an Elvis impersonator isn't your style.)
Rethink typical wedding days and times. "Having your wedding on a Sunday is typically a cost savings because the venues tend to have lower food and beverage minimums and rental rates on Sundays," says Amy Zaroff, creative director at Amy Zaroff Events + Design in Minneapolis. Fridays can be another cost-effective day, depending on the venue. Also, consider a cocktail-hour reception rather than a dinner; you'll save big on food if you stick to appetizers, small plates, and cake.
Search for coupons. Coupons don't just knock a few bucks off your grocery bill: Eagle-eyed couples have hit sites such as Groupon to save money on invitations and save-the-date cards. Even if daily deal sites don't turn up anything, do a Google search on the item you're looking for followed by the phrase "coupon code" or "promo code" and see what pops up.
Send invites the 21st-century way. "Use Paperless Post for invitations," suggests Merryl Brown, owner of Merryl Brown Events in Montecito, Calif. Not only is it less expensive because you're not paying for printing and postage (which is one of those often overlooked expenses that can knock your budget out of whack), it's also greener.
Have a signature drink. "It really is never appropriate to have someone pay to drink at your wedding," Zaroff says. But since offering a full bar can be a budget buster, a compromise many wedding planners suggest is to offer beer and wine plus a signature cocktail that ties into the day's menu or theme.
Fix a fake cake. Wedding blog stylemepretty.com suggests splurging on a pretty, small cake (if you want to go big, go faux with foam tiers underneath the real thing), then have venue staff serve your guests slices cut from a less-ornate sheet cake.
Stick to seasonal florals. "To stay on track with a wedding budget, stay in season," says Sara Kovel, owner of Boston-based Sara Kovel Events. "If it's peonies and the wedding's in January, it's going to cost more," she says. Instead, tell your florist what colors you want and if there are any flowers you absolutely can't stand (or that make you break out into a sneezing fit), and give them the latitude to create arrangements out of what blooms are in season.
Or go green. "Consider succulents or greens instead of floral. It can look fabulous and cost a whole lot less," Brown says. "Masses of maidenhair fern down a table is a lovely look, for example."
Note small venue details. "A lot of hotels and venues are geared towards the corporate audience," Zaroff points out, so having things like nice chairs, elegant chargers, and a beautiful ballroom aren't top priorities. Using a venue that has well-appointed standard decor can save you money in the long run, she says, because you won't be paying to rent upgraded furniture, linens, tableware, and other items.
Avoid wedding-specific items. Writing for moneyunder30.com, Amber Gilstrap suggests leaving out the word "wedding" when shopping for items online, a tactic that scored her a 75% discount on save-the-date magnets. "Mine were actually 'business' magnets… I just added an engagement picture and the words 'save the date,'" she wrote.