Here's Everything We Know About Shaq's Business Empire, Including 150 Car Washes, 17 Auntie Anne's, and — at One Point — 155 Five Guys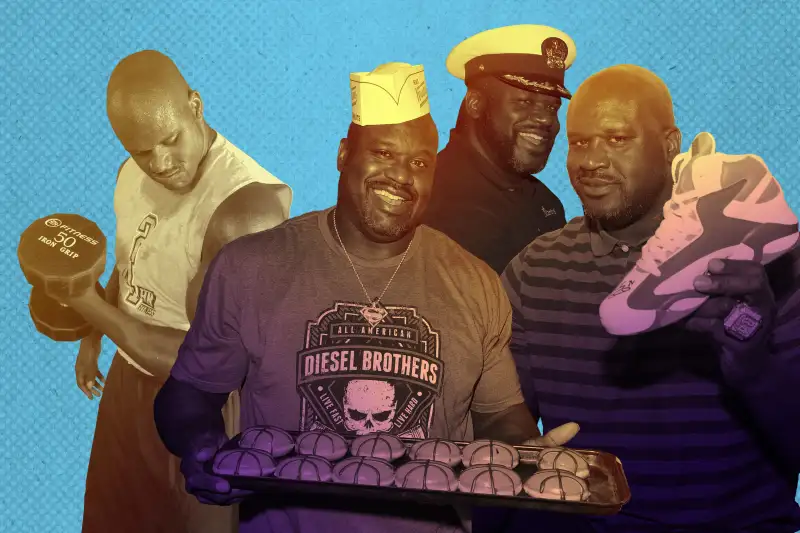 Photo illustration for Money by Sarina Finkelstein; Getty Images (5)
Many professional athletes can struggle financially once they retire. One big exception is former basketball star Shaquille O'Neal.
It's no secret that former athletes often experience post-career money problems. In the NBA, for instance, a staggering 60% of players go broke within five years of leaving the sport.
But since retiring in 2011, Shaq is bucking the trend in spectacular fashion – and encouraging others to do the same. After earning nearly $300 million during his lucrative 19-year basketball career, Shaq now makes more each year than the $30 million salary he earned playing in the NBA, he said in an interview for HBO's Real Sports with Bryant Gumbel.
That's because off-the-court, the former NBA champion-turned-entrepreneur has built an impressive business empire, investing in everything from fast-food restaurants to the latest tech gadgets, in addition to plenty of lucrative endorsements.
Franchise King
At one point, Shaq owned 155 Five Guys restaurants – equivalent to 10% of the company's entire franchise portfolio. Although he told CNBC that he has since sold his stake, he did admit that the burger business had been "very good" to him.
His other purchases include: 17 Auntie Anne's, one Krispy Kreme franchise in Atlanta, and even a CityPlex12 movie theatre in his hometown of Newark, NJ. Shaq also owns a Big Chicken restaurant in Las Vegas, not to mention a 'Shaquille's' burger place in Los Angeles that bears his name.
Most recently, Shaq joined the board of directors at Papa John's – he'll invest in nine stores near Atlanta, as well as get paid $8.25 million for a three-year endorsement deal to become the pizza chain's brand ambassador.
Invest in What You Love
Shaq also has investments outside of the food industry. He reportedly owns 40 24-hour fitness gyms and 150 car washes, according to The Hustle.
The Basketball Hall of Famer told CNBC he's gotten good returns from being an early investor in Google, and still holds stock with the company today – although he hasn't given details. In addition to being an NBA analyst on TV, he's also a minority owner of a team, the Sacramento Kings.
And when he's not selling other brands, he's pushing his own branded products: including Shaq suits, Shaq sneakers, a Shaq jewelry line, and even his own children's books called 'Little Shaq.'
Shaq follows a strict investment philosophy: he only gets involved if he personally likes the company or product, he told HBO's Real Sports. One of his favorite examples is Ring, a doorbell camera home security system which he loved so much that in 2016, he tracked down the inventor, bought part of the business, and starred in several commercials for them. Later, Shaq got a piece of the pie when Amazon purchased Ring for over $1 billion.
The Brand of Fun
Despite his sprawling empire of franchises and other investments, Shaq hasn't stopped building up his personal brand either. Indeed, you've probably seen him on TV, pitching everything from Gold Bond and Icy Hot to Oreos and doughnuts. Some of his most recognizable commercials include for Carnival cruises and The General auto insurance.
It seems like he's done it all: From starring in movies, to making rap songs – and now even DJ'ing – Shaq has turned his brand into a money-making powerhouse.
"The Shaq brand is all about fun," he said on HBO's Real Sports. "I want to be that guy to make people laugh."