Why Buying Airline Miles Is Usually a Bad Idea, According to Travel Experts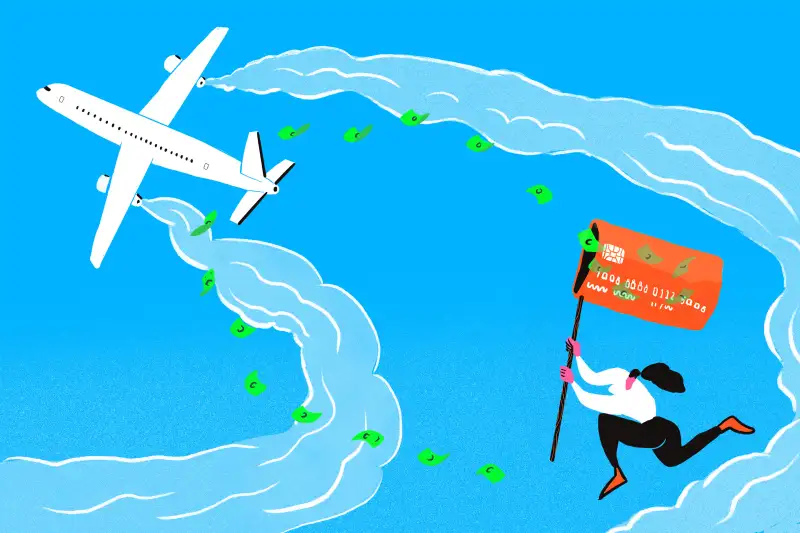 Illustration by Jade Schulz
Money recently launched Dollar Scholar, a personal finance newsletter written by a 27-year-old who's still figuring it out: me.
Every week, I'll talk to experts about a money question I have, whether that's "Are online banks sketchy? or "How many credit cards do I need?" As I learn, I'll share simple ways to improve your financial life… and post some funny memes.
This is (part of) the 12th issue. Check it out below, then subscribe to get future editions of Dollar Scholar every Wednesday.
---
Now that it's October, the beginning of autumn has me thinking about the holidays. Because most of my family is down south, I usually head to Florida for Thanksgiving and Christmas. That means means taking four flights in two months — an abnormal amount of travel for me — and spending a whole lot of money on them.
But whenever I go on an airline's website to start pricing out tickets, I see ads hawking points and miles all over the place. It's made me curious: Is there any benefit to buying points to buy flights? Why wouldn't I just... purchase tickets with regular money?
I called Debra Schroeder, the founder and editor of Traveling Well for Less, to get some answers. She surprised me by saying she does NOT generally recommend purchasing airline miles in bulk, like the ones I'm seeing advertised. Instead, it's easier and cheaper to earn them.
Several credit cards come with mileage benefits that allow customers to rack up points in their daily lives, like how the AAdvantage MileUp Mastercard lets customers earn two American Airlines miles for every $1 spent at a grocery store. With Chase Sapphire Preferred, people can earn generic points and then transfer them to a travel program like JetBlue's TrueBlue or the Virgin Atlantic Flying Club. Schroeder personally links her card to the iDine program, which rewards her for eating at certain restaurants.
In fact, Jared Kamrowski, the founder of Thrifty Traveler, told me he sees only two scenarios in which it makes financial sense to purchase miles.
The first is to bridge a gap. Say I've already got 48,000 miles and I have my eye on a flight that requires 50,000. If they're cheap enough, it might be worth it to buy the 2,000 I need rather than paying for the entire flight out of pocket.
The second is for aspirational travel, which refers to flying business or first-class internationally. (Kamrowski said it's foolish to purchase points for domestic flights — the flights aren't long enough and amenities aren't good enough to justify it.)
Say I can buy 70,000 miles for $1,500. If a flight I'm eyeing from the U.S. to Asia "costs" 70,000 miles or $10,000, I should get the miles.
It's simple math. I've just got to use them ASAP.
"Don't purchase the miles just to purchase them," Kamrowski cautions. "You have to have a specific redemption in mind, and you have to make sure it's bookable. You don't want to spend $1,000 on points and go to book and there's no availability on the days you want."
Both Schroeder and Kamrowski brought up how much they like Alaska Airlines' Mileage Plan. Kamrowski pointed out that because Alaska has partnerships with international companies, I can use my Alaska miles with other airlines. These include Cathay Pacific, based in Hong Kong; Japan Airlines, based in Tokyo; and Emirates, based in Dubai.
American Airlines similarly lets people redeem miles with partners like Qatar Airways and Etihad Airways.
The experts also told me to watch out for promotions, like how in September JetBlue offered between 20-50% bonus points to anyone who bought over 3,000.
And when I'm actually on the plane, they told me not to worry — flight attendants don't discriminate.
"They don't treat you any different if you're on a paid ticket as opposed to using miles," Schroeder adds.
The bottom line: As a miles and points amateur, I shouldn't buy a bunch in bulk unless I'm trying to reach a certain threshold or score a cheap first-class flight out of the country. In those cases, I should have a specific redemption in mind and take action immediately.
I need to crunch the numbers and see whether collecting/redeeming/booking the miles/points/tickets aligns with my goals.
"Can you use your points to do something you can normally never afford?" Kamrowski says. "That is the best use of [them]."