You Can Now Get a Car 'Subscription' Instead of Buying or Leasing. Should You?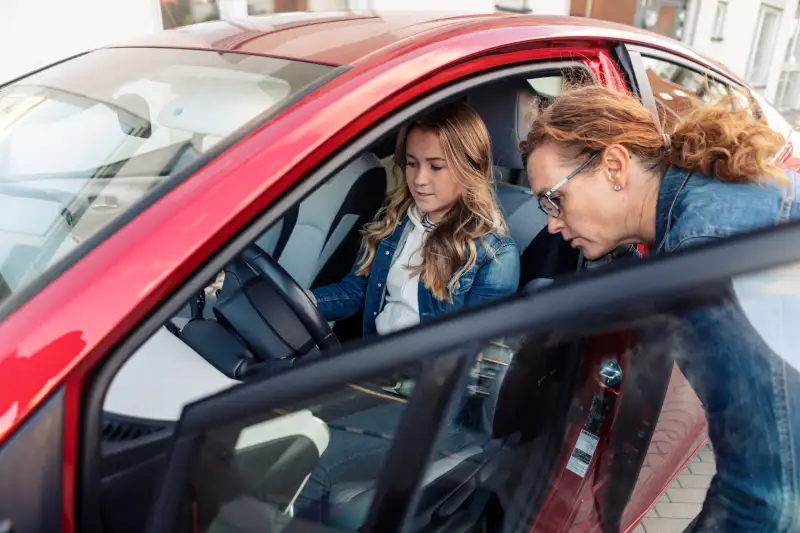 Drivers who want access to a car for a while, but prefer not to buy one, face a less-than-ideal choice: Take out a pricey month-by-month rental deal or sign a car lease that locks them in for longer than they may want. Now car "subscriptions" are offering a third way to get wheels.
A car subscription promises to be more affordable than a long-term rental and more flexible than a lease. The subscription period can be as short as a month or as long as several years. (Most often, it's somewhere in between.) Other pluses for consumers include being able to switch cars — or stop the subscription — as their needs change, and the convenience of not having to shop for auto insurance, which is bundled into the price.
The tradeoff, though, is likely to be that price. While a car subscription should be cheaper than renting a car, most such arrangements cost significantly more than a lease. And that's after you factor in the bundled extras -- which also include the costs for maintenance, registration, taxes and licensing.
Does it make sense to "subscribe" to a car instead of buying or leasing it? The answer may depend on how much you're prepared to pay for flexibility in your automotive needs, and how long you'll want to use the vehicle.
Here's more on the pros and cons of a car subscription. We also look down the road at where experts say this emerging option may be going. If subscribing isn't right for you now, it might have appeal later, as competition increases, subscriptions evolve and your car needs change.
Subscriptions are mostly offered by startups
The concept of a car subscription isn't new. Major automakers pursued the business model in the U.S. several years ago, with limited success. Now, though, a number of third-party companies are amassing fleets and selling subscriptions to drivers through apps and websites.
Some of the new subscription providers are imports. Two of the companies expanding in the U.S., SIXT and FINN, originate in Germany, where the car subscription business model has gained some traction.
There are also American companies, like Autonomy and Ferry, which are offering subscriptions on electric vehicles, and GO, which is pursuing a long-term subscription model. The businesses are currently small and are generally only operating in select markets, at least for now. Autonomy ordered 23,000 EVs in August in what may be the largest order by a car subscription company in recent years (we couldn't confirm that, because SIXT declined Money's request for information on the size of its subscription business.)
It will take some time for all that new order of cars to become part of Autonomy's fleet. Right now, the company has 1,300 subscribers and 95% of its fleet is Tesla Model 3s. The numbers are similarly small for FINN. Co-founder Maximilian Wühr says the company has about 1,200 subscribers in the U.S., although he's optimistic that, in time, their American business will equal or exceed their numbers in Germany, where FINN claims 18,000 subscribers.
Wuhr says some of FINN's customers like being able to swap cars and regularly try out new vehicles. In other cases, subscribers have upcoming life events that mean they'll need something new in a matter of months, not years. For example, a family expecting another child may want a minivan when the baby arrives, but would prefer to drive a smaller sedan until then.
Running the math on subscribing
Monthly car subscription payments can cost you 30% or more above the monthly lease payment for the same car. But subscription companies say, correctly, that a cost comparison must consider the fees and other costs a subscription includes that you'd have to pay yourself if you leased the car. Insurance is the biggest by far of those extras.
Let's price out subscriptions for a few vehicles. FINN's monthly subscription price starts at $499, which gets you a one-year subscription for a 2023 Nissan Kicks SV, a car with a base MSRP of $22,150. A Tesla Model 3, which has a base MSRP of $43,490, will run you $999 per month for a two-year FINN subscription. The prices are even higher if you want a shorter subscription term or if you want to drive more than 850 miles per month.
How does that compare to leasing? You could lease that Nissan for about $370 per month with a three-year term and a 10,000 mile per year limit, while a three-year lease for a Model 3 would come out to an effective monthly payment of about $500, according to the manufacturers' websites.
If you bought a Nissan Kicks, by putting $0 down on a 5% APR 60-month loan, your monthly payment plus insurance would come out to about $450 per month. The Tesla Model 3 would cost about $850 per month with those same terms, according to Kelley Blue Book. (But you'd of course own the car outright when the loan ended.)
Unlike with the subscription, the lease and purchase options require you to pay insurance on top of the monthly payment. On average, according to Edmunds data, a 30-year-old male driver would pay about $80 a month to insure the Nissan and $120 or so a month for the Tesla.
These figures suggest the overall cost of subscribing to a car could range from a little more expensive (for the Nissan) to a lot more (for the Tesla) than the monthly payment for a lease or car loan. And that's before some other potential issues with a subcription are considered.
Subscriptions can have complications
Because insurance is usually included in a subscription, prices can depend on your credit and how good (or bad) a driver you are. Car subscription companies will generally check your driving record and run a soft pull (that is, one that doesn't damage your credit score) on your credit record. If the company doesn't like the results, they could boost the monthly subscription cost, or even deny you a subscription altogether.
On the other hand, the subscription itself has less potential to negatively affect your credit, according to Scott Painter, founder and CEO of Autonomy. A major difference between leasing and subscriptions, he says, is that a lease will show up on your credit report given that it's a fixed-term financial commitment. Because Autonomy's subscriptions are open-ended agreements, they won't show up as debt on your credit report, according to Painter. He thinks that aspect of subscriptions could make them attractive to some drivers.
A final reality about a subscription is its possible need for an upfront payment. Most subscriptions (like most leases) don't require you to pay an extra cost at the start. Some, however, do demand one -- and that can further boost the subscription cost. An Autonomy subscription for a Model 3 costs $1,000 per month with a flat $1,000 "start fee," or $450 per month if you pay $3,000 for the initial start fee. The latter subscription works out to $700 per month if you subscribe for a year. You can drive 1,000 miles per month without incurring additional costs.
Needless to say, as you compare subscription deals, you should obtain information on the mileage limits -- after which you may be charged more to drive -- and (possible) upfront fee and factor those costs into your decision.
Overcoming the price premium for subscriptions
Even subscription companies concede that closing the price gap between subscribing to a car rather than buying or leasing it will be challenging, at least anytime soon. Michael Beauchamp, founder and CEO of GO, the long-term subscription company, says it will be nearly impossible for short-term car subscription companies to offer rates that are comparable to lease prices.
That view is echoed by Wühr, the FINN co-founder. If the company is able to scale up, Wuhr says, FINN's goal is to price its car subscriptions to be on par with the monthly cost of leasing, plus the cost of the other things that come with a FINN subscription (insurance, registration, taxes, etc.) He admits they're not there yet.
One independent analyst says the price disadvantage of car subscriptions is a major drawback. Tyson Jominy, J.D. Power's vice president of data and analytics, is skeptical that American drivers will latch onto the subscription model because most people don't want to pay a dollar more than they have to for their car. "It's proven to be an extraordinarily difficult business model to try to solve. By this point, most automakers have tried and stopped," he says. "It's just really hard to justify paying that much more for the ability to switch out frequently."
Among the business challenges for the startups is that new cars lose significant value the instant someone drives them off the lot. Car subscription businesses, especially those catering to drivers who want a luxury experience, ultimately sell the vehicles after a few years, replacing them with new ones. That means they have to charge fairly high prices to overcome what could be tens of thousands of dollars of depreciation that occurs in that timeframe to make a profit.
On top of that, car leasing is in a slump because leasing prices have shot up even faster than car prices during the pandemic. Leasing used to be about 31% of U.S. sales pre-pandemic, but that fell to about 17% by the end of 2022, Jominy says. So if subscriptions are going to cost more than leases, and lease prices are already too high for many car shoppers, he thinks the market of customers willing to pay for a subscription will remain "tiny."
How subscriptions might change for the better
Before subscribing to a car is declared a non-starter, say companies, consumers and analysts should consider how subscriptions are likely to improve. The changes will begin, they say, with a lot more competition and innovation.
Going forward, Painter expects intense competition from other startups that will offer car subscriptions, but also from automakers. Subscribing to a car through an app is going to be almost as easy as renting an e-scooter, he predicts, so the convenience factors will force traditional industry players to modernize their business models. The leasing experience will also improve, he adds.
Subscription companies say their increasing use of sleek web-based platforms, plus having no need to pay for a brick and mortar presence, means they will eventually undercut leasing prices. They will also offer a still-quicker online check-out process than buying or leasing in the bargain.
Innovation will bring new options, though also some confusion, possibly. With companies like GO offering subscriptions that require multi-year commitments, the question of what exactly a car subscription is will only become more complicated. As it is, Volvo, for example, already offers a subscription option that Jominy says is "more of a short-term lease than it is a subscription, even though they call it a subscription." (Customers can cancel or swap cars after five months.) And Enterprise offers a "subscription" in select markets, which is somewhat hard to distinguish from a long-term rental.
The concept of a car subscription can get muddled in this respect, but Beauchamp says it's actually exciting that multiple startups are working on subscriptions in different ways, trying to move us past the binary choice between leasing and buying.
More digital nomads, more car subscriptions?
Evolving lifestyles and limited time may also affect the future of car subscriptions. "People don't particularly like spending their Saturday in the showroom," Beauchamp says. "To have the ability to order your car online in five minutes, no stacks of paperwork, non-invasive process, soft credit check, have it delivered… that's appealing to a massive number of folks."
As subscription companies grow, Painter asserts, more drivers will realize that they're better off if they don't lock themselves into a long contract, especially people who bounce between cities.
"There are a lot of reasons for flexibility in modern life, but this new sort of emergence of the nomad — the consumer that's living in multiple cities and on the move is certainly part of it. But whether you're a college student, in the military or you've got a job that takes you out of town from where your family lives, all of those are great reasons to not have to step into a three-year lease," Painter says.
While some in the industry doubt that subscription companies will ever truly disrupt the way we get cars, it seems clear that at least in the short-term, more Americans will be able to consider a car subscription as startup companies get hold of more vehicles and expand into new markets. As BCG researchers put in a January report, "over the next few years, the boundaries between subscribing, renting, and leasing will become even more blurred."
More from Money:
Best Car Insurance Companies of January 2023
'Never Been a Better Time to Buy an Electric Car' Due to Price Wars and EV Tax Credits: Auto Expert
Auto Insurers Are Refusing to Cover Some Cars Because They're Stolen So Frequently