Shrinking salaries: why we are saving more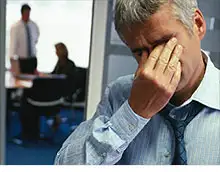 The big economic news this week is the May unemployment report, which comes out Friday morning and is expected to show that the jobless rate topped 9% for the first time in a quarter century. Bad news indeed but employment is a lagging indicator of how the economy is doing and even as the unemployment rate climbs toward double digits, the pace of job losses is slowing markedly.
For a better sense of what lies in our economic future, check out two other economic reports and an employment survey of large companies out Monday. These paint a more telling and sobering picture of the future as it affects you and me. First, there's the news that frugality continues to reign. In April, consumers once again cut back spending, with consumer expenditures down 0.1%. That's the second straight month that consumer spending dropped after a burst of buying in January and February as shoppers took advantage of deeply discounted goods. Meanwhile, personal income was up 0.5% in April but that was largely due to tax cuts and stimulus payments from the government. Which is why it's no surprise that Americans' personal saving rate soared to 5.7% in April, the highest level since 1995, according to the Commerce Department. People are worried about losing their jobs, so they're socking away more money.
All that's well and good – people are spending less and saving more. But even if you don't lose your job and the economy continues to improve (which the stock market certainly seems to be anticipating after hitting its highest point since January today), a more worrisome trend is what's happening with wages. Wages and salaries remain flat and for many people, lower. That's because in this recession, companies not only are cutting staff, they're slashing salaries too. According to a survey by outplacement (that's a nicer word for companies that specialize in helping people who have been laid off find jobs) consultants Challenger Gray & Christmas, more than half of human resource executives surveyed in May said their companies instituted salary cuts or freezes to cut costs, up from 27% in January. While salary cuts and furloughs are preferable to outright job cuts, the trend has major implications for what kind of economic recovery we can expect. If people who hang onto their jobs or get laid off and get a new one can't count on their earnings growing, they're going to keep being thrifty. And without a real rebound in consumer spending, it's unlikely we'll have a strong economic recovery. Have you had your salary cut? Or been furloughed? Have you cut back your spending? Tell us what's happening with you.
- Donna Rosato