Use These Tricks for a Better Night's Sleep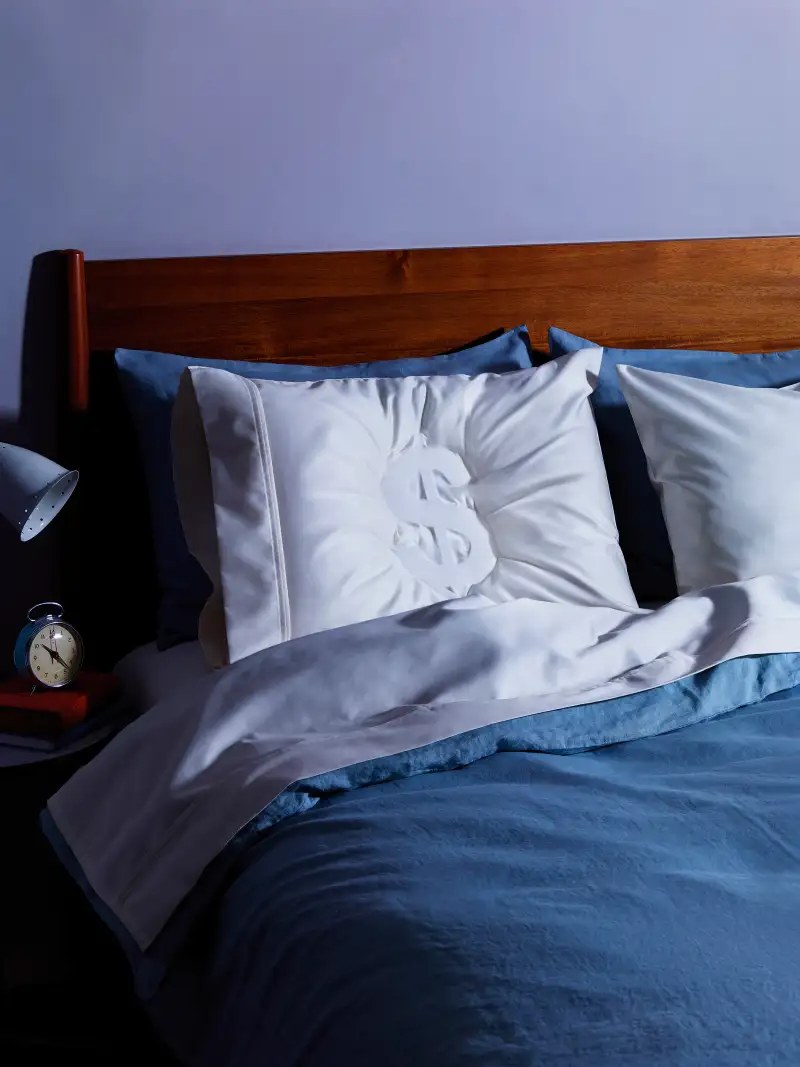 Photograph by The Voorhes for Money
This story is part of a series on how getting fit and healthy can boost your bottom line.
Sleep may be free, but not getting enough can be costly. In a 2016 study, economists Matthew Gibson and Jeffrey Shrader found that one extra hour of sleep per week can result in 5% higher wages. "When you're sleep deprived, your productivity is lowered, your mood changes, and your creativity is impaired," says Mathias Basner, a professor of sleep and chronobiology at the University of Pennsylvania. If you can't perform at your best, it's that much harder to earn raises or promotions.
One in three Americans gets fewer than the recommended minimum of seven hours a night, a Robert Wood Johnson Foundation survey found. That costs workers 11.3 days of productivity a year on average, reports the 2011 American Insomnia Survey. That adds up to $2,280 in lost productivity a year—tallied for the entire country, that's $63.2 billion lost.
A chronic lack of z's is also linked to a host of illnesses, including diabetes, obesity, and heart disease, says David Brown, a fellow of the American Academy of Sleep Medicine and the author of Sleeping Your Way to the Top. Want to shed weight? Don't bother spending time in the gym if you're going to skimp on sleep, says Brown.
The best free help
Assess why your rest falls short, says J. Steven Poceta, a neurologist and sleep medicine specialist at the Scripps Clinic Viterbi Family Sleep Center in La Jolla, Calif. If you simply stay up too late or let work or other responsibilities rob you of rest, better sleep hygiene can be a game changer. Make your bedroom a sleep-only zone, shut off screens an hour before bed, turn in and get up at the same time, and expose yourself to bright light early in the day. Can't bring yourself to power down the screens? Software like f.lux lessens the blue light your computer display emits (justgetflux.com). The iPhone's Night Shift setting does the same.
Help worth paying for
If you're just not drowsy, over-the-counter supplements like melatonin ($5 for 100) can help, says Poceta. But with true insomnia, sleep hygiene may not be enough. Cognitive behavioral therapy for insomnia (CBT-I) has proved to be effective, says Poceta, and your mental health insurance benefits may cover the cost. Poceta also likes online programs Go! To Sleep from the Cleveland Clinic (clevelandclinicwellness.com/sleep; $40) or CBT for Insomnia (cbtforinsomnia.com; $25 to $50).
Employers are also investing in workers' sleep, says Chris Toretsky, a wellness benefits consultant at Mercer. In 2015, 39% of large companies offered sleep-management programs, including cognitive behavioral therapy. If you need a doctor's care, a sleep test at home or at a sleep center can cost $200 to $2,000, but if it's medically prescribed, there's a good chance your insurance will cover a portion.
Read Next: The Best Free Health and Fitness Apps
Finally, if all your sleep remedies fail, plan a vacation. A study conducted by former NASA scientists in 2006 found that travelers who returned from a relaxing holiday enjoyed more than three times as much deep sleep as their non-vacationing counterparts: 20% after a trip vs. 6% normally. And a trip can help you break from your smartphone habit—which means less pesky blue light keeping you awake.