Why Snapchat Isn't the Next Big Thing on Wall Street
Money is not a client of any investment adviser featured on this page. The information provided on this page is for educational purposes only and is not intended as investment advice. Money does not offer advisory services.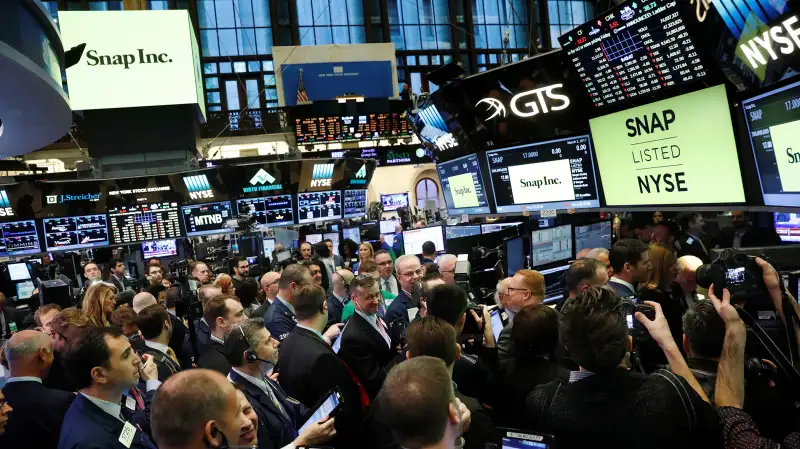 Two competing narratives are forming on Wall Street over Snap, maker of the popular social networking app Snapchat.
The social media darling, which became a publicly traded company just a month ago, is either an innovative behemoth-in-waiting poised to enter the big leagues with Facebook and Alphabet (Google), or it's an overvalued Twitter in-the-making that will struggle to lure enough older users to allow it to actually make money.
New Wall Street projections, though, show that Snap is actually struggling just to keep pace with Twitter on the earnings front.
Big Losses

The consensus forecast among analysts on Wall Street now is that Snap is on pace to lose more than $2 billion this year. The equity research firm Needham & Associates projects that SNAP could actually lose more than $3 billion in 2017. That would be followed by a $1 billion loss next year and another $400 million loss in 2019.
Let's put that in perspective.
A $3 billion loss in 2017 would be more than seven times what Twitter is expected to lose this year. What's more, Snap is on target to lose more than twice as much as Amazon ever lost in any single year. As for comparisons to Facebook, Fortune points out that the Facebook has never lost money since it went public in 2012.
Big Wait
Despite its expected rapid growth, and firm grip on the young consumers that advertisers crave, Snap likely won't turn a profit until 2020 at the earliest.
The company may have a large and dedicated customer base, but it hasn't quite figured out how to make money off of them yet — a problem that Twitter is struggling with as well.
"We are not yet convinced that it will effectively monetize those users in order to generate excess return on capital for at least 10 years," writes Morningstar analyst Ali Mogharabi.
In the last three months of 2016, Snap earned average revenues per user of $2.15 among its North American customers. (The company still has a long way to go to break into foreign markets). That compares to $12.67 for Twitter and $24.61 for Facebook.
While people like sharing photos and videos with their friends on Snapchat, they aren't particularly keep on interacting with ads. One survey by Mizuho Securi found that 64% of Snapchat users hardly ever click on an ad, and only 6% find the ads interesting or relevant.
Big Hope
Still, Wall Street is all about the future, not the present.
And so far, at least, investors aren't panicking. The stock, which was priced at $17 a share in its initial public offering but opened at $24 a share, is down only slightly at about $22 a share.
Meanwhile, analysts appear copacetic. Of the 33 analysts covering Snap, according to Bloomberg, 12 have a "buy" rating, another 15 recommend their clients "hold," while only six believe you should "sell."
That compares favorably to Twitter, which has almost three times as many "sell" recommendations as "buys."
Why? Snapchat, with 158 million daily users visiting the app 18 times a day for nearly a half an hour, is still very popular. And that popularity will attract an increasing pie of digital ad dollars. Or so the theory goes.
"On a global basis, the mobile advertising market is expected to triple from $66 [billion] in 2016 to $196 [billion] in 2020," according to one Jefferies research note. "Snap is among a handful of apps with very large audiences and very deep engagement — these businesses can scale quickly."
"We are not surprised to see another platform copy Snap," writes Drexel Hamilton's Brian White, who believes millennials will remain loyal. "Like Apple in its younger days, we view Snap as a disruptive innovator with a laser like focus."
Snap, according to its defenders, will continue to come up with new ways for its customers to use the app, and pale imitations (like Facebook's Instagram Stories) will be less interesting.
Perhaps. But in order to become profitable by the beginning of the next decade, Snap needs to add users — a lot of them.
Cowen and Company, which has a "buy" rating on the stock, expects the number of Snap's daily users to more than double to nearly 380 million by 2022. Twitter's stock has been mired in a tailspin as the micro-blogging site saw its user growth come to a crawl.
If Snap doesn't deliver soon, don't expect Wall Street to stay enamored. In the beginning of 2015, nearly half of the analysts covering Twitter were bullish on the stock, per Bloomberg. Now only 13% remain committed.