Southwest Mess: What Every Traveler Needs to Know About Flight Refunds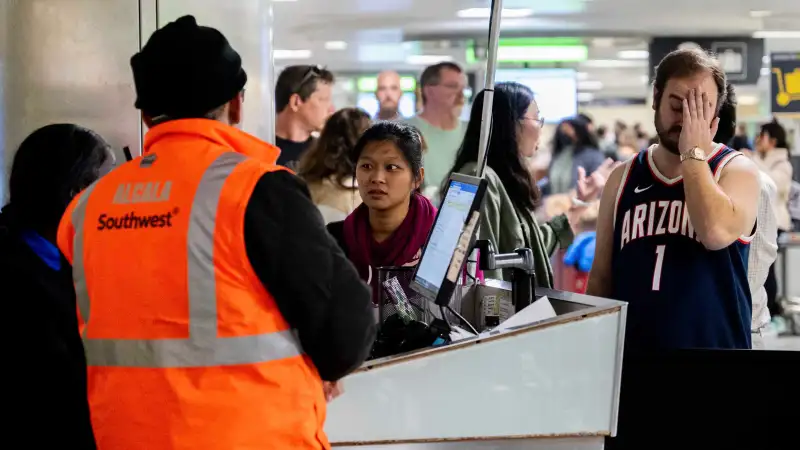 An operational meltdown at Southwest Airlines led to the cancellation of more than 15,000 flights at the end of December, disrupting travel for hundreds of thousands of passengers.
After changing their plans, sleeping in airports and — in some cases — driving 20+ hours to their destinations, many of those people are now scrambling to recoup their losses. Whether you were on Southwest or are just hoping to learn more about your passenger rights, here's what every traveler needs to know about airline refunds.
How to get an airline refund
Regulations from the U.S. Department of Transportation require airlines to refund customers whose flights are canceled or who experience significant delays — even if those customers purchased nonrefundable tickets.
The refund process varies by airline, and you should be prepared for a long wait. Often, airlines will offer to rebook you on a different flight they offer or convert your ticket to airline credit rather than offer a cash refund. You don't have to accept those offers, but they might make more sense for you depending on your circumstances.
Some airlines will also provide perks like vouchers and rewards points if your flight is canceled or delayed.
How to get a refund from Southwest
If you were affected by the disruptions at Southwest over the holidays, you can visit the airline's dedicated webpage for more information. Southwest says customers whose flights were canceled or significantly delayed between Dec. 24 and Jan. 2 are eligible to request a refund, so long as they did not ultimately use the ticket or accept a rebooking on another Southwest flight.
The airline also says it will honor "reasonable requests" for reimbursement for hotels, meals, rental cars and even tickets on other airlines from affected passengers. The government requires airlines to reimburse customers for extra expenses like these when the circumstances that cause a delay or disruption is within an airline's control — think scheduling or maintenance issues rather than weather conditions.
Southwest travelers need to submit receipts for those expenses separate from their refund requests. If your claim for reimbursement is denied, you can file a complaint with the U.S. Department of Transportation. If your luggage is missing, you'll need to fill out a separate form for that, too.
Southwest is also offering 25,000 rewards points to affected passengers in addition to any refunds or reimbursements they might be eligible for.
"I know that no amount of apologies can undo your experience," Southwest CEO Bob Jordan wrote in an email to customers describing the points as a "gesture of goodwill." Those points are worth over $300, according to the airline, which could be a good deal for customers who plan to continue traveling with the Southwest. Just keep in mind that booking travel with points is often not as flexible as booking with cash.
On Tuesday, the airline said it had made "solid progress" in addressing customer issues following the disruptions. In an emailed statement to Money on Wednesday, Southwest declined to specify specific numbers related to customer refunds.
More from Money:
Air Travel Is Chaos This Summer. Here's How to Get a Refund
Dollar Scholar Asks: Can Travel Booking Sites Like Expedia Actually Save Me Money?