There's Probably No Cash in Your Wallet. Could That Cost You?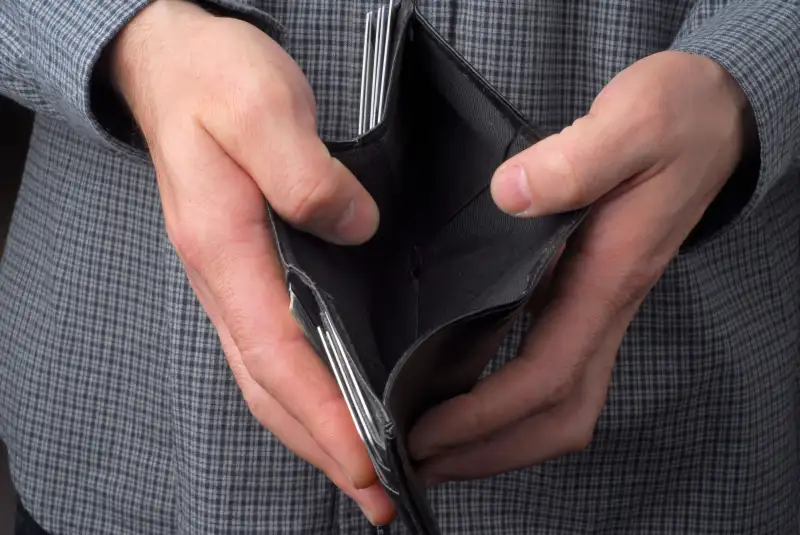 According to two recent surveys, the majority of consumers walk around with little or no cash. Most prefer plastic for the sake of convenience and safety. There could be an unfortunate side effect, however, based on the theory that people spend more when making purchases with credit or debit cards rather than cash.
Last week, VoucherCloud, a UK-based deals and coupon site, released the results of a survey of 2,341 Americans indicating that "over half of American citizens (57%) 'never' carry cash, instead relying solely on credit and debit cards to pay for their daily expenses." Only 10% of survey participants said that they "always" carry cash, and another 33% said that they carried cash "rarely" or "sometimes."
Could this be true? Do the majority of American adults you pass on the street really have empty wallets? There's reason for skepticism. Let's start with the question that prompted the responses: "How often do you carry cash with you on an everyday basis?" Many may read this question as essentially asking, Do you always carry cash? That's different than asking if you usually keep a few greenbacks in your pocket.
What's more, another recent survey, from Bankrate, focused on the same subject but ended up with very different results. In its survey, which asked, "How much cash do you usually carry on a daily basis?" Bankrate found that only 9% selected the option "Don't carry cash/does not apply."
There's no denying that folks carry a lot less cash than they used to. According to Bankrate's data, more than three-quarters of people generally walk around with $50 or less: 40% usually have less than $20 on hand, 29% say $20 to $50, and 9% typically go cashless (or "does not apply," whatever that means).
In both surveys, participants said they felt safer that way. The top reasons given in the VoucherCloud survey were "concerns over safety and the risk of theft" (65%) and "risk of losing my wallet and/or its contents" (53%). Women tend to carry less cash than men—77% of female respondents said they keep $50 or less handy, versus 61% of men—perhaps owing to the fact that women "may prefer to carry less cash than men so as to reduce the risk of being a target for criminal activity," according to Bankrate chief financial analyst Greg McBride.
As for whether it's wise to carry little or no cash, the surveys come to very different conclusions. When asked, "Do you spend more or less when paying by card instead of cash?" 84% of VoucherCloud respondents said they do more damage when spending with plastic. "While using payment cards rather than cash is a widespread modern phenomenon, because it is so quick and convenient, it can become a dangerous trend for some of us!" VoucherCloud's Matthew Wood warned. "It's much harder to keep up with what you're spending as you don't see the money leave your hands and, because it's just a little piece of plastic, it doesn't feel like a real exchange. It's easy to get carried away."
There's plenty of research out there to back up this theory. Generally speaking, the idea is accepted that handing over cash feels more tangible and "hurts" more compared to quickly swiping a card. Many budget and personal finance experts recommend going cash only and maybe even freezing credit and debit cards in a block of ice as a strategy to limit one's spending.
The Bankrate study, on the other hand, makes the argument that people today think of any cash as "petty cash" that will inevitably be spent quickly and carelessly. So it stands to reason that people don't want to carry around too much. "If you're carrying more, maybe you feel you have more, and you feel you spend more easily," Joydeep Srivastava, a professor of marketing at the University of Maryland, told Bankrate. To many consumers, cash on hand is as good as cash spent. "As soon as you draw it from the ATM, it's like you've already spent it," said Srivastava. "You don't feel that pang of guilt of spending it anymore."
So which theory is true? If you're trying to avoid unnecessary spending, should your primary mode of paying be plastic or cash? And by extension, is it best to carry lots, some, or no cash? The truth is, the answers probably vary a lot from person to person.
If you're the type who is constantly piling up credit card debt or getting hit with overdraft fees on a debit card, it may be time to put the plastic on ice and limit yourself to cash-only expenditures. And it's probably best to try to plan out your daily expenses and limit how much cash you carry around. Because if you have more cash than you need, you know you'll just spend it.