Identity Theft Is Rampant in 2023 — Especially in These 5 Places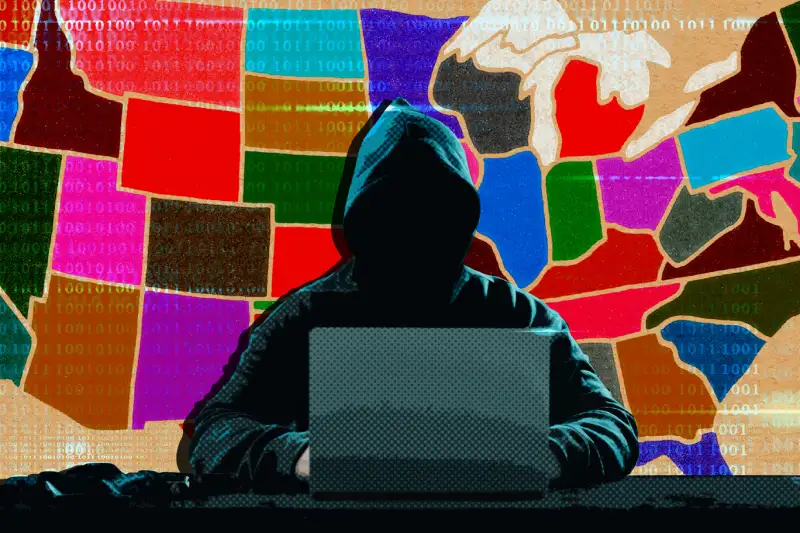 Identity theft continues to plague Americans, as reported cases remain historically high even after a record-breaking wave of fraud reported throughout the pandemic.
Cases of identity theft aren't spiking uniformly, though, and certain areas of the country are getting hit especially hard.
In the first half of 2023, Americans have already reported nearly 560,000 cases of identity theft nationwide, according to the Federal Trade Commission (FTC). That puts 2023 on track to exceed 1 million identity theft complaints — far higher than any pre-pandemic year on record, dating back to 2001.
"Identity theft is a pervasive issue in the United States and has been for several decades," says Axton Betz-Hamilton, an identity theft expert and consumer affairs professor at South Dakota State University.
During the pandemic, reported cases of identity theft skyrocketed. On the whole, the number of complaints filed so far this year is clocking in lower than recent pandemic years. That's because, in 2020 and 2021, cases spiked to unprecedented levels, reaching about 1.4 million complaints for each year. Betz-Hamilton says this was largely because scammers pounced on the deluge of newly created government benefit programs.
As the government tried to get relief as quickly as possible into the hands of Americans who needed it most, identity thieves used other people's personal information to siphon off some of those funds. As a result, government benefits fraud quickly topped the list of reported cases of identity theft. For those two years, Americans reported more than 800,000 cases of benefits-related identity theft alone.
"The COVID-19 pandemic provided new opportunities for identity thieves," she says.
Even as many of those pandemic-era programs have expired, the identity theft surge continues — and is particularly prevalent in Washington, D.C., Georgia and Florida, according to FTC data.
Now, benefits fraud has dropped dramatically, yet overall identity theft reports remain notably high. Identity theft can take many forms, as scammers can use someone else's personal information to take out a loan, open a credit card, sign up for government benefits or make online purchases.

And this year, a new form of identity theft is topping the list: credit card fraud. Already, Americans have lodged about 220,000 complaints about credit card fraud, representing about 4 out of every 10 identity theft complaints in the FTC's database.
The best and worst states for identity theft in 2023
Here's where Americans are most likely to face identity theft, based on the number of complaints filed per capita, as June 2023:
Washington, D.C.: 261 identity theft complaints per 100,000 residents. (1,786 complaints total)
Georgia: 253 identity theft complaints per 100,000 residents. (26,864 complaints total)
Florida: 240 identity theft complaints per 100,000 residents. (51,247 complaints total)
Nevada: 213 identity theft complaints per 100,000 residents. (6,501 complaints total)
Delaware: 207 identity theft complaints per 100,000 residents. (2,033 complaints total)
These five states have the least identity theft complaints per capita:
Vermont: 51 complaints per 100,000 residents. (325 total)
South Dakota: 52 complaints per 100,000 residents. (460 total)
Montana: 53 complaints per 100,000 residents. (567 total)
Wyoming: 61 complaints per 100,000 residents. (349 total)
West Virginia: 61 complaints per 100,000 residents. (1,101 total)
Betz-Hamilton points out that these identity-theft trends appear to mirror states' overall crime rates. "The higher the overall crime rate in a state, the more likely the state will have a higher rate of identity theft reports," she says.
It's also important to note that these counts are based on people who realized (or at least suspected) their identities were stolen and then reported their case to the FTC, or an FTC-partner like the Consumer Financial Protection Bureau or the Department of Justice, a state-level agency or the Better Business Bureau. (Then FTC then compiles all the complaints and tallies them up.)
"Unfortunately, identity theft remains underreported," Betz-Hamilton notes, so it's likely these figures underestimate the true prevalence of the issue.
Tips for dealing with identity theft
In addition to identity theft being underreported, it's often not taken as seriously as other crimes, according to Betz-Hamilton. She says she's spoken to folks who believe resolving identity theft is as easy as calling the credit card company.
That's almost never the case, and Betz-Hamilton knows this from personal experience. Her own identity was stolen when she was a child — and by her own mother. She didn't find out for almost 20 years and only after her mother had died. Her story isn't particularly rare. Betz-Hamilton says about 30% of identity theft cases are perpetrated by a family member.

The reality is that identity theft can have long-lasting consequences. Chief among them are dealing with the financial fallout once someone has your personal information. Experts say once that info is out there, it can be bought and sold among hacker and scammer networks forever — and be used to make purchases or apply for loans or financial accounts, which can wreak havoc on your credit. Containing the issue can be a burdensome task that can cascade into medical issues Betz-Hamilton notes, such as insomnia, anxiety and depression.

Ideally, folks should be taking step to prevent identity theft from happening in the first place, and even that requires some vigilance. Betz-Hamilton says one of the biggest steps you can take is to freeze your credit by contacting "the big three" credit bureaus — that's Equifax, Experian and TransUnion.
"There is no charge to do this, and it prevents new credit accounts from being opened in your name," she says. And when you do need new lines of credit, you can temporarily lift the freeze.
She also recommends storing your sensitive documents like Social Security cards and birth certificates in a bank lockbox, and not your home. (Thieves can steal entire safes, she says. And remember, many times, the thief is a family member.)
Lastly, she says you should never open emails from unfamiliar senders or answer the phone from numbers you don't recognize — even if the area code is local. "If it's important, the caller will leave a message."
If you suspect your identity has been stolen, you should immediately pull your credit reports and review your financial statements to look for unfamiliar charges or credit accounts open under your name. If you see fraudulent accounts on your credit report, you can dispute them at no charge, and the bureaus will have to investigate.
You can also report identity theft directly to the Federal Trade Commission at IdentityTheft.gov.
The government agency will also help you create a personalized recovery plan that will walk you through repairing any credit damage, recouping some of your financial losses and replacing your government-issued documents.
More from Money:
7 Best Identity Theft Protection Services of 2023
5 Guidelines to Help You Choose the Best Password Manager
Best Virtual Private Network (VPN) Services
Rates are subject to change. All information provided here is accurate as of the publish date.