Why Stephen Colbert Is Taking a Pay Cut for 'The Late Show'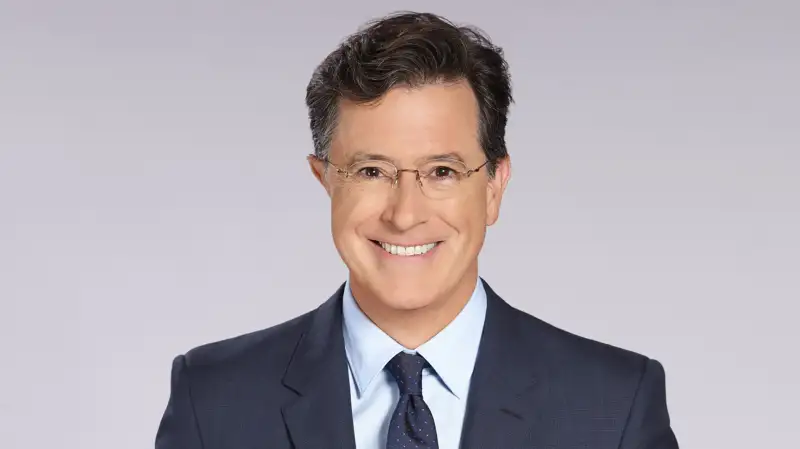 With all of the feature profiles and magazine cover stories on Stephen Colbert and his new job as the host of The Late Show, you'd be forgiven for thinking the late-night host is not only raising his public profile but his salary as well. You'd be wrong.
While the exact details of Colbert's contract haven't been disclosed, if the reported $4.6 million per year for a three-year deal with CBS is accurate, that would actually be a decrease from the 51-year-old entertainer's reported $6 million salary at the end of his tenure on Comedy Central's The Colbert Report.
That puts Colbert on the low end of the late-night salary spectrum: Jimmy Fallon takes home a reported $11 to $12 million as host of NBC's The Tonight Show; Jimmy Kimmel earns $10 million for Jimmy Kimmel Live!; and Conan O'Brien enjoyed a $12 million salary last year as host of Conan on TBS. Then there are the retired titans: before turning over their shows, David Letterman made $30 million some years as host of The Late Show, while Jay Leno took home $20 to $25 million a year on The Tonight Show.
And of course, nothing comes close to the $25 million Johnny Carson earned in 1980—the equivalent of roughly $72 million today when adjusted for inflation.
Read next: What Amy Schumer and Warren Buffett Have In Common
While the move to CBS will certainly elevate the late-night talker in the public consciousness, Colbert will first have to prove he can make the network money before before he starts raking in bigger bucks. (Just ask O'Brien, who worked on 13-week contracts when he started as host of NBC's Late Night.)
Colbert's spot in the lineup is crucial for CBS. With ad buyers coveting a younger demographic, there's increased pressure on all late-night hosts to create TV that not only attracts live views but also produces hits the next day on social media platforms, Fallon's celebrity lip-syncing segments and John Oliver's breakdown of cultural issues on Last Week Tonight being prime examples. On Comedy Central, Colbert could be counted on to deliver funny, engaging segments with a political punch that appealed to college grads constantly refreshing their Twitter feeds; on CBS, it's unclear how that will play out (though Colbert will surely have some fun with the 2016 election).
Read Next: These Are the Best Colleges in the U.S.
What is clear is that CBS is relying on Colbert to fill the ad dollar void left by Letterman. Ad spending on broadcast network late-night talk shows was $597.5 million in 2014, according to Kantar Media, up 14% from 2013. And as Variety noted, "late-night ad prices this year rose by a greater percentage than those for primetime TV."
While all late-night shows have seen declines in viewership, CBS is wise to put its chips on Colbert. A December 2014 episode of The Colbert Report had 3.6 million online streams, according to Comedy Central; that's three times his average live TV viewership in 2014. And whereas the viewers of Letterman's show averaged 58.2 years old, The Colbert Report's average viewer was 42.3 years old—"the youngest-skewing audience of any late-night broadcast or cable show," according to The Hollywood Reporter.
In fact, CBS has already seen renewed interest, with a spokesman telling AdAge that ad rates "increased significantly" for late-night shows on the network at this year's TV upfronts. If Colbert can keep that momentum going, he's sure to enjoy a sizable raise down the road.
But hey, if none of that works out, perhaps Colbert's cut from Jeb Bush's raffle will bring in some extra cash.
Read Next: Stephen Colbert's Night Vision