How Can Lorelai Gilmore Afford a $2.8 Million Home?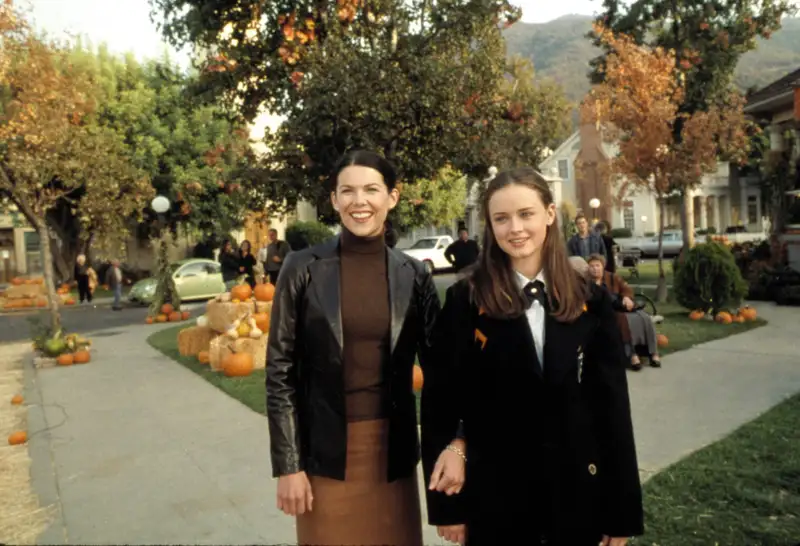 Warner Bros.—courtesy Everett Collection
In an outpouring of fan enthusiasm not witnessed since Netflix announced it was creating a fourth season of Arrested Development, Gilmore Girls fans across the world toasted with celebratory Pop-Tarts yesterday when news broke that the streaming service would also be reviving the much-beloved CW dramedy.
Lorelai and Rory Gilmore lead a charmed life in Stars Hollow: weekly oddball celebrations, doting friends and neighbors, the suspension of weight gain despite consuming thousands of extra calories per day with little to no exercise. And while I wish I could live in Stars Hollow as much as the next GG fan, some things in their fictional world just don't quite add up.
Like, how can a single-income household afford an enormous home, car payments, health insurance, countless impractical scarves, and seemingly endless orders of take-out food?
In fact, money is at the center of most every issue on Gilmore Girls (at least the familial ones). Lorelai's entire adult life revolves around rebelling against the moneyed interest of her WASPy parents, Emily and Richard. But the elder Gilmores are still able to use money to control Lorelai and Rory when they begin paying for Rory's education at the prestigious private school, Chilton. Throughout the show's seven seasons, we see how acutely aware the girls are of money and their relative lack of it: Lorelai must borrow to get her house tented for termites; she must borrow, again, to get the Dragonfly Inn up and running; she starts eating at home (gasp!) to save money once Rory goes to school; and on and on.
Read Next: Why Stephen Colbert Is Taking a Pay Cut to Host the The Late Show
It's a point of pride for Lorelai that, up until she asks her parents for help paying for Chilton, she'd never accepted money or favors from them after having Rory. And Christopher, Rory's father, is not around or, as far as viewers know, helping with child support. So we know that money is a constant issue for Lorelai, and that at least in the world of the show, she didn't borrow money before we were introduced to the characters in 2000.
So where is she getting her funds? At the beginning of the series, Lorelai works as the manager of the inn. According to PayScale, the average salary for an inn manager is $51,564. When we first meet Lorelai, she has been employed at the Independence Inn for at least 15 years, starting as a maid at 16 and working her way up the chain. While it isn't clear exactly when she became the boss, we can assume that with well over a decade of experience, her salary was closer to $62,000 (the average for an "experienced" manager).
To figure out if Lorelai and Rory live within their means, let's first consider food. Most of the meals consumed by the Gilmore girls are from Luke's Diner, Al's Pancake World, or other local delivery restaurants. They don't cook (unless you count toasting Pop-Tarts). There's also Lorelai's coffee addiction to consider. If we're conservative and say that the girls eat out once a day and Lorelai buys two cups of coffee per day, that would amount to around $168 per week ($20 per meal, $2 per cup of coffee), or almost $9,000 per year.
(Incidentally, Pop-Tarts – at just around $2 per box – are perhaps the most realistic part of the Gilmore budget.)
And while that's certainly conceivable, though not exactly smart budgeting on a 60k salary, one of the most baffling aspects of the show is that Lorelai owns a multi-million-dollar home.
According to real estate site Trulia, the Gilmore residence in Stars Hollow would cost $2.8 million. Let's say Lorelai was able to save her pennies while living at the Independence Inn rent-free for 11 years. And let's further say that she was able to snag a jumbo mortgage with the most generous down payment requirement of 15%. Even then that's $420,000 down! To say nothing of closing costs, which would also be jumbo.
So that's not looking very likely, even if she had a healthy savings account. And the property taxes make it even less likely. According to the State of Connecticut's website, taxes on the Gilmore house each year, if located in Washington, Conn., (which creator Amy Sherman-Palladino has said was the inspiration) would be around $30,800, or close to half of Lorelai's income. And then there's her monthly mortgage payment, which at the current jumbo rate of around 4% would still be upwards of $11,000 a month.
Add in state and federal income taxes, car payments, health insurance, and discretionary spending, and it's very unlikely that Lorelai would be able to afford such nice digs.
Maybe she got a lot of overtime.