Stephen Colbert Is Hosting the 69th Emmy Awards. Here's How Much He's Worth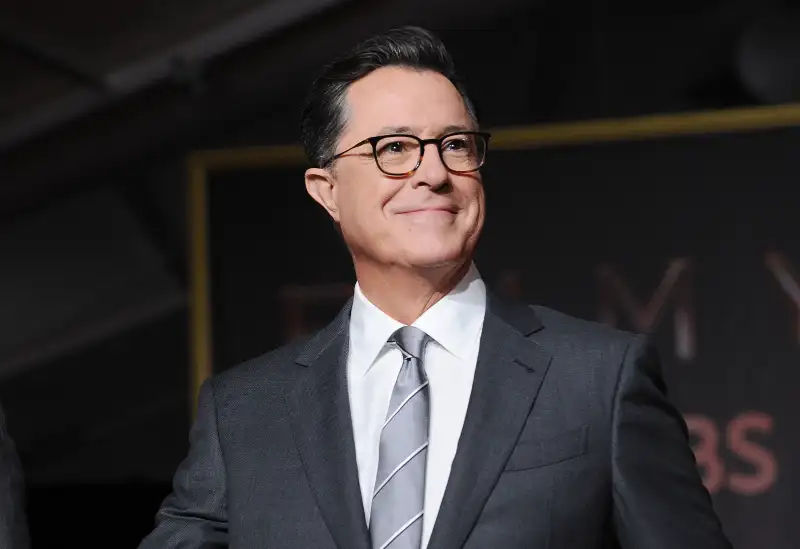 Over his 15-year career,Stephen Colbert's many hats — starring on The Daily Show, running his own Comedy Central show, becoming the king of late-night TV and on Sunday, hosting the 69th Primetime Emmy Awards — have helped the comedian earn an impressive net worth.
The Late Show host is, as it stands, tied as the highest paid late-night host in the United States, bringing home $15 million between June 1, 2015 and June, 1 2016, Forbes reported. In the same period, Jimmy Fallon also earned $15 million, while their fellow late-night hosts Conan O'Brien earned $12.5 million and Jimmy Kimmel earned $12 million.
Between May and August of this year, Colbert averaged 3.4 million viewers per episode in the 18-49 demographic, Variety reported. Jimmy Fallon's The Tonight Show still holds the largest share of the 18-49 audience, but has fallen behind in total number of viewers.
Colbert's huge paycheck from his primetime late-night hosting gig comes despite struggling ratings during his first year as host of The Late Show, which he took over from David Letterman in 2015. But, The Late Show turned things around since Donald Trump was elected — allowing Colbert to return to his roots of political coverage, which he spent nearly a decade perfecting on his satirical show The Colbert Report.
Colbert's total net worth is an estimated $50 million, according to Celebrity Net Worth. His fortune comes from his lengthy career as a comedian, which includes his Comedy Central show, being a correspondent on The Daily Show and making guest appearances on The Simpsons. He's also written four books, and has a namesake Ben & Jerry's flavor — Stephen Colbert's AmeriCone Dream, the proceeds of which go to a fund he created that helps disadvantaged children, military families and environmental causes.
All that money hasn't thrust Colbert into a luxury lifestyle, though. "I eat McDonald's, I drink Coca-Cola, I like a Bud Light Lime. I do. I mean, in some ways I'm extremely pedestrian," he told the Hollywood Reporter earlier this year.
In fact, Colbert comes from humble beginnings — growing up in the small town of James Island, S.C. as the youngest of 11 children. When he was just 10 years old, Colbert's father and two of his brothers died in a plane crash. While Colbert admits that the childhood tragedy shaped who he became, he learned to embrace its effect on his life.
"I'm not angry. I'm not," he told GQ in 2015. "I'm mystified, I'll tell you that. But I'm not angry."
"I learned to love it," he continued. "So that's why. Maybe, I don't know. That might be why you don't see me as someone angry and working out my demons onstage. It's that I love the thing that I most wish had not happened."
Colbert has a family of his own — two daughters and a son with his wife of more than 25 years, Evelyn McGee-Colbert. McGee-Colbert recently talked about their relationship, saying his humor is part of what she finds so attractive about him.
"He's so sexy. And he taught me the importance of being silly," she told Humans of New York photographer Brandon Stanton at the 2017 MET Gala.