Billionaire Casino Mogul Steve Wynn Has Been Accused of Sexual Misconduct. Here's What We Know About His Money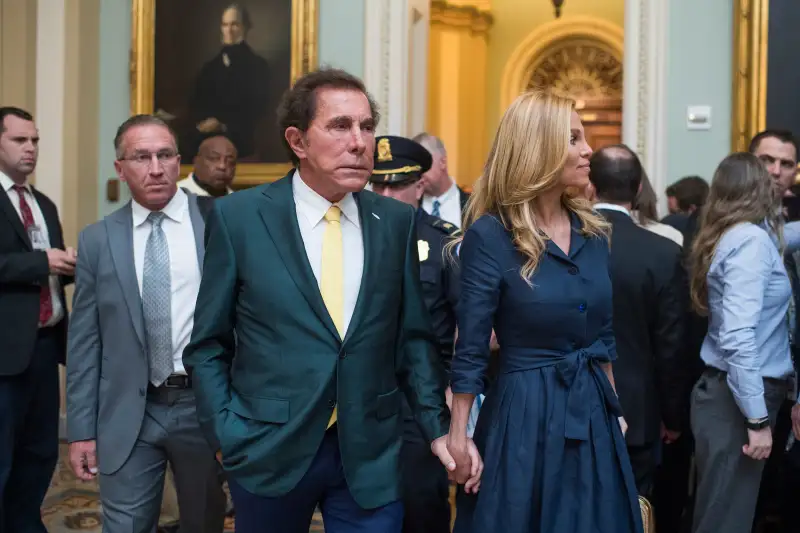 Steve Wynn, the billionaire casino mogul and current Republican National Committee finance chairman, has just joined Harvey Weinstein, Bill O'Reilly, and Matt Lauer on a growing list of rich and powerful men accused of sexual misconduct.
On Friday, the Wall Street Journal published a story detailing a "decades long pattern of sexual misconduct" by Wynn, based on interviews with dozens of people who worked at Wynn-owned resorts over the years.
Wynn has denied wrongdoing. "The idea that I ever assaulted any woman is preposterous," Wynn told the Journal, when asked about the accusations. "We find ourselves in a world where people can make allegations, regardless of the truth, and a person is left with the choice of weathering insulting publicity or engaging in multi-year lawsuits. It is deplorable for anyone to find themselves in this situation."
Wynn did not respond to Money's request for further comment.
Steve Wynn is easily one of the richest men to be accused of sexual misconduct and assault amid the #MeToo movement, which gained steam after the Harvey Weinstein scandal. The 75-year-old Wynn has routinely been called the "unofficial king of Las Vegas," responsible for the development of casinos such as the Golden Nugget, Mirage, Bellagio, and Wynn Las Vegas. Steve Wynn's net worth is estimated at $3.5 billion according to Forbes. Here's what we know about his money.
Wynn's Resorts and Casinos
The gambling industry was something of a family business for the Wynns. Steve Wynn's father Michael ran a bingo parlor in Maryland. He died in 1963, the same year that Steve Wynn graduated from college, at the University of Pennsylvania. The younger Wynn immediately took over the family's bingo operation, and in 1967 he sensed opportunity and moved to Las Vegas to begin a long career in casinos.
After flipping some real estate on what would become a prime part of the Las Vegas Strip and netting a $1 million profit, Wynn bought a portion of the Golden Nugget and began turning the old downtown Las Vegas casino into a full-fledged hotel and resort. In 1980, Wynn opened a second Golden Nugget, in Atlantic City, N.J., where Frank Sinatra often performed. By 1984, Wynn had an estimated net worth of $100 million
In the late 1980s and '90s Wynn was at the forefront of a movement to push Las Vegas upscale. The Mirage, built by Wynn at a cost of $630 million, was the most expensive casino resort in history when it opened in 1989. The developer followed up by opening two more casinos on the Las Vegas Strip over the next decade: Treasure Island in 1993 and the Bellagio in 1998. The latter cost $1.6 billion, setting a new record for most expensive casino ever built.
Wynn's company, Mirage Resorts, was acquired by MGM Resorts in 2000 for $4.4 billion, thereby "probably ending the reign of Stephen A. Wynn, the founder and chairman of Mirage, as the unofficial king of Las Vegas," the New York Times observed at the time. But Wynn soon launched a new company, Wynn Resorts, which in 2005 opened the world's newest most expensive casino in history, the 215-acre, $2.7 billion Wynn Las Vegas. Wynn Resorts now has three other resort casinos—the Encore in Las Vegas, the Wynn Macau, and the Wynn Palace (also in Macau)—and two more in the works: in Boston Harbor and yet another in Las Vegas.
Most Expensive Divorce Ever?
Steve and Elaine Wynn first married as teenagers, and were divorced in 1986. The couple remarried in 1991, only to divorce again in 2010. The second separation is regarded as one of the most expensive divorces of all time because the Wynns split their ownership of Wynn Resorts.
Ron Galella—WireImage/Getty Images
Elaine Wynn's stake in the company was worth $1.6 billion at the end of 2017. Recently, Elaine Wynn has been seeking to lift restrictions on her ability to sell her Wynn Resorts shares. Her attorney requested that Steve Wynn turn over documents "regarding any allegations of sexual misconduct made against you by a current or former Wynn Resorts employee." The Wall Street Journal then interviewed dozens of people who have worked on Wynn's casinos over the years to produce the bombshell report published on Friday.
Shares of Wynn Resorts dropped as much as 10% in the hours after the Journal's story was released. Because so much of the wealth of both Steve and Elaine Wynn is tied to the company, their personal net worths have decreased significantly as a result, at least on paper.
Steve Wynn's Real Estate, Yachts, and Private Jets
As you'd imagine of a billionaire entrepreneur, Steve Wynn has lived a jetsetting lifestyle for decades, and has bought and sold several luxurious homes over the years.
In the aftermath of the Wynns' divorce, Elaine wound up with the couple's $17 million apartment on Fifth Avenue in Manhattan. Steve Wynn bought and quickly flipped an apartment in the Plaza Hotel that same year (2010), netting $1 million in the process. In 2012, Wynn paid $70 million for a penthouse atop the Ritz Carlton Hotel on Central Park South in New York City. The apartment has 15-foot-high ceilings and spans a total of nearly 11,000 square feet over two floors. In Las Vegas, Wynn owns a 4,500-square-foot duplex villa overlooking the 18th hole of the Wynn Las Vegas's golf course.
Wynn also owns a superyacht—the 300-foot Aquarius—and has periodically upgraded in his choice of private jets. In 2012, Wynn Resorts paid $65 million for a Gulfstream G650 private jet—at the time, only the seventh such plane to come off the assembly line. The casino mogul traded that jet in 2015 for a G650ER, which sold at the time for around $67 million.
Steve Wynn, the Art Collector
Wynn is known for decorating his casinos and personal homes with artworks from masters like Pablo Picasso, Willem de Kooning, Roy Lichtenstein, Andy Warhol, Jeff Coons, and Vincent Van Gogh.
Kobby Dagan/VWPics—VWPics via AP Images
Wynn even originally wanted to name his new mid-'00s casino Le Reve, after what was arguably the most famous piece of art he owned. Instead, he eventually went with the simpler Wynn Las Vegas for better brand recognition.
Evan Hurd Photoraphy—Corbis via Getty Images
Wynn purchased the Picasso painting "Le Reve" for undisclosed sum in 2001, and agreed to sell it five years later—presumably at a huge profit—for $139 million. But just as the sale was about to close, Wynn accidentally popped a hole in the painting with an errant elbow and the deal was off. In the end, Wynn sold "Le Reve" to the original would-be buyer, hedge fund owner Steve Cohen, for $155 million in 2013.
Among the other garishly expensive items Wynn purchases are diamonds. In 2008, one of Wynn's casino showpieces was the 231-carat "Wynn Diamond," worth easily over $15 million at the time.