Could Another Sell-Off Be Lurking This Week?
Money is not a client of any investment adviser featured on this page. The information provided on this page is for educational purposes only and is not intended as investment advice. Money does not offer advisory services.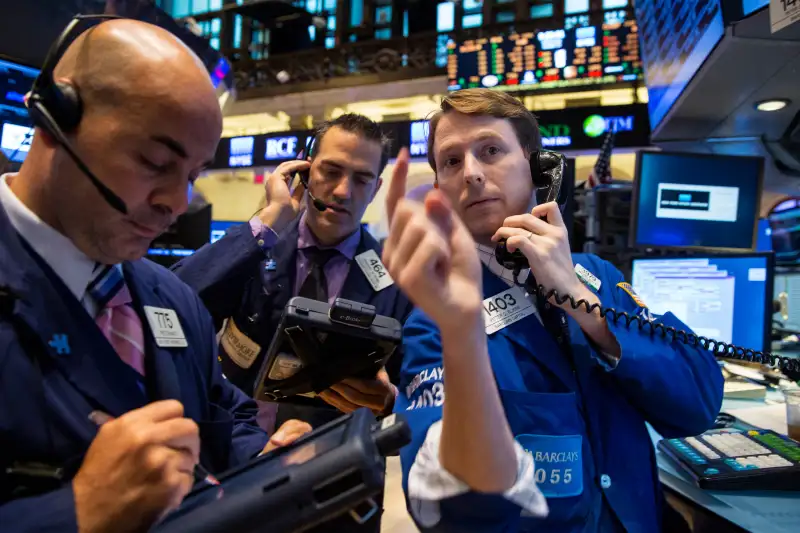 When Wall Street opens for business on Monday morning, will bad news about the global economy be bad news for stocks?
That was the case for most of last week, when the equity market was hit with a frightening sell-off that reminded investors of the bad old days of the financial crisis.
Or will bad news turn out to be good news for the market, as was the case on Friday, when the Dow Jones industrial average soared more than 260 points?
Friday's dramatic rebound in stock prices reflected two forces that are likely to move the market in the coming days.
Keep an Eye on the Fed
At the end of this month, the Federal Reserve is slated to end its stimulative bond-buying program known as quantitative easing.
Investors are naturally nervous about this development, as quantitive easing, or QE, has been credited for the strength and length of what is now a five-and-a-half-year-old bull market. As many market observers have noted, Wall Street is about to lose a major psychological crutch.
Remember that when the Fed ended its prior two rounds of quantitative easing — in 2010 and 2011 — stocks sold off fairly quickly:
After QE round 1, which ended March 31, 2010:
After QE round 2, which ended on June 30, 2011:
But late last week, when the market was in the throes of a selloff, St. Louis Fed president James Bullard said in a Bloomberg TV interview that "we could go on pause on the taper at this juncture and wait until we see how the data shakes out into December."
In other words, a member of the Federal Open Market Committee that sets the nation's interest rate policy is openly mulling whether the Fed should postpone ending QE in light of recent market volatility.
Bullard's remarks on Thursday were enough to give the markets a lift in the last two days of the week. And if there are more signs of a major global economic slowdown, including a possible recession in Europe and Japan, then the Fed may have to think twice about how — and how soon — it ends its stimulus efforts.
This week, investors will want to see if more members of the FOMC sound similar conciliatory notes of extending QE. So far, no one else has. Boston Fed president Eric Rosengren, a major defender of QE, said on Friday that he does not expect the Fed to extend the program at this juncture.
What else should investors look for?
Wednesday's inflation report from the Department of Labor. If the global economic slowdown is starting to impact the U.S., we will start to see it in the form of lower prices for U.S. consumers.
Thursday's report on the index of leading economic indicators from the Conference Board. The LEI is forward-looking barometer of economic trends, so if the global slowdown is likely to affect the U.S. in the coming months, this index should offer clues.
Keep an Eye on Earnings
Last week's bloody selloff was peppered by major earnings disappointments on Wall Street. For instance, there was Netflix, which reported that subscriber growth wasn't as strong as expected and saw its stock lose more than a quarter of its value on Wednesday. Google also disappointed Wall Street on earnings and revenue growth, as well as on paid clicks on ad links.
The idea is that if Wall Street is about to lose its QE crutch, it will have to fall back on the fundamentals — so corporate profit reports will have to look good.
On Friday, a slew of companies led by General Electric and Honeywell announced better-than-expected results, which helped drive stocks higher at the end of the week.
Yet the mood on Wall Street regarding earnings is somewhat pessimistic. The strengthening U.S. dollar, brought about by the global economic slowdown, is expected to crimp global profits for U.S. exporters.
This week, several high-profile earnings announcements are due to be released. Here are the major ones to look for:
On Monday, Apple is due to report its results after the closing bell. Everything Apple reports is news these days.
On Tuesday, Coca-Cola will reports its results before the market opens. No company is as exposed to the global economy as Coke is.
On Wednesday, Boeing is set to reveal its earnings before the market opens. The global slowdown is expected to hurt U.S. exporters, and Boeing could be a sign of how bad things have become.
On Thursday, Amazon.com will report after the bell. Amazon isn't just a bellwether of the tech economy, it is now a key gauge of the health of the U.S. consumer.