5 Strategies for Dealing With Your Flight Cancellation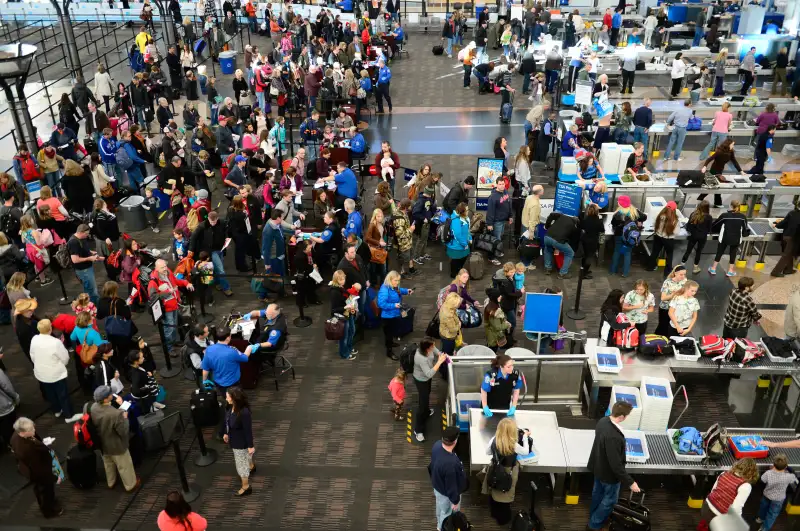 RJ Sangosti—Denver Post via Getty Images
With more than 5,000 flights already cancelled ahead of the big winter storm set to blanket the Northeast this week, travelers may want to prepare for a rough time at the airport.
Though cancellations have been light so far this month compared with January 2014, when 3.5 million people were grounded because of called-off flights, the worst may be yet to come, as the blizzard is expected to hit hard in major transportation hubs like New York City. American and United have both announced plans to suspend all flights on Tuesday in New York, Philadelphia, and Boston. All major carriers have already announced that they will waive change fees for storm-canceled flights.
Airlines are relatively quick to cancel domestic flights, says Tulinda Larsen, president of airline operations analysis firm masFlight. According to a masFlight data, a domestic cancellation costs the airline an average of $6,000, versus as much as $40,000 for an international route.
Even once operations resume on Wednesday, travel headaches are likely to persist. Here are 5 tips to help get you to your destination as quickly as possible, sanity intact.
1. Check in early
If your flight has been rescheduled, don't relax just yet: In bad weather, oversold flights can be more of a problem, as stranded passengers buy up any open seats.
Your best defense against getting bumped? Checking in online as close to 24 hours ahead of time as possible, according to TripAdvisor travel advocate Wendy Perrin. Not only will you be less likely to lose your seat, but you will also have the best shot at choosing a good one.
2. Stay informed in real-time
Those facing a called-off flight shouldn't just let the airline automatically rebook. First, check out FlightStats.com, which shows delayed and canceled flights all across the country. There may be a different itinerary that's a better fit for your schedule.
3. Know your options
Each airline has its own policies when it comes to weather-related cancellations and delays; there are no federal requirements. Still, in the event of a delay, some airlines will pay for meals or other amenities, so it's worth asking (more on that below). If your flight is cancelled, the carrier may be willing to put you on a flight with a different airline, so check out those options too.
4. Photograph your valuables
Losing expensive belongings is always upsetting, but tack on a crazy snowstorm and chaotic airport and you have the formula for a nervous breakdown. Be prepared for the worst by keeping receipts for, and snapshots of, anything pricey in your luggage. Airlines are legally obligated to reimburse up to $3,300 for your lost possessions.
5. Turn on the charm
Whether you're dealing with lost luggage, delays, a cancelled flight, or any other travel nightmare, it's important to be as polite as possible when making a complaint. "Take a deep breath. Remember that despite everything that has happened, you are still alive and, in fact, breathing. Then come talk to me and explain your situation," writes flight attendant Cary Trey at ThePointsGuy.com.
Going a step beyond politeness and being extra kind to the person you're dealing with—who, let's face it, has probably been having a pretty bad day, too—can't hurt. Trey suggests carrying mini-boxes of chocolates to show gratitude to those who go the extra mile to help you out.
If that sounds like a bit much, even a simple, "Thank you so much for your help!" will be enough make you stand out from the grumbling masses.