Student Loan Forgiveness Is Coming for 800,000 Borrowers — Here's Who's Eligible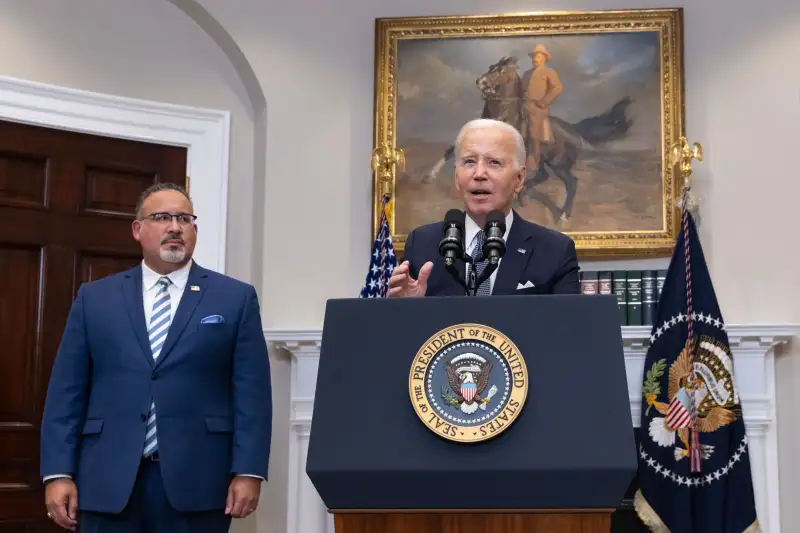 More than 800,000 student loan borrowers will have debt forgiven in the coming weeks as the Education Department says it's correcting how it has counted certain payments from long-time borrowers.
The affected borrowers will see their remaining balances discharged after being in repayment for at least two decades. The news comes as the Biden administration moves forward with alternative paths to bring relief to borrowers after the Supreme Court blocked the president's plan for wide-ranging student loan forgiveness.
The forgiveness announced Friday, which will total $39 billion, is delivering on benefits offered through federal income-driven repayment plans. These plans, which tie monthly payments to a borrower's earnings, are supposed to be lifelines for low-earning borrowers. At least in theory, they keep payments at a level you can manage to pay, and after 20 or 25 years of payments, any outstanding debt is supposed to be wiped.
But the administration says "historical failures" resulted in certain borrowers' months of payments being undercounted. Critics have been saying for years that income-driven repayment plans were not administered properly — at the expense of vulnerable low-income borrowers.
The department says it's fixing these issues, and it's now counting months that were either miscounted in the past or that wouldn't have qualified in the past, pushing a large group of borrowers over the threshold for forgiveness.
"For far too long, borrowers fell through the cracks of a broken system that failed to keep accurate track of their progress towards forgiveness," Secretary of Education Miguel Cardona said in a statement Friday.
What's happening now
The Education Department, after originally announcing this action last April, said it is starting to notify the borrowers who are eligible for automatic loan forgiveness.
All of the borrowers having debt forgiven at this time have been in repayment for at least 20 or 25 years (The term length depends on which of the four types of plans a borrower qualifies for.)
Other borrowers who still have some time to go on their plans will get closer to the forgiveness threshold as a result of what the department is doing. Last year, the department estimated that 3.6 million borrowers would get at least three years of credit toward the forgiveness threshold after the account adjustment. Borrowers who have not made enough monthly payments to be eligible for forgiveness won't see their accounts updated until next year.
The types of loans that this applies to are Direct loans or federally-managed Federal Family Education Loans, the department noted in its statement.
If you're a borrower who will hit the forgiveness threshold by Aug. 1 as a result of the payment count adjustment, it's possible you won't have to make another payment on your federal loan. The department says it anticipates processing this forgiveness before student loan payments resume in October.
If on Aug. 1 you still have months of payments remaining, the department says you will have to start making payments in the fall. But you will get a refund if you end up making payments that go beyond the threshold for forgiveness, the department says.
Bottom line
While it remains to be seen what will happen with the Biden administration's new plan to cancel debt following the Supreme Court defeat, the administration says it's going to continue to work to reduce the burden of student debt through other mechanisms, like these revisions to how payments are counted for borrowers on income-driven repayment plans.
Other examples of related efforts from the Biden administration include the recent announcement of a new, more generous income-driven repayment plan and changes to the Public Service Loan Forgiveness program.
More from Money:
Trendy Student Loan 'Hack' Backfires on Borrowers After Biden's Forgiveness Plan Fails
Biden Reveals New Student Loan Forgiveness Plan — Here's What Borrowers Can Expect Next