Student Loan Forgiveness Update: 67% of Young People Are Skeptical Debts Will Be Canceled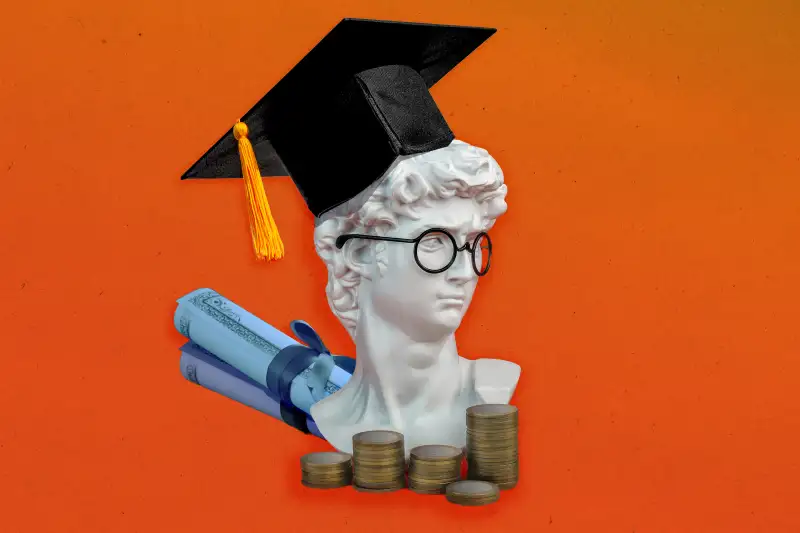 Eddie Lee / Money; Getty Images
Young people are not holding on to much hope that the Biden administration's student loan forgiveness plan will survive the legal challenges before the Supreme Court.
About two-thirds (67%) of a surveyed group of 11,000 college and high school students said they don't think loan forgiveness will happen, according to a recent report from ScholarshipOwl.
The college scholarship search site polled users of its platform to gauge how Gen Z students view the likelihood of the loan forgiveness plan coming to fruition. It's worth noting that the survey included students who are not necessarily eligible for forgiveness, but 42% of respondents said they have qualifying loans and 29% self-identified as recipients of Pell Grants, federal grants targeted toward lower-income students.
Under the Biden plan, which is stalled while the Supreme Court reviews two legal challenges, borrowers under a certain income threshold who received a Pell Grant would be eligible for up to $20,000 of forgiveness, while others would qualify for up to $10,000 of relief. To qualify for forgiveness, borrowers would need to have taken out a student loan by June 30, 2022.
Student loan forgiveness and the Supreme Court
In August, President Joe Biden announced his plan to cancel debt for about 40 million Americans, giving borrowers hope that they would soon have some or all of their debt wiped away.
The government opened a loan forgiveness application portal in October, but the the plan has been on a rocky road since then, facing a number of legal setbacks. The U.S. Department of Education was forced to stop accepting applications on Nov. 11 following an order from a Texas judge, which came just four weeks after the portal opened.
Legal challenges from conservative groups culminated in two cases that made it to the Supreme Court, which heard oral arguments on both matters at the end of February.
No one knows for sure what will happen next, but the pessimism among borrowers surely stems in large part from the composition of the court with a 6-3 conservative majority.
While it can be difficult to read into how the court is leaning from oral arguments, the Associated Press wrote after the two sessions that a majority of the justices "seem ready to sink" the plan.
Next steps for Biden's student loan forgiveness plan
Beyond the legal questions around Biden's student loan forgiveness plan, there are uncertainties about when loan payments will resume. Student loan payments have been paused since March 2020, but the pause is set to end later this year no matter the outcome of the case.
Payments are slated to resume 60 days after the case is resolved. If litigation is still ongoing by June 30, the Education Department says forbearance will be extended 60 days from that date, which would be the end of August.
The Supreme Court's decision could come out at any time now, but major cases such as this are commonly decided near the end of the term. The justices usually wrap up their business in late June before going on summer recess.
More from Money:
The 5 Numbers on a Financial Aid Letter That Tell You How Much a College Actually Costs
Federal Student Loan Borrowers Are in Financial Trouble Despite Paused Payments: NY Fed